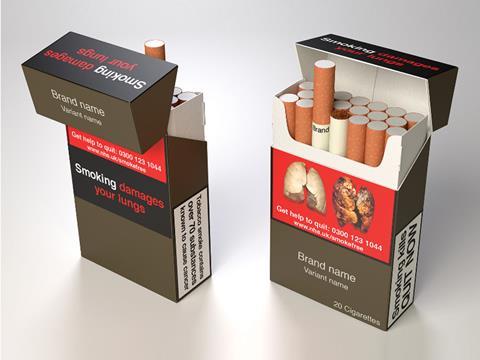 The High Court is expected to rule early next year whether the government's plans for plain tobacco packaging can go ahead.
The tobacco industry's fight to stub out next May's implementation of standardised packs moves to the High Court on Thursday 10 December where it is expected to last six days.
British American Tobacco, Imperial Tobacco, Japan Tobacco International and Philip Morris International, which have brought the case, want the court to rule that the Standardised Packaging of Tobacco Products Regulations 2015 are unlawful.
MPs overwhelmingly voted in favour of the regulations on 11 March and the regulations passed through the House of Lords on 16 March. The regulations were laid before parliament under the Children and Families Act.
Failure in the High Court will mean all cigarettes and handrolled tobacco will have to be sold in standard packs from next May.
The tobacco manufacturers claim the regulations are unlawful and that non-branded packaging infringes important principles of UK and EU law, and other fundamental rights.
"We have clearly and repeatedly made clear to the UK government that plain packaging will infringe our fundamental legal rights without reducing smoking," said JTI UK managing director Daniel Torras.
"Despite the lack of evidence that plain packaging works, the government has decided to proceed and JTI must now protect its rights in the courts."
A British American Tobacco spokeswoman said legal action was always a last resort but government left it with no other choice.
"This legislation is a case of the UK government depriving a UK business of its property without paying for it. That is illegal under both English and European law. We believe that the UK government made a serious error of judgement by failing to properly take into account the Australian government's own data, which shows that plain packaging is not achieving its public health objectives," she explained.
A spokesman for Imperial Tobacco said permission to appeal would be needed should the four companies fail.
Health charity Action on Smoking and Health will be represented in court by solicitors from legal firm Leigh Day and barristers Peter Oliver and Ligia Osepciu of Monckton Chambers.
"We expect the industry to lose," said Ash chief executive Deborah Arnott. "But of course they still hope that by tying up government officials and the court system for as long as they can, and by making the case as complicated and expensive as possible, they might put off governments in poorer countries than the UK from following our example."