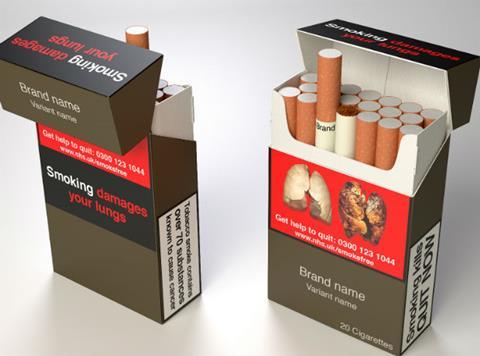 Retailers are bracing themselves for major consumer confusion over the new laws surrounding tobacco, which came into force this weekend.

As of yesterday, all cigarettes and rolling tobacco must be sold in new standardised olive green packs, while cigarettes can no longer be sold in packs of 20 sticks, and rolling tobacco must be in a minimum size pack of 30g. There is also a ban on price-marked packs, and a requirement for smaller e-cigarette refills with lower nicotine content.

However, according to new research carried out by wholesaler Palmer & Harvey at its Pro-Retail trade show last week, the majority of retailers were expecting the new laws to come as a surprise to consumers.

A poll of 130 retailers found 60% did not believe smokers were aware of the changes.

"The new tobacco laws are a significant change for the convenience retail industry. Store owners expect them to add complexity and cost to their business," said P&H MD Martyn Ward.

"There is also the prospect of more illicit trade in tobacco products and smaller stores struggling to stay afloat, threatening a vital social and economic hub for local communities.

"Palmer & Harvey has been busy speaking with our customers to support them through a period of greater uncertainty and regulatory burden. We have been very active in helping local stores come up with plans to navigate through these changes."

The survey also found that 42% thought the illicit trade in tobacco would rise on the back of the changes, while 34% expected their costs to rise.