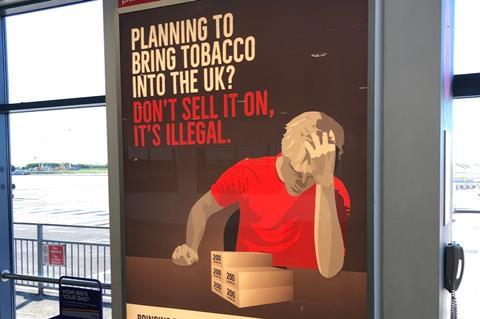 The Tobacco Manufacturers' Association is targeting holidaymakers who might want to resell cheap tobacco they have bought overseas when they return home.

Such tobacco is untaxed and its resale carries with it risk of prosecution and a criminal record.

No limits are currently imposed when returning from another EU country, but anyone bringing excessive quantities of tobacco in their baggage might need to prove to law enforcement authorities that it is for their personal use.

HMRC tobacco tax gap figures show smuggled tobacco cost UK taxpayers £1.8bn in 2017-18.

The campaign, which runs until the end of September, targets tourist hubs that include Manchester, East Midlands, Glasgow Prestwick, Glasgow International and London Luton airports, the port of Dover and central city locations in London and Edinburgh.

For those holidaying outside the EU, the allowance is 200 cigarettes or 250g of rolling tobacco.

HMRC says more than £45bn of tax revenue has been lost through tobacco smuggling since the 2000/2001 tax year.

The TMA said research showed the ways people sold illegal tobacco was getting ever more sophisticated, including through social media channels and community websites.

"It's easy for people to forget when they're travelling abroad, especially in the EU. They may decide that they want to buy more tobacco for their personal use as the prices are cheaper," said TMA director Rupert Lewis.

"The issue arises when people decide that they are going to sell on this tobacco when they are back in the UK, or they specifically buy it for the purpose of reselling in the UK. This is illegal and a criminal offence. Law enforcement agencies will take action against anybody caught and prosecute them."

Lewis said reselling tobacco bought overseas was not a victimless crime. It directly impacted smaller independent shopkeepers who were forced to compete against illegal tobacco sales and it badly harmed their businesses.

He also pointed out the growing influence of organised crime, which he said was increasingly behind the purchase, trade and supply of illegal tobacco in the UK.