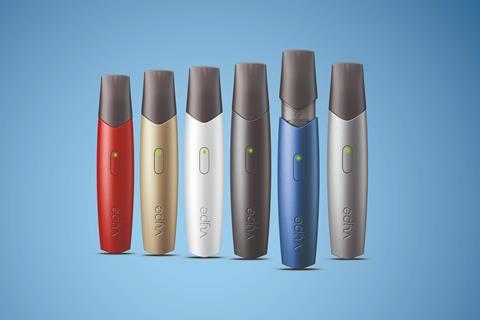 British American Tobacco e-cigarette brand Vype has been told to amend its website and social media channels by the advertising watchdog after a complaint from US drug giant Johnson & Johnson, which sells nicotine replacement brand Nicorette.
Johnson & Johnson challenged whether claims on the Vype website breached advertising rules for e-cigarettes.
The ASA CAP Code allows only factual claims to be used for unlicensed, nicotine-containing e-cigarettes in certain media, including websites and social media channels such as Instagram.
The big pharma firm complained to the ASA that text on the Vype website – including "a blend of roasted tobacco with a nutty cream finish" and "honeydew delivers an authentic honeydew melon flavour" – amounted to promoting nicotine-containing e-cigarettes and their online components.
It also raised an issue about language asking visitors to "subscribe & save" and "sign up to have your refills delivered regularly and save", as well as a YouTube video and blog post with fashion designer Henry Holland talking about a collaboration with Vype.
Nicoventures Retail, a BAT company that trades as Vype, defended the website and YouTube video, telling the ASA that the claims on its product pages were "factual flavour and/or ingredient descriptions using recognised flavour descriptors that enabled consumers to make a purchasing decision".
Vype added that it did not consider the Henry Holland blog post and collaboration to be promotional in nature. It told the ASA that the purpose of the collaboration with Holland was to design a product to meet its customers' "particular needs".
The ASA disagreed and upheld all three issues, warning Vype to change its website and remove claims found to be in breach of the code.
"While we considered that it was acceptable for marketers to include simple descriptions of product flavours, we considered that many of the words and phrases included in the product listings went further than simple factual claims and constituted descriptive, promotional language," the ASA said in its ruling.