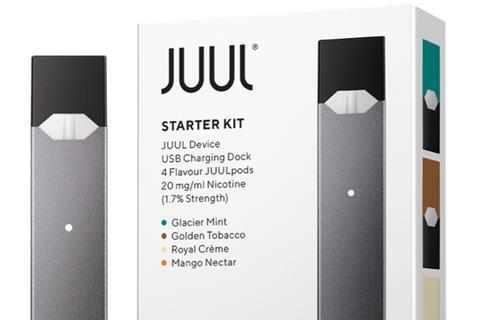 WH Smith is giving away £10 Juul vouchers with all tobacco purchases - a move prompting fury among rival tobacco and e-cigarette suppliers.

The stationer is the latest retailer to stock the US vaping sensation and the first to issue a money-off coupon.

Customers buying any cigarette brand from one of 200 WH Smith Travel stores receive the voucher with their receipt, entitling them to a third off a £29.99 Juul starter kit.

The promotion went live on 1 July and will run until 28 July.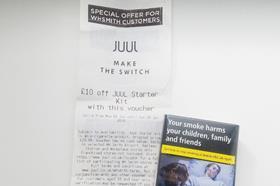 In the past, attempts by tobacco manufacturers to use their old cigarette brands to convert smokers to their new vaping and e-cigarette solutions have been prevented under so-called 'brandsharing' legislation under the Tobaacco Advertising and Promotion Act 2002.

But the Juul-WH Smith collaboration does not breach this legislation as the coupon is issued with the sale of any tobacco product and not a specific brand, an expert tobacco source told The Grocer.

However, while rivals conceded it was a clever move, BAT slammed the lack of choice the promotion gives customers.

"Our e-cigarette, Vype, is the market leading brand in retail," said Will Hill, BAT head of legal and external affairs. "We are supportive of any initiative that helps promote the alternative nicotine products now available to smokers, but this initiative could have even more impact if WH Smith provided tobacco customers with discounts for any vaping device, rather than just one."

WH Smith tobacco category buyer Martha Springham said: "As more smokers make the transition to vape products we must provide a solution for our vape customers. Given Juul's remarkable success in the US, we see it as a leading player in the vaping category to do that."

Juul Labs UK sales director John Patterson added: "Our mission is to get the UK's 7.4 million smokers to improve their lives by switching from tobacco and ultimately eliminating cigarettes.

"Seven out of 10 adult smokers want to quit or cut down on cigarettes, with 84% of them using e-cigarettes as part of their switching journey."

Juul entered the UK marketplace in July 2018 initially into specialist Vape stores. Since agreeing to supply Sainsbury's in November last year it has gone on to partner with Nisa, Costcutter, Asda, MFG, Boots, McColl's, Spar, Bestway and JW Filshill.

WH Smith's promotion coincides with Juul's first UK marketing campaign, Make the Switch, featuring testimonials from five ex-smokers on billboards and digital advertising screens across 12 cities.