Mars and Nestlé execs could be excused for feeling a little bitter at the success of their rivals in 2014.

All five Mondelez brands in our Top 20 are in value growth, as are Thorntons and Lindt Lindor. Ferrero's Kinder Surprise has racked up an extra £19.7m, making it the strongest-performing food brand of the year. Rocher is in fine fettle too.

On the other hand, five of Mars' seven brands are down in value, and all four of Nestlé's, with the businesses each losing around £30m in sales as a result.

In an overall category where volumes have fallen by 2.4% (though sales are up 0.9%), Mars and Nestlé may be falling victim to polarisation in market, with industry insiders suggesting mid-market brands are under pressure.

"As with many categories, chocolate is seeing growth from both the premium and discount ends of the market, with the mainstream being squeezed," says Lindt marketing manager Nicholas Brock. "Overall, we've seen consumer tastes continue to evolve toward more premium brands and flavours."

Health concerns - particularly over sugar intake - is also benefiting premium brands, suggests Brock. "The increased consciousness on sugar and health is likely to mean that when ­consumers choose to treat themselves, they will ­increasingly look for high-quality products that are 'worth' the indulgence."

For Mars, one answer to health concerns is offering choice. "Chocolate is a mature ­category and continues to perform well," says Mars trade communications manager Bep Dhaliwal. "It's a treat and we are focused on providing choice for consumers with a variety of formats and pack sizes."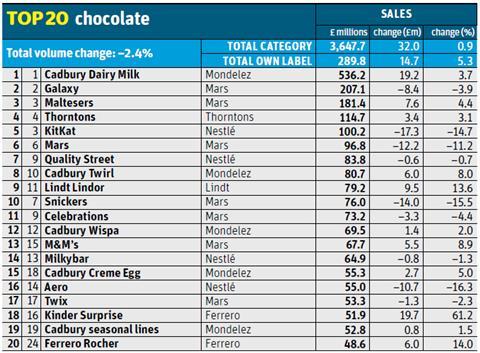 Mars increased that variety this September when it rolled out a smaller, 23g Galaxy countline aimed at the calorie-conscious, backed by an £11m media push. It hopes the NPD can revive the fortunes of Galaxy. While still comfortably the UK's second best-selling chocolate brand, value sales have fallen 3.9% - though volumes have remained static. Marketing activity has included a partnership with HIV charity Red that has seen celebrity ambassadors Mollie King, Alesha Dixon and Victoria Pendleton design their own ­special-edition red chocolate bars.

It's not all bad news for Mars, however. Maltesers is the fastest growing top-five brand by value and volume. Sales have been boosted by NPD such as the Teasers bar and novelty lines such as the MaltEaster bunny.

"Maltesers has been our stand-out brand because it plays to big consumer trends and a whole range of occasions including in-home sharing and self-eat treats," adds Dhaliwal. M&M's has also grown, with sales up £5.5m on the back of investment including TV advertising for 22 weeks of the year. M&M's has been supported by a series of limited-edition lines including sharing pouches and treat bags with a mix of green and orange M&M's for Halloween, and sweets in the colours of the Brazilian flag for the World Cup.

Mars and Snickers failed to score in 2014, however, both down more than 10% by value on considerably steeper volume declines. On the one hand, they may have fallen ­victim to health concerns; on the other, cuts in the size of standard countlines - in the name of health - won't have helped, particularly as prices stayed the same as in 2013. However, neither has lacked support. Mars was backed by a England football shirt promotion, while Snickers was given a new TV ad featuring Mr Bean - though this didn't launch until October and would not have affected the sales figures in the Top Products Survey.
"The most exciting NPD in confectionery has brought together power brands to drive cross-category sales"
Also benefiting from major marketing support in 2014 has been one of the new super-stars of the confectionery aisle - the Cadbury Dairy Milk Marvellous Creations range, which is now worth about £60m. Mondelez has splashed out £4.5m on advertising, sampling and digital activity. After exploding on to the market last year, the brand has this year been expanded into sharing bags with Marvellous Mix-Ups, which Mondelez says has racked up sales of £10m since its launch in April.

The success of Marvellous Creations played a key role in the 14% growth in Cadbury Dairy milk recorded a year ago, as did bringing together CDM with Oreo. Mondelez has continued the theme this year, combining Lu sweet biscuits and Ritz savoury crackers with CDM in a new countline (see Top Launch).

"The most exciting NPD in confectionery has brought together power brands to drive cross-category sales," says Mondelez marketing director for chocolate Matthew Williams.

Cadbury has also managed to turn around three brands that were in decline a year ago: Creme Egg, Wispa and Twirl - the latter two boosted by a strong performance from sharing bags and multipack formats; while Creme Egg benefited from a marketing push that Mondelez says was seen by 70% of the population.

Unfortunately for Nestlé, the opposite is true of its four brands in the top 20 - all were in growth 12 months ago but are now in decline. Hardest hit was Kit Kat, which has lost £17m in sales. Adding to its woes, this summer it announced it was axing its Wonka bars after less than a year on shelf. "Consumers love novelty and innovation in confectionery and this sits perfectly for a brand such as Wonka," Nestlé said at the time. "Novelty is by its nature often short term."

Quality Street has fared better than its stablemates, with value dipping only slightly. The brand has benefited from NPD such as the Quality Simply range, which is packed to look like a large version of a sweet, and new seasonal tins including designs specifically for Diwali and Eid.

Also embracing seasonal opportunities has been Ferrero, which has seen its Kinder and Rocher brands soar this year. It spent £11.7m on marketing activity that included TV ads over the spring to target Valentine's Day, Mothers' Day and Easter. A large part of Kinder's success has been down to Kinder Surprise Pink and Blue. "This has spearheaded growth by offering popular and relevant toys, alongside a chocolate treat," says Ferrero customer development director Levi Boorer. "As a result of the success, we have recently launched a second year of the Pink and Blue range, which is being supported by a £3.8m media package."

Lindt says consistent investment in advertising - and sampling - has helped it maintain the double-digit growth recorded last year. "The core formats of Lindor Milk 200g and 337g remain our best-sellers," says Brock. "The Lindor 38g treat bar is growing very strongly in response to consumer demand for premium snacking products."

While Thorntons' growth has been more modest than that of Lindt, it is well ahead of the overall market and follows the company announcing a 60% hike in profits in its last full-year results.Thorntons is focusing on developing its fmcg business, and in September announced its first mainstream chocolate block bars (in two variants: fudge and toffee) would be added to its portfolio, which already includes premium chocolate block bars and no-sugar bars.

The challenge in 2015 will be growing competition for shelf space, after several retailers including Tesco began banning confectionery at its tills this year, a move that's benefited healthier brands such as Nakd. With the war on sugar continuing, growth could be harder to come by in 2015.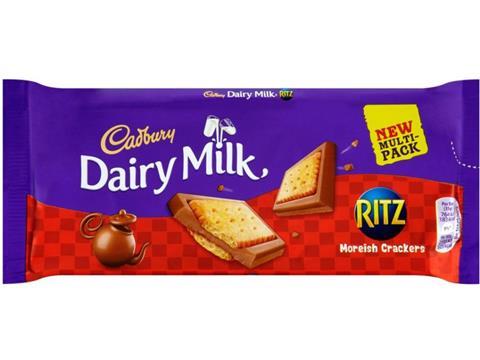 Top launch: Cadbury Dairy Milk Ritz and Lu Mondelez
Don't mess with a winning formula - well not too much, anyway.
Chocolate bars mixing Cadbury Dairy Milk with other Mondelez brands including Oreo and Daim had proved a hit, but the company did things a little differently in February.
It rolled out a new countline comprising four pieces of Cadbury Dairy Milk sandwiched between small sweet Lu or savoury Ritz biscuits.And Mondelez has found the sweet spot again, with the lines already worth £11m across singles and multipacks.