The past year has been a year of contrasting fates for hot beverages. While topline figures for the sector have been underwhelming and several big players have lost ground, some individual brands have delivered outstanding growth in a tough market.

And the market has been tough indeed. All four of the major hot beverages sectors have suffered value losses, amounting to a combined loss of £63.4m for the mults. Worse still, the decline has gathered pace since this time a year ago.

Tea is down 2.3% on volumes down 7.2%. Instant coffee has fallen 5.9%; 4.8% in volume. Roast & ground has sacrificed value (down 1.7%) to drive volume growth of 2.4%. Chocolate & malted drinks, the category's strongest-performing sector a year ago, is down 1.5%; volume has crashed 7%.

There's plenty of cause for tears. Or should that be tiers? Despite the decline, some have shown that by offering a wider array of propositions - from the everyday cuppa through to posher offerings such as pod coffees and herbal infusions - growth is still possible.

Take Twinings, which has overtaken Tetley to become the UK's second best-selling tea after PG Tips in the past year. Sales have leapt 4.9% to £107m for Twinings, though volume has dipped 1.6%, while Tetley has suffered a 12.2% hit to value on volumes down 14.9%.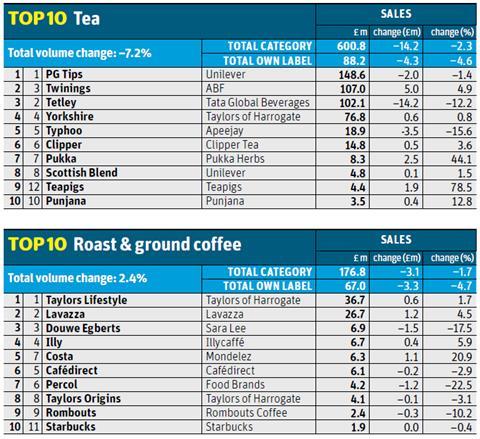 The early 2013 launch of Twinings Everyday has helped the brand steal share. But the lion's share of the growth is coming from more premium herbal infusions and speciality teas, explaining the brand's value growth over volume. To maintain growth, in October Twinings unveiled a host of premium NPD, including 16 loose-leaf blends, with variants such as Popcorn Tea and Nutty Chocolate Assam, in resealable pouches.

"If the opportunity for premium tea is realised, it will overtake mainstream within the next five to 10 years," says Zoe Taphouse, category director at Twinings UK.

"Change is being driven by new experiences and flavours on offer in the out-of-home market, especially the increasing popularity of loose-leaf tea."

A number of challenger brands are cashing in on this change in British tea drinking culture. Teapigs' biodegradable corn starch 'temples' and Pukka's pure emerald matcha powder helped both brands achieve double-digit value growth this year, albeit from a much lower base than the giants.

The health trend also drove sales of green, fruit and herbal teas. Yorkshire Tea owner Taylors of Harrogate sought to tap this trend in March with a new range of fruit and herbal teas in partnership with Kew Gardens. The launch has helped Taylors Tea overall to triple-digit growth, though the range is still worth less than £1m in the supermarkets.

Things aren't looking quite as lively for Taylors' flagship black tea brand, however. Value sales of Yorkshire Tea have inched up 0.8% in the past year; volumes have fallen 6.4%, bringing to an end several years of strong growth for the brand. A fall in promotions is to blame, says Kevin Sinfield, marketing manager at Yorkshire Tea.

"We're still the champions of black tea, but we're aware of the growth that will continue and accelerate in speciality areas," he says. "Our value sales are holding up, but we expected the volume drop. The multiples decided to stop investing heavily in price discounts because they weren't delivering volume gains. It was reaching a point where value was being traded out of the category."
Investing in growth
When it comes to everyday tea, investment in branding is crucial if players are going to avoid losing sales to own label and cheaper offerings in the discounters, suggest many. For example, Yorkshire's elevation from regional to national brand in recent years has been driven by strong ad pushes such as Everything Stops for Yorkshire Tea and its tie-in with the England cricket team.

Advertising investment and the development of fruit, green, herbal or more premium offerings has been the name of the game for rivals too. Still, PG Tips, Tetley and Typhoo have all been casualties of the cooling market and all have responded with NPD.

The year kicked off with the launch of PG Tips' fruit, herbal and green range in January, followed by Typhoo's premium brand Typhoo Gold in February and Tetley's flavoured green tea in packs of 20 in March. In September, Tetley rebranded its three premium black teas - Extra Strong, Blend of Both and Kenyan Gold - under the umbrella The Blend Collection, supported by a £3m ad campaign.
"Almost every household in the country has a jar of instant coffee… for when they're in a hurry or for tradesmen"
The ads, said Tetley director of customer & shopper marketing Andrew Pearl at the time, were designed to communicate the advantages of the range over standard tea. "If shoppers are going to broaden the selection of teas they buy, teas have to be presented in a more logical way so that they can understand what is available and see clearly how by upping their spend just a little bit they can achieve a new type of quality tea experience."

Meanwhile, PG has been investing in loyalty-driving activity such as the PG Tips Cuppa Club. Promotional packs feature 'PG points' that can be registered online and redeemed against activities and products. "The PG Tips Cuppa Club is a direct response to the decline the tea category has seen," says Paul Williams, marketing manager for PG tips at Unilever UK.

"By encouraging consumer loyalty through our Cuppa Club, we're giving consumers an extra reason to buy tea and therefore driving the rate of purchase - ultimately resulting in incremental sales."
Instant coffee
Incremental sales have been hard to come by in instant coffee, despite the ongoing premiumisation of the category. The sector has sustained the greatest loss in hot beverages, worth £43.9m, with top brand Nescafé accounting for £15.6m of that loss.

Instant coffee is being affected by the same phenomenon that is affecting tea. The core offerings of number one and two brands Nescafé and Kenco are in decline -between them they've lost more than £14m - while pricier, wholebean instant variants such as Kenco Millicano and Nescafé Azera are in strong growth. Nescafé's Gold Blend Barista Style, launched in September 2013, has racked up almost £9m, for example.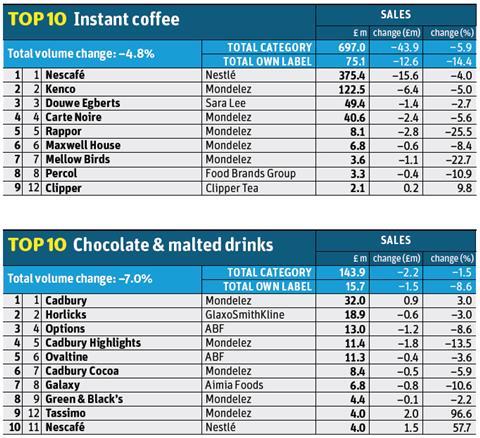 Nescafé Azera, which was joined by a new Mocha variant in September, is also enjoying blistering growth, according to a spokesman, adding: "The brand is popular with younger, more upmarket drinkers used to a heightened experience from visiting coffee shops."

Cafédirect's everyday coffee is one of the many instant brands being squeezed by Millicano and Azera. It hopes to recover from the past year's 31% value and volume decline in 2015 with the launch of three new Origins Premium Instant Coffees and two new espresso products.

Super-premium may be the fastest growing segment, but everyday instant is the largest and its consumers the heaviest drinkers, which makes premiumisation a massive opportunity, according to Nescafé, which launched Original Smooth Roast in August, calling it "a higher pence-per-cup everyday coffee."

The biggest casualty of the decline in standard instant coffee has been own label, which is down 14.4% on volumes down 13.2%. Martin Armitt, who leads the development of the coffee retail business at Aimia Foods, believes own label hasn't kept up with market changes.

"Consumers do judge a book by its cover," says Armitt. "Compare some of the brands' artistic crafted jars with the jam-jar look the majority of own-label has. Some of the retailers are really starting to look at how they're going about their coffee ranges and asking, 'Am I really making a connection with my consumer?'"
Ground & pods
As in chocolate & malted drinks, where category leader Cadbury has driven strong volume growth partly through an average price decrease of 4.2% (bucking the sector's overall decline), roast & ground brands are competing against heavy promotions. Category leader Taylors is looking to counter the drain in value with the launch earlier this year of its Gourmet single-origin range.

"Quality is key," says Liz Skilbeck, marketing manager at Taylors Coffee. "We want to educate shoppers because we know they're confused about all the coffee out there. We're making it easier for them to trade up."

There is another trend driving the sector: convenience. At home there are no baristas, which is why coffee pods are commanding growing shelf space. Value sales have surged 53.1% on volumes up 70% in the past year.

Mondelez says its Tassimo pod system has had a particularly strong run of late. "Tassimo has grown to 54.4% value share in the year to date," says Susan Nash, trade communications manager for Mondelez, quoting Nielsen data to 4 October.

Most expect pod growth to continue, though whether it can ever get to the scale of instant coffee is another question. "The reality is almost every household in the country has a jar of instant coffee," says Armitt. "But they might save it for when they're in a hurry or for the tradesman. There are different coffees for different times."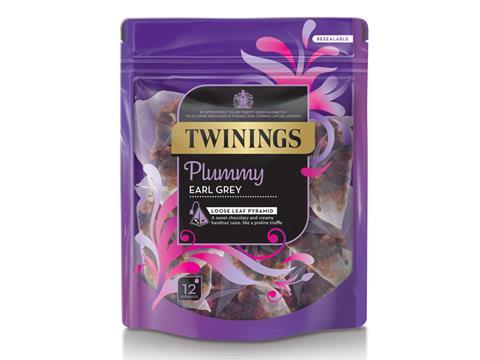 Top launch: Fruit & Herbal Infusions by Twinings
A world apart from a cup of builder's. In October, Twinings responded to increased demand for green, fruit and herbal teas by launching a raft of more contemporary flavours inspired by trends in food, fashion and travel.
This includes 16 loose-leaf blends packed in resealable pouches with an exotic twist such Popcorn Green Tea, apple & Elderflower and Mango Tango.
The new range carries a hefty premium: the market average price of tea is about 2p a bag; this stuff sells for upwards of 29p.