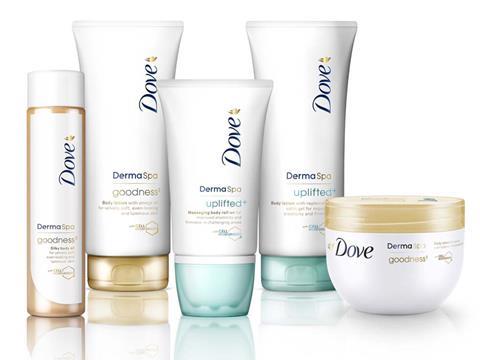 Top launch: Dove Derma - Spa Unilever
Softer skin for the masses! Unilever has been one of the driving forces behind the development of more affordable facial skin treatments. The range (rsp: £4.99-£9.99) strikes the balance between value and indulgence, claiming to transform skincare routines into a "pleasurable ritual". The products contain patented Cell-Moisturisers to strengthen the skin barrier while giving even-looking skin tone. The range, which replaced Dove's core skincare range, was backed with a £5m push.
Sales of grooming products are looking less than spruce as the multiples lose ground to cheaper rivals such as the pound stores.
"The market is becoming increasingly fragmented as shoppers search wider for the best prices on the products they buy most often," says Tesco head of marketing & strategy for health, beauty & wellness Mark Baxter.

Modest growth in facial skincare and shower products, and a solid £4.7m spike in liquid soap sales, have been wiped out by the £21.1m loss of the deodorants market in the past year. Bar soaps have slid a further £2.4m.

Nielsen attributes deodorants' decline to a lack of NPD since the 2013 launch of Unilever's compressed cans, with hefty average price gains across the company's brands contributed to double-digit volume drops.

Not until fifth-biggest deodorant brand Nivea do you see any growth, its 12.8% rise on volumes up 15.7% driven partly by its cheaper price. Beiersdorf puts the growth down to NPD and sponsorship of Liverpool FC.

Price is vital in skincare, as cheaper brands such as Simple and Nivea steal sales from pricier players. Olay's biggest SKU, Anti-Wrinkle, is down 5.3% on volumes down 3.9%. In response, P&G says it is rationalising the range. "There's utter confusion in the fixture," says sales director Ian Morley.
TOP 3 Deodorants
SALES
£m
change (£m)
change (%)
Total volume change: –6.6%
Total Category
544.2
–21.1
–3.7
Total Own Label
13.2
–2.1
–13.5
1
1
Lynx
Unilever
94.5
–6.0
–6.0
2
2
Sure Women
Unilever
64.7
–9.1
–12.3
3
3
Dove
Unilever
53
–4.6
–8.0
Get 20% off the full category ranking. Click here and enter discount code NIELSENGROCER
TOP 3 Facial skincare
SALES
£m
change (£m)
change (%)
Total volume change: 6.5%
Total Category
452.80
3.2
0.7
Total Own Label
59.20
0.3
0.6
1
1
Simple Kind To Skin
Unilever
54.6
2
3.8
2
2
Nivea Daily Essentials
Beiersdorf
33.7
1.9
5.9
3
3
Revitalift
L'Oréal
25.5
1.1
4.5
Get 20% off the full category ranking. Click here and enter discount code NIELSENGROCER
TOP 3 Shower products
SALES
£m
change (£m)
change (%)
Total volume change: 1.9%
Total Category
300.5
2.3
0.8
Total Own Label
16.8
–1.1
–6.1
1
1
Radox
Unilever
36.6
–5.4
–12.8
2
2
Imperial Leather
PZ Cussons
34.8
–1.7
–4.6
3
3
Lynx
Unilever
27.3
–1.4
–4.9
Get 20% off the full category ranking. Click here and enter discount code NIELSENGROCER
TOP 3 Liquid soap
SALES
£m
change (£m)
change (%)
Total volume change: 1.9%
Total Category
144.9
4.7
3.3
Total Own Label
22.1
0.9
4.3
1
1
Carex
PZ Cussons
47.5
3.6
8.2
2
3
Palmolive
Colgate
13.1
1.7
14.7
3
4
Imperial Leather
PZ Cussons
10.2
1
11.5
Get 20% off the full category ranking. Click here and enter discount code NIELSENGROCER
TOP 3 Bar soap
SALES
£m
change (£m)
change (%)
Total volume change: -8.3%
Total Category
70
–2.4
–3.4
Total Own Label
5.2
–0.4
–6.9
1
1
Dove
Unilever
26.3
–0.4
–1.6
2
2
Imperial Leather
PZ Cussons
10.5
–0.6
–5.8
3
3
Pears
Cert Brands
4.1
0
–0.1
Get 20% off the full category ranking. Click here and enter discount code NIELSENGROCER