Premium savoury pastry players must be as happy as pigs in the proverbial right now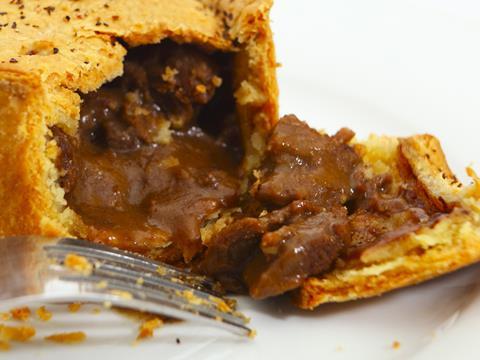 Premium savoury pastry players must be as happy as pigs in the proverbial right now. For sales of premium piggy pastries such as sausage rolls and pork pies are flying, as the farmgate price of pork remains at a low.

This has taken the shine off the top two players in savoury pastries somewhat, with Ginsters and Wall's having lost £5.6m between them (the latter being the bigger casualty). Nevertheless, this is significantly less than their £10.6m loss a year ago and overall the sector's rate of growth has more than doubled. Pastry, it seems, is paying its way.

That's thanks to posh brands such as Higgidy, which is hot on the heels of Wall's - the nation's second biggest savoury pastry brand - with value sales up 13.7% to £27.6m, leaving less than £10m between the two, thanks partly to distribution gains and a marketing campaign fronted by Chris and Stephen from Channel 4 show Gogglebox.
"Premiumisation is a key driver of growth as consumers come into the category in the pursuit of quality," says Mark Campbell, MD at Higgidy, whose NPD this year includes smoked bacon & tomato chutney and roquito pepper & chilli jam sausage rolls. "There is a vital distinctive role that premium brands are playing to bring new people into the category who wouldn't otherwise have considered it."

Fellow premium pie brand Pieminister is also among the star performers, with sales up 43.7% to £5.7m thanks in part to the addition of three new gluten-free pies, resulting in increased listings across the likes of Waitrose and Ocado. Pieminister has also secured shelf space in the Co-op, where smaller, niche brands are gaining listings as the retailer, which has added 14 new lines to its own-label savoury pastries range this year, taps the trend for premium pies and meat snacks.

"Regional and local is a big part of our strategy, with smaller brands such as Village Bakery and Wrights seeing strong growth," says Co-op's chilled pies, quiche and savouries buyer, Steve Addison. "Within premium we have extended distribution on Pieminister, Chunk of Devon and Clive's Pies, and in total the Co-op stocks over 200 regional products across 25 different suppliers."
Top Launch 2016
With more Brits buying food on the go, convenience-focused retailers are helping to drive growth in pastries by adding them to their meal deal offerings. The Co-op, for example, has cashed in by adding pork pies and sausage rolls to its on-the-go fixture this year, as well as bringing 14 new lines to its own-label pie and meat snacks range, including a pork & pickle jumbo sausage roll and mini pork & caramelised onion pies.

Brits' growing penchant for pork is reflected further by Vale of Mowbray's 3.2% growth on volumes up 2.3%, while Pork Farms' loss of nearly a fifth of its value seems anomalous. The loss is the result of squeezed shelf space for standard brands as retailers increasingly plump for more premium offerings.

"We've seen a growing trend towards premiumisation and choosing top-tier products," says Kim Burgess, head of markets at Addo Food Group, formerly Pork Farms Group. "The chilled savoury pastry premium tier has seen 13% sales growth and has increased its share of the total market to 11%."

The trend, which Addo is looking to tap with the October launch of premium pork pie brand Tottle, has led market leader Ginsters, which is still worth almost £95m despite a 1.2% drop in sales, back to its roots, championing its Cornish credentials and locally sourced ingredients in its marketing. The brand has added an on-pack 'The Nation's Favourite' flash to its original Cornish pasty and an 'Even Tastier' flash to its slices packaging after adding more meat. "In the latest market data our core business - pasties and slices - is showing a 44.5% share and there has been growth of over 2.2 million in volume within the category," says MD Mike Smith.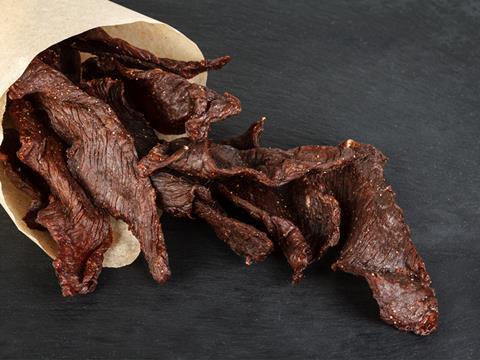 Biltong and jerky have become part of the Great British diet – see the ONS's March decision to add meat snacks to its basket of goods & services for proof – so what's next? Meatsnacks Group is pinning its hopes on fish as it gears up for the launch of Wild West Salmon Jerky in the spring. Marinaded, cooked and smoked in the company's new factory on the banks of the River Spey, the company says the launch will appeal to those who want to cut down on meat.
Also playing a major role in the category is meat snacks. Although gains aren't as impressive as last year - when the sector's 16.7% volume gain was the fifth biggest of the year, adding an extra £11m to the market - the sector continues to grow ahead of savoury pastries with value sales up 2.3% to £131.5m.

Peperami remains the nation's favourite, adding almost £2m more to the category, thanks partly to the launch of a Tex-Mex flavour variant in March and a summer-long marketing campaign marking the Euro 2016 football championships. The brand has shifted an extra 1.7 million units, a 4.1% rise.

Significant contributions also come from brands aimed at older shoppers seeking a protein fix. Wild West, Grabits and Bundu Biltong are all in double-digit value and volume growth, adding almost a further £2m to the market between them in the past year.

David Heys, UK marketing manager at Grabits owner Golden Foods Siam, says the brand's growth is even greater than what's reflected in Nielsen's numbers because of its strength in indies. "At number three in the top sellers list, the Grabits brand has seen exceptional growth (+50%) from mainly within the independent sector, which is not reflected in their quoted brand value of £3.5m," he says.

Expect more growth for the sector, says James Newitt, MD at Meatsnacks Group. "There are no signs of the protein trend diminishing, and with the evolution of softer and more foodie jerkies, we are seeing new consumers enter the market all the time."

Pork is also proving its power in meat snacks, with pork scratchings on the up. A new entrants is Gruntled, from the brains behind crisps brand Salty Dog. "The alternative snacks market continues to grow," says Salty Dog co-founder Dave Willis. "Pork crackling is the ultimate indulgence."

It looks like the pig-out has just begun.