Brits are getting saucy. Rather than reaching for a jar of the ready-made stuff, they're bubbling up a pan from scratch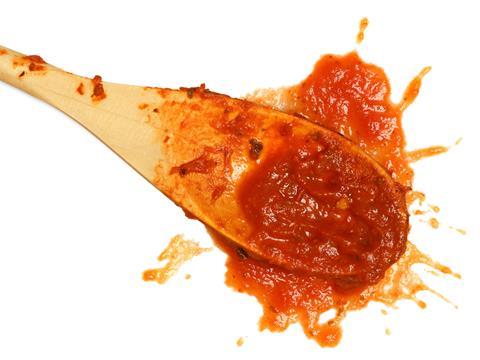 Brits are getting saucy. Only, rather than reaching for a jar of the ready-made stuff, they're bubbling up a pan from scratch.

So ambient cooking sauces are steadily cooling. In the top 10, only Saclà and Blue Dragon are up, both partly thanks to their efforts to appeal to scratch cooks with products such as Saclà's Cook's Pastes and Italian Recipe Bases and Blue Dragon's Stir Fry Sauces. Jarred sauces have been hit hardest.

More than a third of the sector's £30.3m decline has come from Mars, which advised in April that some of the jars in its portfolio shouldn't be eaten more than once a week because of their salt and sugar content. Its three biggest brands - Dolmio, Uncle Ben's and Seeds of Change - have lost £10.9m combined. Dolmio has lost a whopping £8.3m.
Data Box
For 20% off the complete category ranking click here and enter discount code NIELSENGROCER
Data supplied by nielsen.com
Ouch. A spokesman says the advice - intended to offer clear health-related guidance - attracted "controversy" but insists any impact will be short-lived. "The vast majority of our portfolio, such as Dolmio Bolognese sauces, are absolutely 'everyday' meals and most consumers recognise that."

Dolmio is by no means the only brand to suffer - Ragú and Napolina also returned negative numbers - and it's not just pasta sauce feeling the pinch. Colman's, Homepride, Sharwood's and Bisto have all fared worse in percentage terms, with Bisto dropping to the bottom of the top 20 after a painful 63.2% fall in value wiped £1.3m off the brand's value. "We've faced some challenges this year," says Helen Touchais, brand director for flavourings & seasonings at Premier Foods. "Our Bisto Made Simple flavour pastes in particular have seen sales drop due to its smaller size on shelf versus competitor recipe mixes."

But it's not all bad news, with top growers reflecting an increasing taste for premium products and world flavours. Premier Foods points to the success of the Loyd Grossman Gastro range, Homepride's All American Sticky range and Sharwood's World Inspired range. Old El Paso is up in double digits, thanks to Brits' growing adventurousness.
Top Launch 2016
Meanwhile, Knorr has "addressed shopper concerns over artificial ingredients" with the launch of Naturally Tasty! It says the mixes have been designed to "inspire consumers with new midweek recipe ideas" including Moroccan Chicken and Beef Tagine. "Each packet is lightweight and space efficient, especially when compared to a jar sauce alternative," says a spokesman.

See our canned food analysis for what many are switching to: tinned tomatoes. "The base for many home-cooked meals is tomato products," says Cirio UK operations MD Diego Pariotti. "Therefore products including Passata, Purée and Speciality are soaring, with combined volume growth of over 10% over the past three years."