Ask any marketer in any big booze supplier and they'll tell you: growth in spirits is being driven by premium brands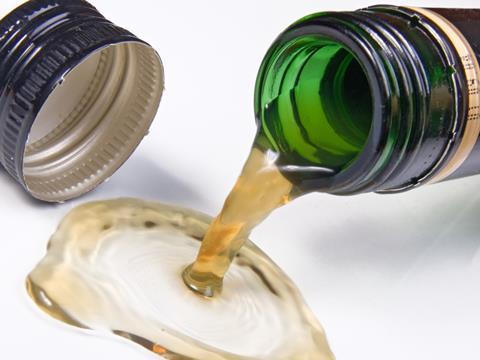 Ask any marketer in any big booze supplier and they'll tell you: growth in spirits is being driven by premium brands. But that's only half the story. Sure, they're growing fast, but they're tiny next to the giants.

"Premium spirits are in strong growth but they only account for a relatively small proportion of the market," says Nielsen client business partner Helen Stares. "We're seeing increased promotions in the mainstream spirits market, with big deals on bottles becoming more prevalent."

Piling big brands high and selling them cheap - particularly litre bottles - might be helping retailers to stem customer losses to the discounters, but it's devaluing the market. Value sales are up, but at less than half the rate of a year ago, while volumes are growing at nearly twice the rate.
Data Box
For 20% off the complete category ranking click here and enter discount code NIELSENGROCER
Data supplied by nielsen.com
Not that it seems to be hurting the sector's biggest brands. All but one of the top 10 spirits (bargain voddy Glen's) have seen average price fall, but seven are in growth, suggesting the strategy is generally paying off. Of the top 10, Glen's, Bacardi Carta Blanca and Famous Grouse, which this year lost its spot as Britain's biggest whisky brand to Jack Daniel's, are down. Grouse, down 2.9% on volumes down 0.4%, seems to have suffered particularly from reliance on one-litre deals.

"At Jack Daniel's we've been very careful about promotional mix," says head of marketing Sandra Brunet. "You'll see a lot of one litres on promotion at £15. Bell's and Grouse play at that level along with gin and vodka brands but Jack competes with a 70cl at £15."
Top Launch 2016
Pernod Ricard commercial director Chris Ellis claims litre deals are stifling growth: "Last Christmas' growth in premium spirits - up 6% on volume up 9% - was marred by the fact that nine of the top 10 performing tipples were often heavily promoted 1-litre offerings."

Absolut and Glenlivet Founder's Reserve's gains of £4.9m and £9.5m vindicate Pernod's position. But the market is polarising. In gin, the biggest growth has come from BBFB's Bombay Dry, up £9.7m (on average, a litre has been selling for 94p less than Gordon's). Premium stablemate Bombay Sapphire is up by just under £9.7m.

RTDs are also polarising. At the pricier end, premixes are in strong growth. So is cheaper fruit product WKD. Amanda Grabham, head of marketing at SHS Sales & Marketing, whose portfolio includes WKD, says premixes such as Jack & Cola and Gordon's G&T attract older, more affluent drinkers. "This inevitably led to retailers devoting more space to them," she adds. "This shift in emphasis means the fixture is less attractive to 18 to 24-year-olds."

That's WKD's core age group. The brand will need to pull out the stops in 2017.