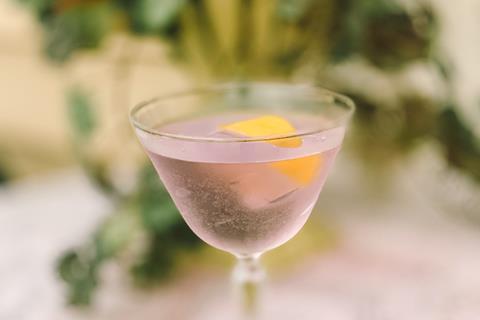 Craft gin's crown has been usurped. Not, as many predicted, by an army of craft rums, but by a legion of sweeter flavoured gins.
The top five fastest-growing spirits in absolute terms this year are all fruity gins: Gordon's Pink (up a stonking £52m), Whitley Neill's Rhubarb & Ginger (up £13.4m), Parma Violet (up £11.8m), Tanqueray Flor de Sevilla (up £11.5m) and Greenall's Wild Berry (up £10.5m).
This marks "a remarkable performance for a sub-category that was only conceived two years ago" says Nielsen senior client manager Jenny Dickson. Such phenomenal success has helped make spirits the third fastest-growing category in grocery this year.
The explosion of flavoured gin has even drawn entrants from other sectors of booze. Over the past year, the likes of Kopparberg, I Heart Wines and Echo Falls have all unveiled their own spin-offs to cash in.
It's not great news for everyone, though. Some of the craft gin scene's innovators have begun to buckle under growing pressure from fruity upstarts. Hendrick's original gin, for instance, has slipped into the red following a glorious 2018, and Greenall's core tipple is down almost a quarter (24.6%) to £26.6m – the second-greatest loss of any spirit.
And the massive proliferation of new brands is making it harder for even recently top-selling SKUs to generate stable, long-term growth. Dickson highlights the performance of Edinburgh Gin's Rhubarb & Ginger Liqueur, which lost £8m this year despite a stellar sales record and being bang on-trend. Increasingly, she says, "brands will have to work hard to maintain their status and momentum in an increasingly crowded, fast-moving market".
Beefeater owner Pernod Ricard agrees, and is anticipating a rationalisation of small craft brands in retailer ranges in the wider gin category in the future.
But James Stocker, marketing director at Whitley Neill owner Halewood, insists gin's veterans needn't be too worried. "Flavoured gins are bringing newer, younger drinkers into the category – people in their early 20s – in a way that gin never really managed to do until now. We hope that as these people get a bit older, their palates will mature, and they may go on to some of the more classic dry gins."
So what's next? Rum hasn't drummed up sales like gin. But Stocker predicts its day will still come, especially in regards to posher golden variants. "Like gin, it's a versatile spirit and has a lot of simple, at-home serves" he says.
*This article was amended on 16 December because it said Pernod Ricard was preparing for a rationalisation of its gin brands, which was incorrect.*

The Top Products 2019
In association with nielsen
Top 10 Spirits
£m
change (£m)
change (%)
Total Category:
4716.3
175.2
3.9
Volume change:
1.7%
Total Own Label:
644.3
38.3
6.3
This year's rank
Last years rank
Brand
Manufacturer
£m
change (£m)
change (%)
1
1
Smirnoff Red Label
Diageo
446.4
-8.0
-1.8
2
2
The Famous Grouse
EBS
227.3
10.4
4.8
3
3
Gordons
Diageo
217.5
2.5
1.1
4
4
Jack Daniel's Whisky
BBFB
171.9
7.5
4.6
5
5
Glen's
Loch Lomond Group
160.5
6.6
4.3
6
11
Gordons Premium Pink
Diageo
141.7
52.6
59.0
7
7
Russian Standard
William Grant & Sons
141.1
6.7
5.0
8
6
Bells Original
Diageo
120.4
-22.6
-15.8
9
8
Baileys Original
Diageo
106.3
-2.5
-2.3
10
10
Captain Morgans Spiced
Diageo
98.7
1.6
1.7
Top 10 RTDs
£m
change (£m)
change (%)
Total Category:
327.7
49.3
17.7
Volume change:
13.4%
Total Own Label:
51.6
14.3
38.2
This year's rank
Last years rank
Brand
Manufacturer
£m
change (£m)
change (%)
1
1
WKD Blue
Beverage Brands
31.0
-0.2
-0.6%
2
9
Gordons Premium Pink
Diageo
27.1
19.9
275.1%
3
2
Jack Daniels & Cola
BBFB
25.9
2.6
10.9%
4
4
Smirnoff Ice
Diageo
18.2
0.1
0.6%
5
5
Gordons & Diet Tonic
Diageo
17.2
-0.5
-2.9%
6
3
Gordons G&T
Diageo
17.2
-1.8
-9.3
7
7
Captain Morgan
Diageo
10.9
1.5
15.7
8
6
Crabbies Ginger Beer
Halewood International
8.7
-1.4
-13.8
9
8
Pimms No 1
Diageo
6.4
-1.3
-17.0
10
10
Smirnoff & Cola
Diageo
5.1
0.2
4.7
The Grocer's Top Launch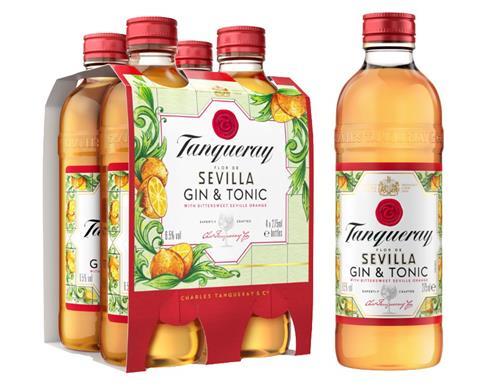 Tanqueray Flor de Sevilla RTD by Diageo
Gordon's pink gin may be Diageo's greatest achievement of recent years, but the brand's posher cousin Tanqueray has also been storming the supermarkets. Flor de Sevilla, launched last year, has so far racked up £15.7m and inspired a legion of imitators. With the expansion this summer of the variant into an on-the-go G&T, Diageo avoided using a can – an RTD format that sometimes looks a bit tacky – opting instead for a sleek glass bottle. It's already generated almost half a million in sales.