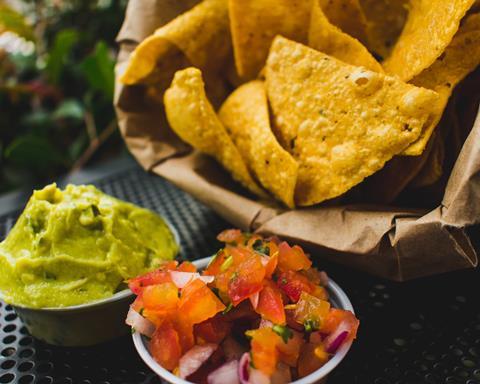 If it's bold, it'll get sold. That's the thinking in bagged snacks this year, where strong flavours are drawing focus from their traditional counterparts.
The category's value has grown by a healthy £134m this year, or 4.4%. But most of that increase was down to higher prices, which were partly the result of this year's poor potato harvest, and partly a result of premiumisation. The overall market's volumes are more or less flat (0.9%).
Brands are actually falling in volume. Their unit sales dipped 1.1% in the face of steep competition from cheaper own-label rivals, which have sold 7.8% more. Hardest hit was Walkers, which sold 6.5 million fewer kilos.
So, it makes sense that crisp brands are trying to turn shoppers' heads towards their pricier offers. From McCoy's Muchos Nacho Cheese to The French Kitchen's Snail & Garlic, they are taking inspiration from the alcohol industry when it comes to innovation, says The French Kitchen co-founder Gavin Bacon.

"Look at craft beer in the last few years and then the wine category before that – it's the same with snacking. Bigger flavour, more taste and better snacking experience are the factors driving growth."
The category's big players are casting their net wide for inspiration. PepsiCo, for instance, looked to the meat snacks category this year for Doritos Flame Grilled Steak. "Research found that meat snack lovers tend to shop more regularly and spend more within the category," says PepsiCo marketing director for snacks Clafoutie Sintive.
The January launch followed the summer 2018 debut of Doritos Collisions with variants including Honey Glazed Ribs & Lemon Blast. PepsiCo says the range delivered more than £6m in sales over its first 12 months.
"The combination of two bold and exciting flavours in one bag plays to the needs of the under-34s, a group from which 70% of Doritos shoppers come," Sintive adds.
The big, bold trend has benefited PepsiCo's Walkers Sensations too. It has grown by £10m this year, which Sintive says is down to it "bringing in new customers by investing in new flavours and innovative formats" like Hickory Smoked Cheddar and Crispy Bacon. They were accompanied by PepsiCo's "biggest ever" push, which reached over 50 million people, according to Sintive.
Boldness is "paramount" in bagged snack innovation, insists KP Snacks sales director Andy Riddle. It satisfies "people's curiosity about different cuisines".
Which would explain KP's thinking behind McCoy's Muchos. With flavours like Smoky Chilli Chicken, it has significantly outperformed McCoy's core crisps range, racking up £11m in sales in its first eight months.
Still, boldness isn't the only thing shoppers are after. They're also cracking down on excessively unhealthy options. Which means growth for the likes of Walkers Oven Baked. The reduced-fat lineup has added a cool £10.4m to its value this year – an increase of 20.4%.
Meanwhile, Cofresh's Eat Real, with its free-from range of houmous, lentil and quinoa chips, has seen a staggering 79.7% growth in value, equating to £3.6m.
The better-for-you segment is growing "at three times the rate of savoury snacks", claims Sintive at PepsiCo, which in August added Walkers Hint of Salt, a range with "25% less salt than regular potato crisps".
"Over half of the UK population say that health is important for them when it comes to snacks and while it remains at a fairly small base, we are disproportionately investing in this area," she adds.
KP's Riddle says Brits still want to snack, but those snacks need to be "more permissible". That was the thinking behind KP's acquisition of better-for-you brand Popchips in 2018. It has proven a savvy move. The brand is up £5.6m (22.1%) this year, making it the ninth-fastest grower in bagged snacks.
Retailers are pushing healthier snacks hard, Riddle adds. "If you walk the stores they are opening up space for 'better for you' propositions, and signposting to help people make healthier choices."
This is going hand in hand with major range rationalisation. "Retailers are telling us products need to earn their space and drive efficiencies," he says. "There's quite a lot of duplication – especially in popcorn, where lots of new products came in but the category didn't grow. Ultimately, that puts complexity and cost into the supply chain."
Then there's the 'Blue Planet effect' to worry about. Suppliers are coming under increasing pressure from retailers and shoppers to crack down on excess packaging.
Hula Hoops, for instance, has had roughly 23% of the packaging removed from its multipacks, says Riddle. But he stresses the debate isn't simple. "The primary consideration has to be food quality, and [a change of packaging] could be the right one from an environmental perspective but the wrong one for food integrity. It has to be looked at very carefully."
Not all brands have been so cautious. Late last year, Herefordshire startup Two Farmers unveiled a range of crisps in a 100% compostable bag, which it claimed was a UK first for the category. Four variants are available in packaging made in the UK from eucalyptus wood pulp grown in sustainable forests. It provides the same shelf life as a plastic crisp bag, and will break down within 26 weeks under domestic composting conditions.
Two Farmers launched its ec0-snacks shortly after Kellogg's announced an initiative to allow shoppers to send hard-to-recycle Pringles cans to Terracycle, to be repurposed into benches and fence posts.
Around the same time, Walkers revealed plans to launch the UK's first nationwide recycling scheme for plastic crisp bags. In its first three months, it collected more than half a million packets.
A few months later, the supplier drastically cut plastic across its most popular six-packs and 12-packs – marking "an important step forward" in its efforts "to reinvent our packaging to make it recyclable, compostable or biodegradable as quickly as possible".
Because, as with flavour innovation, boldness is key when it comes to sustainability.
The Top Products
In association with nielsen
Top 25 Bagged snacks
£m
change (£m)
change (%)
Total Category:
3184.7
134.1
4.4%
Total volume change:
0.90%
Total Own Label:
637.0
35.6
5.9%
This year's rank
Last year's rank
Brand
Manufacturer
£m
change (£m)
change (%)
1
1
Walkers Crisps
Pepsico
411.7
-20.5
-4.8
2
2
Pringles
Kellogg's
213.9
24.0
12.6
3
3
Doritos
Pepsico
182.6
13.6
8.1
4
5
Hula Hoops
KP Snacks
133.7
17.5
15.0
5
4
Mccoys
KP Snacks
128.8
0.8
0.7
6
6
Sensations
Pepsico
126.1
10.3
8.9
7
7
Kettle Chips
Valeo Foods
92.9
-2.7
-2.8
8
8
Quavers
Pepsico
83.5
0.1
0.1
9
9
Jacobs Mini Cheddars
Pladis UK
67.4
4.7
7.5
10
12
Walkers Max
Pepsico
64.5
8.8
15.7
11
10
Kp Nuts
KP Snacks
63.9
3.6
6.0
12
14
Walkers Oven Baked
Pepsico
61.4
10.4
20.4
13
11
Wotsits
Pepsico
59.9
3.0
5.3
14
15
Monster Munch
Pepsico
56.8
6.6
13.2
15
13
Tyrrells
KP Snacks
48.4
-2.8
-5.5
16
17
Squares
Pepsico
41.9
0.6
1.5
17
16
Sunbites
Pepsico
38.0
-4.6
-10.8
18
19
Pom Bear
KP Snacks
33.1
3.3
11.0
19
18
Butterkist
KP Snacks
32.4
0.7
2.1
20
23
Popchips
KP Snacks
31.5
5.7
22.1
21
20
French Fries
Pepsico
30.6
1.4
4.8
22
22
Seabrook Crisps
Seabrook
29.3
1.9
6.8
23
21
Smiths
Pepsico
27.8
0.3
1.1
24
24
Skips
KP Snacks
27.6
4.3
18.7
25
27
Nik-Naks
KP Snacks
22.5
4.7
26.6
The Grocer's Top Launch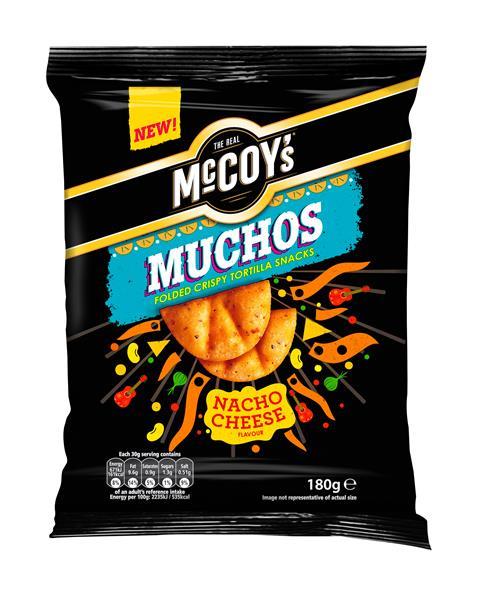 McCoy's Muchos by KP Snacks
Muchos took rather longer to launch than expected. KP Snacks had to postpone rollout of McCoy's "biggest ever" NPD for almost a year after the original version of the folded tortilla-style crisps were found to break under their own weight. Made from corn, wheat & potato, with a blend of spices & kidney beans, the Mexican-inspired snacks finally landed in January this year. KP expects the three-strong range to rack up mouth-watering value sales of about £15m in its first full year of sale.