Veg sales are back from the brink. For the first time since we first included fresh produce in this report back in 2014, veg is in value and volume growth, adding £36m in 2018.
But it's fruit that was responsible for the total market smashing £10bn this year, accounting for three quarters of the £179.6m growth. One particular type of fruit - the berry - added £94m to that figure. Standout performer blueberries hit double-digit growth in value and volume, overtaking clementines to claim the number five spot.
There are a number of reasons at play. Snacking is on the up and punnets tap demand for convenience, says British Summer Fruits chairman Nick Marston. That blueberries have been named a 'superfood' won't have hurt either, nor will the fact growers extended the growing season.

Other fruit isn't faring as well. While a 7.3% rise in average price has pushed the value of apples up, volumes have plunged by 12.6 million units.

Still, the industry is hoping the overall 5-a-day message won't be forgotten. To drum it home, it has just thrown its weight behind a primetime TV ad campaign to boost veg sales, due to premiere in January.

The most influential factor in this year's veg sales, though, has been weather. Tomatoes, peppers and cucumbers grew in one of the hottest summers on record, which according to Florette resulted in an additional 27 million barbecues. But other salad stalwarts like lettuce and dry leaves lost £8.4m combined. Although volumes rose - Florette says more than one million extra shoppers bought into the category - it wasn't enough to mitigate the fall in prices after the highs of 2017's shortages.

Overall, prices fell despite tough growing conditions (spuds, carrots and sprouts were hit by the frozen March and hot summer). That took a particular toll on potatoes, the fastest falling product in this report by value.

The discounter focus on fruit and veg - Lidl boosted its fresh produce range by 25% - made price even more important. "We've had particular growth in our Oaklands Fun Size range, designed to encourage children to eat more fruit and veg," says Lidl buying director Paul Gibson.
TOP LAUNCH
---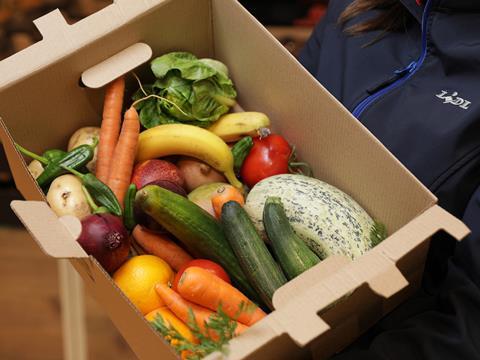 Waste Not, Lidl
Taking aim at food waste, Lidl launched a bumper 5kg box of fruit and veg "no longer at its perfect best but still perfectly good to eat" in August. Boxes are sold for a bargain £1.50 between the hours of 8am and 10am, and anything left unsold goes to charity as part of Lidl's Too Good to Waste initiative. Initially launched in 122 of the retailer's locations, the boxes have since rolled out across its 710-strong portfolio, potentially saving some 10,000 tonnes of surplus produce each year.