It may have been the year of the vegan, but that doesn't mean Brits are shunning all things carnivorous just yet.
In fact, despite the mults launching a glut of meat alternatives this year, there is little evidence shoppers are ditching meat, suggests AHDB's head of retail and food service engagement Matt Southam.

"Meat, fish and poultry teams haven't seen a reduction in space in store, and meat alternatives aren't taking up space previously reserved for meat," he says.
This is reflected in the category's sales figures. The nation spent almost £4.3bn on meat this year. That's just 0.2% (or £9.6m) down on 2017, and a far more positive picture than this time last year, when the industry reeled from much larger losses.
Even the most demonised area of the category - red meat - isn't faring badly. Beef added an extra £2.4m to its value. Sausage sales passed the £550m mark thanks to the hot summer. "The weather drove strong sales, particularly around burgers and sausages," says AHDB analyst Susie Stannard.

Bacon, which saw a 1.6% fall in value to £717.7m, also fared better than it may first appear. This corresponded with a 1.6% fall in average price, while volumes edged up 0.1%.

Still, it's the parts of the category that tend to appeal to today's more health-conscious, flexitarian consumer that have seen the most gains. The largest volume increase was in poultry, up 9.3 million kg. Proving high-profile food safety scandals haven't dampened public appetite, an extra 5.4 million kg of that was chicken. That increase was beaten only by rotisserie, selling an extra six million kg.

Fish was the winner in value gains, up £39.4m to just shy of £1.9bn. Commodity price inflation has been a major driver in that growth, as average prices soared across key species salmon, cod and haddock.

Elsewhere, lamb was the biggest loser. Volumes plummeted 6.5% on the back of a 3.4% price hike driven by what the National Sheep Association described as a "shocking" lambing season. "Lamb's main barrier is the fact it is so expensive, and it also suffers from the drive towards dish-based recipes," Stannard adds. In other words, it's not a natural choice for your 'meat and two veg' dish.

Still, the fact 'meat and two veg' remains popular is cause for cheer in itself.
TOP LAUNCH
---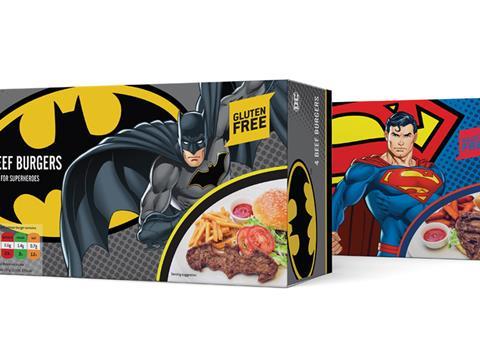 Food for Superheroes, ABP UK
ABP is hoping for a superhero-sized boost to sales with this DC Comics tie-up. Carrying either Batman, Superman or Wonder Woman branding, these products are designed to "create excitement for meat products in younger consumers", ABP says. The Food for Superheroes lineup includes three packs of six chilled pork sausages, three packs of 10 frozen sausages and three packs of four beef burgers, all of which are made entirely from British meat.