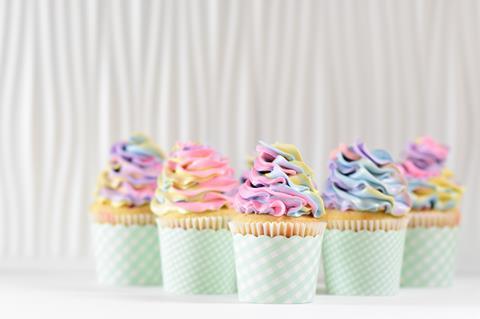 They say a little bit of what you fancy does you good. In the case of cake, Brits seem to be stretching that advice to its limits. The nation tucked into a whopping 5.5 million extra cakes over the past year, bringing in an additional £23.4m.
There's no question Britain loves cake. But the rise in volumes isn't just down to a voracious appetite. It's also the result of savvy moves by brands.
Innovation – particularly in the form of limited editions – has been a key tactic. Take Mr Kipling, which boasts this year's highest value gain of £5.6m.
That was driven by the brand's core range and "additional sales through NPD such as Ladybird Slices and Unicorn Fancies", says Nielsen analyst Steven Hansell. The special edition Roald Dahl lineup, which returned for a second year, has also been a "real success", he adds.
McVitie's has taken a similar route. Owner Pladis says limited editions, which include Unicorn, Flamingo and Mermaid cake bars, have helped "get a record-breaking number of households buying McVitie's cake products". Indeed, sales have soared by £2m overall.
Soreen also got in on the act with the return of limited edition flavours for Halloween. The brand has another key point in its favour, too: size. Because in cakes, the best things come in small packages.
Soreen says sales of its lunchbox loaves are up 20% on last year, which managing director Mark Simester puts down to a "big drive towards convenience".
McVitie's also says its cake bars are reaping the benefits of being a "portable, portioned-controlled treat".
If you can mix that portion size with health cred, all the better. Brits may be chowing down on cake like crazy, but they still want to minimise guilt where they can.
Some brands, like Soreen, have health as an integral part of their proposition. Others, like Mr Kipling, are experimenting with 'better for you' options.
Premier Foods says the reduced sugar Mr Kipling Angel and Chocolate Slices have attracted new shoppers since their debut in February.
"Half of the spend generated by these slices since launch has been incremental to the category," says Mathew Bird, Premier's brand director for sweet treats.
Still, it's not just the big brands generating extra spend. Some of the most impressive gains in percentage terms come from outside the top five. Balconi is up a staggering 51.6% to be worth £6.9m, while Bonne Maman is up 30% to £11.2m. Nielsen's Hansell says this is down to increased distribution in stores.
Which goes to show that, in the world of cakes, small can win big.
The Top Products
In association with nielsen
Top 20 Cakes
£m
change (£m)
change (%)
Total Category:
1174.3
23.4
2.0
Total volume change:
0.7%
Total Own Label:
642.7
1.7
0.3
This year's rank
Last year's rank
Brand
Manufacturer
£m
change (£m)
change (%)
1
1
Mr Kipling
Premier Foods
158.5
5.6
3.6
2
2
Cadbury
Premier Foods
77.0
0.0
0.0
3
3
Mcvities
Pladis
40.0
2.0
5.2
4
4
Soreen
Samworth Brothers
37.1
1.3
3.6
5
5
Thorntons
Finsbury Foods
22.7
1.1
5.0
6
7
Bonne Maman
Andros
11.2
2.6
30.2
7
6
Mrs Crimbles
Stiletto Foods
9.2
0.1
1.1
8
8
Graze
Unilever
7.1
-0.6
-8.1
9
11
Balconi Cakes
Balconi
6.9
2.3
51.6
10
10
Galaxy
Pladis
6.2
0.2
4.1
11
9
Mary Berry
Finsbury Foods
5.4
-0.6
-9.9
12
13
Yorkshire Baking Company Cakes
Yorkshire Baking Company
5.0
1.1
29.8
13
15
Happy Shopper
Booker Belmont
4.2
0.4
11.1
14
14
Tan Y Castell Cakes
Tan Y Castell
4.1
0.3
7.8
15
12
Bobbys
Bobby's Foods
3.9
0.1
1.3
16
18
Regal
Regal Foods
3.4
0.7
25.3
17
20
Just Love
Just Love Food Company
3.3
0.8
31.9
18
46
Maltesers
Mars
2.8
2.1
317.4
19
21
Fiona Cairns Cakes
Fiona Cairns
2.7
0.2
6.1
20
17
Cabico Cakes
Cabico
2.6
-0.2
-7.0
The Grocer's Top Launch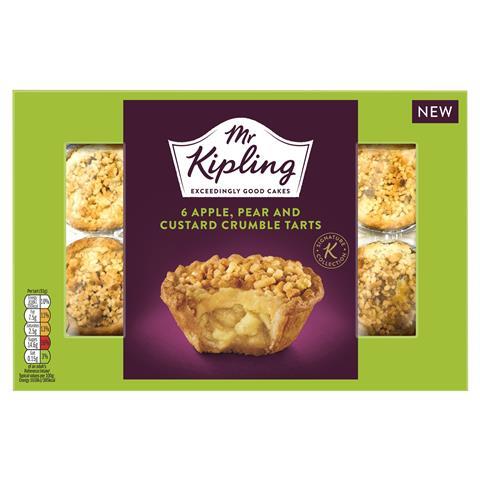 Signature Collection by Premier Foods
Mr Kipling has gone posh with its latest innovation. Positioned as an "indulgent evening treat", the Signature Collection comprises After Dinner Mint Fancies; Chocolate, Caramel & Pecan Slices; and Apple, Pear & Custard Crumble Tarts. At £2.25 to £2.50 per box, it's pricier than your standard Mr Kipling fare. But Premier says people are willing to pay for the "rich texture and contemporary flavour combinations", as proven by the range racking up £800k in its first eight weeks.