No longer is canned the weakest link. In a reversal of fortunes, sales are on the up with total value passing £1.7bn. An impressive £30m (1.8%) more went through the tills.

It's quite the turnaround from the £10.6m loss recorded last year. Still, predictions that survivalist Brits would be stockpiling long-life goods in anticipation of Brexit might not have been entirely accurate, as the vast majority of growth came from increased prices.

The trend is most evident in fish, where average price per unit is up 7.3%, rising from £1.59 to £1.71. After double-digit volume losses in 2017, the two biggest brands in the category experienced contrasting fortunes, as John West managed to claw back volumes, up 5.9%. Princes, however, suffered as its range was rationalised, seeing another year of decline and losing 13.5% in volume.
A substantial rise in raw material costs and the weakness of sterling are to blame for the price rises, says international marketing director at John West, Jon Burton. "Most of our raw material and processing costs are in US dollars and euros, so this had a significant impact, coupled with the fact consumers are often unwilling to accept premium pricing for the more sustainable products they demand."

This has impacted shopper numbers, down 0.5%, and crucially volumes bought when they buy, says Alan Eriksen, marketing director for Princes. In fact, overall volumes continued to fall in canned fish, with 3.5% fewer products purchased overall. The dip was felt most keenly in branded, which fell 8.1% in volume, though own label picked up some of the market with a 1.1% rise. It's a similar story in canned meat and beans, with own label share increasing as shoppers look for a more cost-effective alternative to brands.

Branded bean value sales remained flat (up 0.4%) propped up by a 2.9% increase in average price, while own label grew £1.6m (3.2%) to £54.8m on volumes that dipped 0.5%. To arrest the decline, brands continued to innovate. Heinz, for example, says it tapped growing trends like pot formats and health.

But that didn't stop it losing 3.3% in volume. Number two brand Branston was down 3.9%. In fact, Princes' pot and canned meal-in-a-hurry range Hunger Breaks was the only brand in the top five to achieve volume growth, surging 22.9%.

Princes' Eriksen says this shows the rise in canned food "is not simply being driven by market inflation". After all, canned beans prices were only up 1.4% on average - lower than total grocery inflation. "The conclusion we can draw is the category may well become increasingly important to budget-conscious shoppers as prices continue to rise."

It was the emergence of healthy accompaniments in the bean category that drove the most growth, says Nielsen senior client analytics executive Paula Pallant, pointing to 19% growth in products with claims such as 'no added sugar' to £35.4m. Heinz Beanz marketing manager Fabio Megid Pinto cites this as the reason behind last year's launch of its No Added Sugar Beanz. "Health remains a concern for consumers, with 34% of households reducing sugar on a regular basis, and many consumers believe a product containing 'no nasties' is worth paying more for."

However, the same principle doesn't seem to hold true in pasta. Last year's launch of Heinz No Added Sugar Hoops didn't stop pasta being the only one of the six canned subcategories not to share in the value resurgence. It remained in stubborn value and volume decline, down £4.8m (6%) as 11.7 million (9.5%) fewer packs left shelves.

Retailers showed little patience with slowing sales, culling 25% of canned pasta's branded shelf space in 2018. "As most brands rely on licensed children's characters to promote, the cost implications of licences and contract renewal are taken into account," explains Pallant. Coupled with a reduction in on-deal volumes, the sector suffered the greatest percentage volume decline in the canned and ambient aisle this year.

Elsewhere, canned veg made significant value gains, up £16m (3%) on last year, driven by young consumers clamouring for healthy yet affordable ingredients like tomatoes and pulses. Meanwhile, canned fruit gained £400k (0.4%), buoyed by own label increases. "There's not been a lot of innovation in canned fruit," admits Martin Tilney, commercial director for UK and Ireland at Del Monte Europe. "A lot of young people think of canned as a war relic but they're waking up to the benefits in terms of food waste and recyclability, so there's a lot of potential there."

Still, the fact remains that 40 million fewer cans were sold this year, so players will need to push these credentials harder in 2019.
TOP LAUNCH
---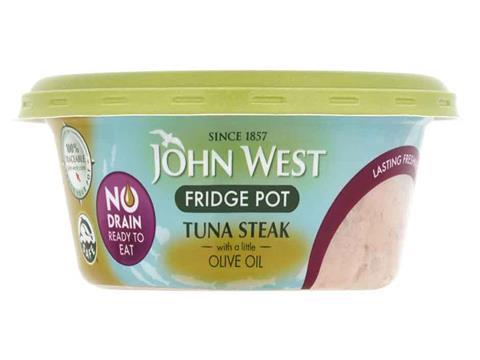 No Drain Fridge Pots, John West
No, this isn't actually a can. But by John West's own admission, consumers see cans as old fashioned and uninspiring. Bit of a blow for the biggest canned fish player. Still, it's proved its ability to adapt with No Drain Fridge Pots. Launched in July, the new plastic tubs of tuna steak come with "a little" olive oil, brine, sunflower oil or spring water (rsp: £2/110g). Importantly, they are "easy peelable and resealable", meaning consumers don't feel obliged to use the whole pack at once.