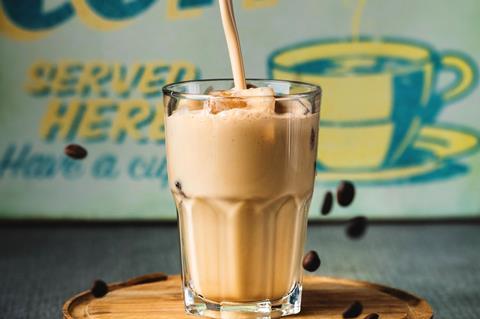 Dairy drinks are enjoying an almighty caffeine rush. While fewer fresh milk and yoghurt drinks have made it into shopping baskets over the past 12 months, 15.1 million more litres of flavoured milk have been chugged by consumers – with coffee-based RTDs providing much of the buzz in the category.
Almost all the major coffee-focused brands in the category are in double-digit growth, helping push up the sector's volume sales by 9.7% – its biggest increase in at least six years.
Growth is being driven by younger consumers who are not conventional coffee drinkers, according to Crediton Dairy's head of marketing and insight, Abigail Kelly. "If you go into coffee shops, they are full of young people, but they aren't drinking hot coffee, they're drinking frappe, Frappuccino and iced coffee," she says.
The second-biggest driver of growth is shoppers' change of attitude towards soft drinks, she adds. "Concerns over sugar content mean consumers are looking for something different and iced coffee is benefiting from that as they look to milk drinks to meet their needs – whether it's as a pick-me-up, to refuel, to boost their health, or as a treat."
Crediton's Arctic iced coffee brand has been one of the biggest beneficiaries of this boost, with sales more than doubling to £5.4m and an extra one million litres flying off shelves in the past year, a boost in volumes of 150% (albeit from a small base).
Not every flavoured milk success story this year comes with a shot of espresso. Category leader Yazoo credits its double-digit growth in values and volumes in part to its work with Public Health England's Change 4 Life push.
Its Good Choice badge "features alongside bottles of Strawberry and Banana packs in store and within our marketing mix across the country" points out Yazoo business unit controller for out of home Wayne Thompson.
"The credibility of the badge provides reassurance to families and has helped us encourage flavoured milk into their diets as a great-tasting alternative to regular milk that is still a source of vitamin D, calcium and vitamin B2."
Yazoo's performance is in stark contrast to that of its closest milkshake rival, Frijj. The Müller brand saw its sales drop by 9% as volumes plunged 17%.
Nevertheless, flavoured milk's year has been one of double-digit growth overall. It's a different story in fresh milk, where value is up just 1% and volumes are down 1.5%.
Still, despite 43.2 million fewer litres passing through tills, own-label fresh milk became marginally more lucrative, adding £18.1m thanks to higher supermarket prices.
That should give hope to own-label suppliers, who endured another torrid year thanks to plummeting profits.
Major processor Tomlinsons Dairies fell into administration in October, with NFU dairy board chairman Michael Oakes warning that the sector "was no longer functioning properly".
Other major liquid milk suppliers also slid into the red. The six biggest companies made a collective loss of £144m in the 2018 financial year, on £5.2bn sales, according to The Grocer's research.
It means own-label milk could face further price inflation over the next 12 months. In October, John Allen, managing partner of industry consultancy Kite, told The Grocer that "retailers will have to up their prices in order for the sector to survive".
The picture is slightly rosier for branded fresh milk, where value is being added through innovation. Arla's Cravendale, which remains top of the charts despite Alpro's 8% growth, saw flat volumes. But value remained in the black – just – due to higher average prices. "We have done a lot of work with the convenience retailers to offer smaller grab-pack style formats and this has gained extremely strong traction, delivering 5.8 million litres in 2019," says Danny Micklethwaite, senior director of milk & yoghurts at Arla.
It remains to be seen if such a strategy can help Arla pull away from fast-approaching Alpro. The plant-based giant is on the cusp of becoming the overall milk/milk alternatives leader after an £11.3m boost in value. It is now within £3.5m of Cravendale.
"Gone are the days when plant-based was seen solely as a 'needs-based' choice," says David Jiscoot, marketing director for Alpro UK & Ireland.
"Now we're a mainstream choice for anyone looking for brands and products that can help them to make healthy choices in an easy, accessible way, every day."
The only brand to outdo Alpro's progress is milk alternative rival Oatly from Sweden. It more than doubled sales to £34.2m. The brand, which includes a plant-based manifesto and a carbon footprint measurement on its packaging, claims its success comes from its close relationship with consumers.
"We're direct in our messaging, engaging with people in both a serious and humorous way – connecting with them. On top of this, we're transparent in our values and what we believe in," says Oatly UK general manager Ishen Paran.
The Top Products
In association with nielsen
Top 10 Fresh milk & milk alternatives
£m
change (£m)
change (%)
Total Category:
2749.6
27.7
1.0
Total volume change:
-1.5%
Total Own Label:
1883.2
18.1
1.0
This year's rank
Last year's rank
Brand
Manufacturer
£m
change (£m)
change (%)
1
1
Cravendale
Arla Foods
149.7
1.3
0.9
2
2
Alpro
Alpro
146.2
11.3
8.4
3
4
Freshways
Nijjar Dairies
63.7
0.8
1.3
4
3
Wiseman
Muller
63.6
-6.8
-9.6
5
5
Lactofree
Arla Foods
51.8
1.7
3.4
6
7
Arla
Arla Foods
49.7
6.8
15.9
7
6
Watson Dairy
Medina Dairy
36.8
-8.8
-19.4
8
12
Oatly
Oatly
34.2
17.9
110.2
9
11
Grahams
Graham's Family Dairy
25.1
4.7
22.9
10
10
Yeo Valley
Arla Foods
19.5
-3.7
-16
Top 10 Drinking yoghurts
£m
change (£m)
change (%)
Total Category:
180.6
1.4
0.8
Total volume change:
-0.7%
Total Own Label:
18.1
2.1
12.8
This year's rank
Last year's rank
Brand
Manufacturer
£m
change (£m)
change (%)
1
1
Actimel
Danone
89.4
-1.6
-1.7
2
2
Benecol
Raisio
43.6
-1.6
-3.5
3
3
Yakult
Yakult
16.5
-0.4
-2.5
4
9
The Collective
The Collective
3.3
2.6
369.0
5
11
Biomel
Biomel
2.0
1.6
414.5
6
4
Mlekovita
Mlekovita
1.8
0.0
1.1
7
8
Bio-tiful Dairy
Bio-tiful Dairy
1.4
0.5
66.7
8
6
Milko
Mlekpol
1.2
0.3
36.5
9
5
Lowicz
O.S.M. Krasnystaw
1.1
-0.1
-6.6
10
7
St Ivel
Saputo
1.0
0.1
16.0
Top 10 Flavoured milk
£m
change (£m)
change (%)
Total Category:
404.4
48.0
13.5
Total volume change:
9.7%
Total Own Label:
65.7
8.6
15.0
This year's rank
Last year's rank
Brand
Manufacturer
£m
change (£m)
change (%)
1
1
Yazoo
Campina
62.8
6.7
0.1
2
2
Starbucks
Arla Foods
60.7
8.8
0.2
3
3
Frijj
Muller
34.2
-3.4
-0.1
4
5
Emmi
Emmi
20.3
5.0
0.3
5
4
Weetabix
Weetabix
15.1
-2.2
-0.1
6
8
Alpro
Alpro
13.7
2.3
0.2
7
6
Mars
Mars Consumer Drinks
13.5
-0.8
-0.1
8
7
Dunns River
Grace Foods UK
12.4
-1.7
-0.1
9
9
For Goodness Shakes
My Goodness
12.1
1.0
0.1
10
12
Shaken Udder
Shaken Udder
9.9
4.1
0.7
The Grocer's Top Launch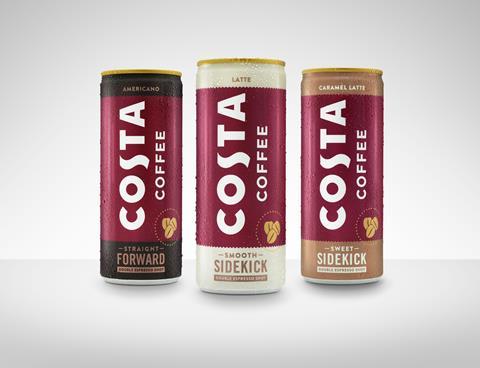 Costa Coffee RTD by CCEP
It was bound to happen. Once Coca-Cola completed its £3.9bn acquisition of Costa in January, the coffee chain's RTD debut was inevitable. The range comprises Classic Latte, Caramel Latte and Black Americano, promising a double shot of espresso and 30% less sugar "than most other ready-to-drink coffees in Great Britain". To mark the launch, Coke's famous electronic ad at Piccadilly Circus gave way – for three days – to Costa, which has so far seen its canned coffee rack up £692k.