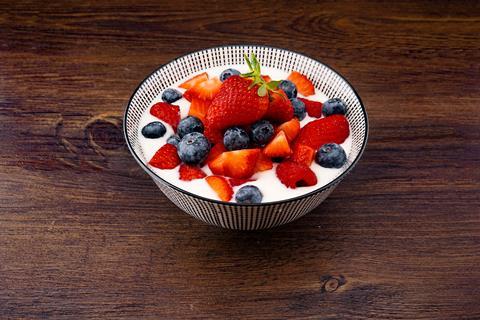 Yoghurt sales are curdling. Despite a focus on natural, health-led products, consumption has continued to fall.
In fact, the decline stepped up a notch in 2019. Yoghurts fell by a staggering £50.6m in grocery, equating to 193.1 million fewer units.
Not even the traditionally robust own-label sector managed to escape the decline this time around. Although volumes were more or less flat, value dropped 2.7% or £14.8m. That was driven by significant promotional activity across the mults, which helped push down average prices by 2.6%.
However, brands fared the worst. Their value fell by £35.8m, or 2.5%, and volumes collapsed by 5.6%.
There are a couple of trends driving this slump, says Arla's senior director for milk & yoghurts Danny Micklethwaite. First, yoghurts have suffered from a change in consumer habits, with a sharp drop in consumption during the evening meal dessert – the category's largest occasion.
"The second trend is the health perception of yoghurts," he adds. "As more people move away from diet-focused products such as fat-free, consumers are switching to more natural products or leaving the category."
Some brands have benefited from that shift. The Collective, for example, is up £4.2m thanks to ongoing distribution wins.
But others are suffering from the move away from diet lines. And none more so than former market leader Müller Light. It slipped £29.7m – 18% of its value – and fell to third place. That makes it the second fastest falling brand in this entire report.
The slump comes despite a 1.8% fall in average price. Promotions of the brand are "no longer hitting the mark" suggests Nielsen analyst Kate Goodman.
Müller head of category Carol Hand admits "yoghurt has its challenges", but she stresses Müller Light is "exploring ways to grow the brand and drive category growth". Indeed, it relaunched with a new recipe in May and rolled out a glut of innovation over the year.
Müller Light isn't the only one struggling. Danone's Activia shed £7.5m following a loss of distribution, says Nielsen's Goodman. The brand hopes to recoup some of that with the UK launch of a plant-based range next year.
Elsewhere, kids' brands Petits Filous and Frubes suffered value drops of 13.8% and 10.4% respectively due to the "often-misjudged perception of [their high] sugar content" claims Yoplait Kids senior brand manager Elisa Costa.
Arla's Micklethwaite agrees yoghurts are facing challenges to their "health halo", especially in kids lines. It is looking to battle that perception with the September launch of Arla Explorers, which promises at least 30% less sugar than other kids' yoghurts.
The Top Products
In association with nielsen
Top 20 Yoghurts & potted desserts
£m
change (£m)
change (%)
Total Category:
1939.9
-50.6
-2.5
Total volume change:
-4.3%
Total Own Label:
533.3
-14.8
-2.7
This year's rank
Last year's rank
Brand
Manufacturer
£m
change (£m)
change (%)
1
2
Muller Corner
Muller
147.9
-0.4
-0.3
2
3
Activia
Danone
134.5
-7.5
-5.3
3
1
Mullerlight
Muller
132.6
-29.7
-18.3
4
4
Yeo Valley
Yeo Valley Farms
108.0
1.9
1.8
5
6
Fage Total
Fage
59.0
0.6
1.1
6
5
Onken
Emmi
58.4
-0.8
-1.4
7
7
Cadbury
Muller
55.7
-0.3
-0.5
8
10
Gu
Gu
47.7
4.6
10.7
9
9
Alpro
Alpro
44.1
0.6
1.3
10
8
Petits Filous
Yoplait
43.0
-6.9
-13.8
11
11
Mullerice
Muller
38.5
-0.2
-0.5
12
13
Arla
Arla Foods
36.0
0.1
0.3
13
15
The Collective Great Dairy
The Collective Great Dairy
35.5
4.2
13.3
14
12
Munch Bunch
Nestle
33.1
-3.3
-8.9
15
14
Light & Free
Danone
32.4
0.7
2.1
16
18
Oykos
Danone
29.2
3.2
12.5
17
16
Yoplait Wildlife
Yoplait
28.6
0.4
1.4
18
17
Rachels Organic
Nestle
21.2
-4.9
-18.9
19
19
Frubes
Yoplait
20.6
-2.4
-10.4
20
23
Nomadic
Nomadic
20.5
3.5
20.8
The Grocer's Top Launch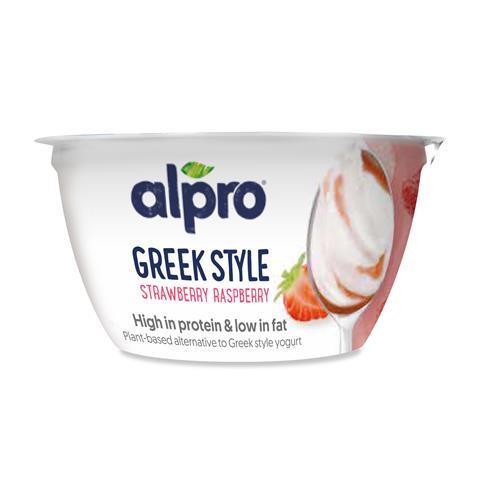 Alpro Greek Style by Alpro
Alpro heralded 2019 as its "biggest ever" year for NPD and marketing, so it's no surprise the plant-based behemoth grew its yoghurt alternatives by tapping the Greek trend. The soya-based range is available in a 400g plain variant and a 150g pot across strawberry & raspberry, passion fruit, blueberry and mango. Backed by a multimillion-pound push that saw one million samples given away, the range was most recently bolstered by a granola-based variant.