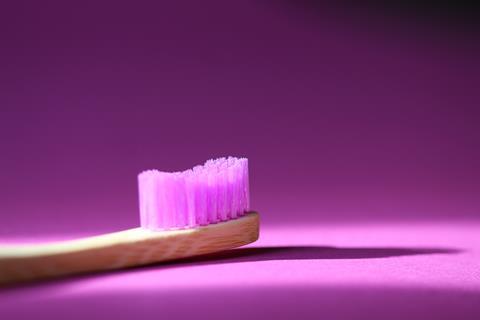 Lockdown has played havoc with the nation's teeth. With less socialising to do, Brits aren't caring for their chompers like they used to.
"New routines were always likely to emerge, and some shoppers did take a more relaxed approach to their standards of personal hygiene," says Craig Percival, marketing director at GSK Consumer Healthcare, which has seen its Aquafresh brand fall by £3.8m on the high street.
However, a carefree approach to oral hygiene is only one of a few reasons why the category has lost £34.3m across toothpaste, toothbrushes and mouthwash. Brushes were the main driver. They're down £28.5m, as consumers bought 10.2 million fewer packs.
"The sector continues to struggle with an increase in shoppers using electric toothbrushes and a lack of education on when to replace toothbrush heads," according to Matt Carpenter, analytics team leader at Nielsen.
And when they did decide to freshen their brushes, many shoppers chose to buy replacements from online specialists rather than the usual high street retailers.
That's led to a surge in demand for direct-to-consumer brands like Ordo, which supplies electric brushes and replacement heads.
"Oral care is a huge category and for so long has been solely purchased in-store," says Ordo co-founder Barty Walsh. "The convenience of ordering online and having products delivered to your door hassle-free is appealing to customers."
But in spite of the uptick in online, grocery brands still have cause to smile. GSK, for instance, says lockdown habits such as eating "more indulgent food" have given its speciality products a boost, as shoppers become "conscious of the impact of a change in lifestyle upon the health of their teeth". Its medicated Corsodyl brand has enjoyed the highest top 10 value growth in both toothpaste (9.6%) and mouthwash (9.7%).
Interestingly, mouthwash was the only oral care sector to add value – albeit by just £1.4m (1.1%). It's benefited from "limited research and media speculation of the benefits of using mouthwash as a treatment for Covid" says Carpenter.
Top Products 2020
In association with Nielsen
Top 5 Toothpaste
£m
£ change
%
Total volume change:
-3.5%
Total Category:
416.4
-5.3
-1.3
Total Own Label:
6.3
-1.3
-17.4
This year's rank
Last year's rank
Brand
Manufacturer
£m
change (£m)
change (%)
1
1
Colgate
Colgate-Palmolive
197.6
1.7
0.9
2
2
Sensodyne
GSK
98.9
3.7
3.9
3
3
Oral B
P&G
55.2
–3.5
–5.9
4
4
Aquafresh
GSK
20.9
–1.1
–5.0
5
5
Corsodyl
GSK
12.3
1.1
9.6
Top 5 Toothbrushes
£m
£ change
%
Total volume change:
-13.8%
Total Category:
260.1
-28.5
-9.9
Total Own Label:
18.3
-1.3
-6.6
This year's rank
Last year's rank
Brand
Manufacturer
£m
change (£m)
change (%)
1
1
Oral B
P&G
153.3
–20.7
–11.9
2
2
Colgate
Colgate-Palmolive
44.4
–5.0
–10.0
3
3
Sonicare
Phillips
15.7
0.0
0.1
4
4
Aquafresh
GSK
6.4
–0.4
–5.6
5
5
Wisdom
Jordan
4.8
–0.5
–8.6
Top 5 Daily Mouthwash
£m
£ change
%
Total volume change:
-1.0%
Total Category:
133.2
1.4
1.1
Total Own Label:
7.5
0.5
8.5
This year's rank
Last year's rank
Brand
Manufacturer
£m
change (£m)
change (%)
1
1
Listerine
Johnson & Johnson
68.1
–0.3
–0.5
2
2
Colgate
Colgate-Palmolive
28.1
2.2
8.7
3
3
Corsodyl
GSK
14.4
1.3
9.7
4
5
Dentyl
Dendron
2.7
–0.1
–3.9
5
4
CB12
Meda
2.4
–1.2
–32.4
The Grocer's Top Launch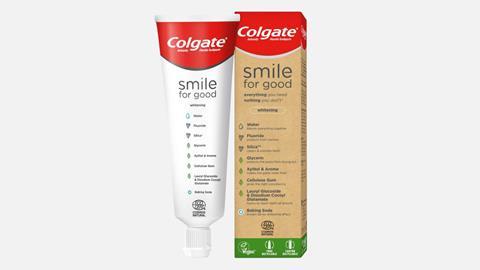 Colgate Smile for Good, Colgate-Palmolive
Colgate-Palmolive started 2020 by launching "the first ever" recyclable toothpaste tube. Unveiled in January, it's not made from sheets of aluminium layered with plastic laminate, as most tubes are. Instead, Smile for Good uses only high-density polyethylene, the widely recycled plastic that makes milk bottles. Each ingredient in the toothpaste itself – available in Whitening and Protection – is listed on front of pack with its purpose explained. That's another industry first, says Colgate.