Carbohydrates' share of our plates is shrinking. Brits' carb consumption at home fell 0.4% this year, as we revealed in September. Protein, meanwhile, is all the rage, with consumers viewing it, rightly or wrongly, as a healthier macronutrient to carbs.
As a result, rice, noodles, pasta and spuds are having to fight hard for their place at the table. So who's winning?

Things aren't pretty for the poor old potato. That's mostly down to a fall in price, but punters are also looking for products perceived as healthier, easier to prepare and suitable for the ever-widening repertoire of cuisines they're enjoying at home. And they'll pay more for such credentials.

These trends have made rice king of the carbs again this year, up 3% to £444.8m on units up 0.7% - marking five years of consecutive growth. Leading players say there's still room for even more.

"It's been a really good year for rice. The category has grown, own label has grown and a number of brands have grown," says Nadia Follon, marketing manager for market leader Uncle Ben's. "This shows that the category is answering consumer needs."

Pouched rice is one obvious area for growth. While 88% of households regularly buy rice, just 56% buy the stuff in pouch formats, according to Tilda. Still, ready to heat (RTH) pouched rice is the fastest growing part of the market, driven by big increases in own-label ranges, regular round pound and two for £2-type deals by the big two brands Uncle Ben's and Tilda, plus a steady stream of branded innovation.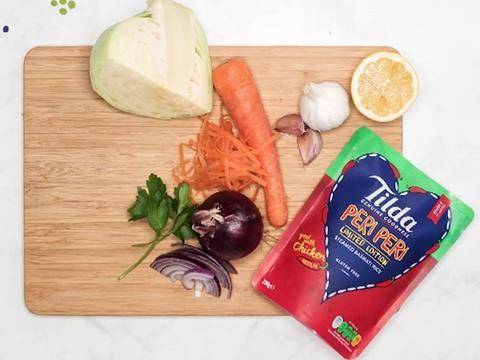 The first two factors are driving prices down, says Nielsen senior analyst Ana Avila. "The category is heavily promoted with 26% of total volume sold on promo, although this has declined 1.1% versus last year," she says.

"Own label is a fierce competitor, driving value and volume. People used to enter the category through brands like Uncle Ben's and then switch to own label. Now, especially in classic flavours, people are entering through own label and sticking to it."

Own label's 7.2% growth on units up 8.1% illustrates this point perfectly. Meanwhile, Uncle Ben's has seen value dip 1.5% on units up 0.7%. Number two brand Tilda is up 4.7% in value and 4.6% in unit sales. Note that average price per pack is down for both brands.

With prices being hammered down on standard lines, brands are looking to maintain value through innovations that satisfy demand for healthy, culinary and convenient products. These launches can be eaten either as a side dish or as a meal in their own right. See the July launch of Uncle Ben's Rice & Grains pouched range or Tilda's five-strong Super Grains lineup.

"We're focused on innovation because we can't win on price, so need to give consumers more," Tilda brand lead Anna Beshati told us in the summer. "Our focus is on developing unique recipes that quality-conscious consumers expect." It's not all about adding trendy grains such as quinoa or wild rice and putting it in a pouch, though. Bulk Basmati brand Akash is responsible for the biggest launch in rice of the past year, a loose basmati that's delivered 8% of the total value of all rice NPD.

The brand uses the strapline 'Perfectly Aged in the Himalayan Sunshine' in a bid to differentiate itself from own label and bargain brands that dominate bulk rice. It's seen sales surge 510.9% to £622k.

Brands are also having to push their premium credentials in the noodles and pasta markets to stave off own label. That's especially true in noodles, where own label value sales are up 11.6% on unit sales up 21.2%. Brands, meanwhile, have seen combined sales fall 4.4% while unit sales are flat.

Brands such as Amoy, which took the top spot this year, say communicating quality and convenience is key to competing with own label. "Kraft Heinz continues to focus on delivering a quality unmatched by own label, whilst focusing on innovation," says Annie Kimberly, senior brand manager for Amoy.

Culinary convenience isn't the only way brands are looking to regain the upper hand. "With consumers more sensitive to what represents 'good value for money', our focus remains on providing the best quality products available, while ensuring these remain affordable," says Daniel Jalalpour, brand director for cooking sauces at Sharwood's owner Premier Foods.

That said, Sharwood's has suffered the greatest decline of the year, losing £1.4m (16.1%) on units down 15.7%. That most retailers offer products similar to Sharwood's but at a much lower price suggests Premier needs to invest in communicating the brand's premium credentials or prepare to promote harder to drive sales.

Having a clear point of difference from own label is crucial, says Neil Brownbill, commercial director for Napolina, which has seen its pasta sales surge 13.6% on units up 20.1%, as pasta brands overall have seen value and volume rise 2.9%. Own label, meanwhile, dipped 3.4% on units down 1.5%.

"One of the key strengths of the Napolina brand within pasta is the breadth of range offered," says Brownbill, adding that Napolina's average price per unit has dipped as a result of the ongoing switch to 500g packs. "Innovative ranges such as 50/50, which delivers more fibre than regular pasta, have been followed up with new to market Organic Gluten Free Vegetable pastas. These complement the pillar of Napolina's core 500g and wholewheat ranges, as well as the Bronze Die premium offering, which has recently seen strong distribution gains."

Healthy and premium: just the sort of image carbohydrates need to cultivate.
TOP LAUNCH
---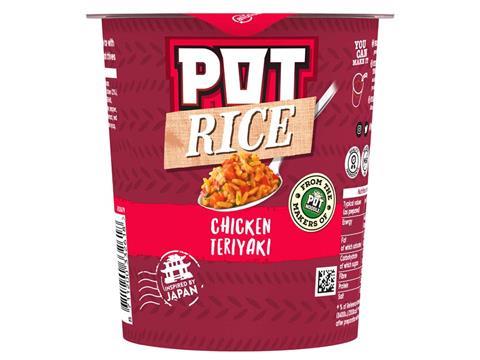 Pot Rice, Unilever
Pot Rice is back with a bang after a 15-year hiatus. With rice fast becoming the carb of choice for time-pressed consumers, the omens are good for Pot Rice's return. Available in three variants inspired by the cuisines of Japan, Italy and India (Chicken Teriyaki, Chicken Risotto and Vegetable Curry), Unilever says the relaunch was a response to a combination of "fierce consumer demand" and the ongoing decline of traditional sit-down meal occasions.