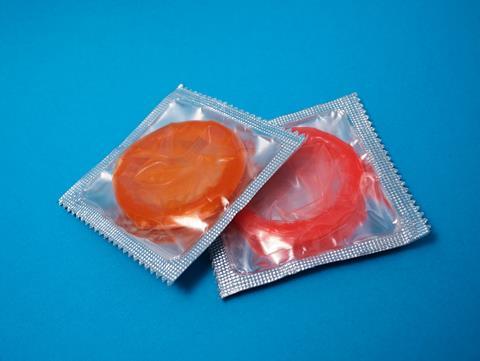 We've all seen the headlines about millennials shunning sex in favour of box sets. That may be an exaggeration, but there is undeniably a slump in the UK birth rate (as felt by the babyfood market). And these numbers suggest the falling birth rate isn't just down to using protection.
Condom value sales in the supermarkets have fallen 1.7% to £53.4m, with 156k fewer packs sold overall.
That means brands are having to think creatively to gain sales. See number two condom brand Skyn, which relies on high street chemists such as Boots and Superdrug for much of its sales. It's up 5.8% to £4.4m, partly as the result of canny marketing, such as a Chrome browser plug-in that blocks Facebook pictures of friends' babies. Skyn's volumes are down 12%, though, as a result of the brand pushing its larger packs.
Meanwhile, the dominant force in sex care that is Durex is having its considerable market share nibbled away. Its condoms are down 2.1% in value to £45m, while volumes are stagnant (leading to a 1.9% decrease in average pack price).
"Durex's value share now sits at 84%, down from 85% last year, with growth being shared among various challenger brands," says Nielsen senior client analytics executive Luke Sisley, who points to the growth of Mates (up 16.4% to £1.3m).
Still, there is some positive news for Durex in lubes. "As with condoms, Durex is the presiding brand within lube, and has seen value growth despite a small share decline, from 50% to 49% of branded value," says Sisley.
Indeed, lube has generally been a better story for brands. While volumes are flat, that's been dampened by own-label lines. Branded lubes have grown in volume by 1.3%, with value up 4.5%.
Sisley says "significant growth has been seen in brands oriented towards relief, rather than recreation".
For proof, see the strong growth in the fifth and sixth bestsellers, Vagisan and Vagisil, up 31.9% to £1.6m and 17.7% to £710k respectively. Further down the list, wider consumer trends are being reflected. Plant-based lube brand Yes OB is up in quadruple digits to £271k, for example.
"Successful challenger brands have offered consumers new choices, including plant-based formulas," says Sisley.
He believes this could shape the condom category in coming years. Sisley points to the launch of Durex Ultimate Latex-Free, designed to attract vegan consumers. Despite coming from rubber-producing trees and plants, latex is not vegan because dairy protein casein is often used to soften it.
While latex-free condoms' value share fell from 15% to 11% in the past year, Sisley suggests Durex's move is a strong signal in light of the wider growth in veganism.
"As with other categories, we should expect to see innovative brands continue to expand their offering to capitalise on emerging themes, such as free-from and lower environmental impact," he adds.
So, perhaps the future of sex is green.
The Top Products
In association with nielsen
Top 5 Condoms
£m
change (£m)
change (%)
Total Category:
53.4
-0.9
-1.7
Total volume change:
-2.20%
Total Own Label:
-
-
-
This year's rank
Last year's rank
Brand
Manufacturer
£m
change (£m)
change (%)
1
1
Durex
Reckitt Benckiser
45.0
-1.0
-2.1
2
2
Skyn
LifeStyles Healthcare
4.4
0.2
5.8
3
3
Mates
LifeStyles Healthcare
1.3
0.2
16.4
4
5
Playboy
Playboy
0.0
0.0
-34.3
5
4
Pasante
Pasante Healthcare
0.0
-0.2
-93.1
Top 5 Lubes
£m
change (£m)
change (%)
Total Category:
25.8
0.9
3.6
Total volume change:
0.00%
Total Own Label:
2.4
-0.1
-5.1
This year's rank
Last year's rank
Brand
Manufacturer
£m
change (£m)
change (%)
1
1
Durex
Reckitt Benckiser
11.4
0.1
1.1
2
2
K-Y
Johnson & Johnson
3.2
0.2
6.2
3
3
Balance Activ
BBI Healthcare
2.4
0.0
-0.9
4
4
Replens
Church & Dwight
2.0
-0.1
-6.2
5
5
Vagisan
Wolff
1.6
0.4
31.9
The Grocer's Top Launches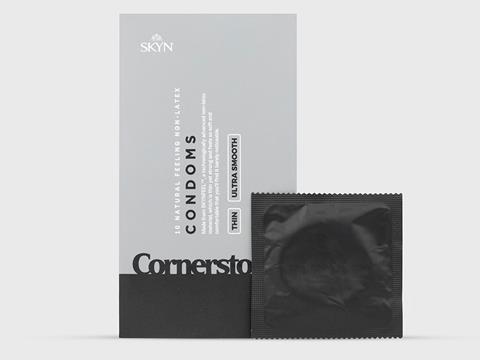 Condoms by Cornerstone
Shoppers aren't getting much sex care action in the supermarkets right now. Just see the above numbers for proof. It's a different story at online shave club Cornerstone, which has been expanding its offer in the past year. First came its Viagra alternative, Sildenafil. But it's the condoms we're most interested in. At £10 for a pack of 10 and available in just one variety (thin ultra-smooth), they're priced competitively and provide an alternative to the bewildering choice in the supers' sex care fixtures.