Water's bottled it. The category shifted 105.3 million fewer litres this year – largely as a result of "a double hit" for unflavoured lines, according to Britvic at home commercial director Ben Parker.
"First, the summer was much shorter and cooler than last year, leading to weaker sales results," he says. "Second, awareness and concern around the use of plastic has resulted in the increase of reusable bottles being taken out of home."
The biggest brands have taken the biggest hit. Volvic and Evian – the number one and two brands – lost a combined £32m. A spokeswoman for owner Danone says Volvic "has been affected by rationalisation of the plain water category", while the Evian brand "has been feeling the impact of a cooler summer".
Suppliers can't control the weather, of course, so they're trying to recoup losses by appealing to eco-conscious shoppers.
Evian is regaining market share thanks in part to its "engagement on sustainability" says Danone's spokeswoman.
CCEP's Glaceau Smartwater (up 3.3% in value on volumes up 0.2%), meanwhile, is switching all its packs to 100% rPET, which it claims will remove more than 3,000 tonnes of virgin plastic from the category. "One of the reasons we have such a strong brand is because we have, from day one, focused on sustainability," says Simon Harrison, CCEP's VP for commercial development.
The sustainability message certainly seems to have paid off for Highland Spring, the only top 10 supplier to rack up growth of more than £10m. In 2018, it beat Evian to become the first major brand to trial a 100% rPET bottle in grocery. The pack, which officially rolled out across the UK in January, "helped drive growth and continue the brand's momentum in the retail space" says Highland Spring head of marketing Carol Saunders.
Other bottled water brands have gone down a different route, playing up their functional benefits to attract extra shoppers.
So far, however, those efforts haven't paid off in grocery. Value sales of Smartwater spin-off Vitaminwater have dived 35.9%, while LSR's Fitwater has plunged by 49.1%.
Nevertheless, CCEP's Harrison is confident that bottled water "is very well placed to take advantage of some of the consumer trends we're seeing around hydration and health and wellness".
Indeed, LRS is focusing on channels outside of grocery for Fitwater, which has been "really successful with specific audiences in markets such as sports and leisure", says sales director Scott Meredith.
That's some succour, at least, after this year's punishing blows.
The Top Products
In association with nielsen
Top 10 Bottled water
£m
change (£m)
change (%)
Total Category:
1157.2
-39.2
-3.3
Total volume change:
-4.60%
Total Own Label:
307.9
-11.8
-3.7
This year's rank
Last year's rank
Brand
Manufacturer
£m
change (£m)
change (%)
1
1
Volvic
Danone
155.7
-23.4
-13.1
2
2
Evian
Danone
150.1
-8.5
-5.4
3
3
Highland Spring
Highland Spring Group
138.8
12.4
9.8
4
4
Buxton
Nestle Waters
92.7
-16.3
-15.0
5
5
Pure Life
Nestle Waters
66.7
1.8
2.8
6
6
Glaceau Smartwater
CCEP
44.7
1.4
3.3
7
7
San Pellegrino
Nestle Waters
35.2
1.7
5.1
8
9
Rubicon
AG Barr
18.7
1.7
10.1
9
8
Robinsons
Britvic
18.6
-1.4
-7.1
10
12
Macb Scottish Water
Sangs
8.1
1.0
13.9
Top 10 Squashes & cordials
£m
change (£m)
change (%)
Total Category:
471.9
-1.5
-0.3
Total volume change:
-2.00%
Total Own Label:
148.5
7.1
5.0
This year's rank
Last year's rank
Brand
Manufacturer
£m
change (£m)
change (%)
1
1
Robinsons
Britvic
185.6
1.1
0.6
2
3
Vimto
Nichols
46.6
3.1
7.2
3
2
Ribena
Suntory
38.0
-8.7
-18.6
4
4
Bottle Green
SHS Drinks
12.3
-0.1
-0.9
5
5
Belvoir Fruit Farms
Belvoir Fruit Farms
10.8
0.2
2.0
6
6
Jucee
Princes Soft Drinks
6.4
-1.7
-21.3
7
7
Rose'S
CCE
5.7
0.3
5.6
8
10
Rocks Organic
Rocks Organic
2.7
0.4
16.2
9
8
Teisseire
Britvic
2.7
-0.1
-3.4
10
12
Happy Shopper
Booker Belmont
2.2
0.3
12.9
The Grocer's Top Launch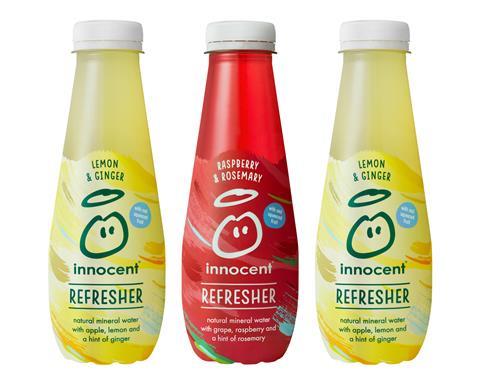 Refresher by Innocent
Sugary drinks' fall from favour with Brits concerned about their health has led to big names in juices and smoothies pivoting to the booming flavoured water market to boost sales. Innocent's move into the category hits the right notes: Lemon & Ginger and Raspberry & Rosemary contain just 16.7kcals per 100ml (almost half the amount in some variants of the brand's lightly sparkling Bubbles flavoured water in a can) and its 50% rPET bottle is fully recyclable.