Bottled water's sales have been heavily diluted. The category has shifted 159.1 million fewer litres this year, leading to a £148.5m loss in value.
The reason is simple, suggests Simon Harrison, VP of commercial development at Coca-Cola European Partners GB. "Bottled water has been hit hard by the decline in on-the-go consumption."
Hit hard, indeed. CCEP's Glacéau Smartwater, for instance, has seen 16.3 million fewer litres go through tills. "As Glacéau Smartwater is largely an on-the-go water brand, it has been impacted," Harrison adds.
The on-the-go slump hurt most of water's big names. Eight of the top 10 are in decline. Danone power couple Volvic and Evian have lost a combined £46.4m, and number three brand Highland Spring has shed £20.5m.
Nevertheless, Highland Spring's head of marketing Carol Saunders insists "demand for natural source water remains strong, with sparkling plain water emerging as a star category as consumers have been restricted to their homes".
Brits' thirst for bubbles is certainly in evidence at Nestlé. Its San Pellegrino brand has shifted an extra 1.7 million litres. "San Pellegrino is the biggest brand in the sparkling category in value and has always aspired to strengthen the association with food and be a part of in-home celebrations and special meal occasions," says Nestlé. As such, the brand "has gained from the switching of occasion from out-of-home to in-home".
So, fizzy water is one possible route back to category growth. Flavoured water is another. Danone says Volvic's Touch of Fruit lineup has bucked the decline in the category. It's experienced "double-digit per cent increases in distribution points in recent months with growth in symbols, independents and grocery", says John Letford, head of category development at Danone Waters.
A taste for fruity flavours has also led to Brits buying more squash. The sector has "seen unprecedented growth since the pandemic hit" says Tom Newman, senior analyst at Nielsen. In February, the category was in 3.7% annual decline. Now it's up 10.4%, driven by value gains for many of the well-known brands.
Ribena, for example, is worth an extra £1.7m on volumes up by 4.9%. Head of brand Charlotte Flook puts the success down to posh NPD. "We brought something different to the market for those consumers looking to trade up for at-home occasions and mealtimes in the form of Ribena's new fruity and botanical cordials, Glorious Crisp Pear & Rose and Splendid White Peach & Hibiscus flavours," she says.
Top Products 2020
In association with Nielsen
Top 10 Bottled Water
£m
£ change
%
Total volume change:
-7.4%
Total Category:
970.4
-148.4
-13.3
Total Own Label:
258.3
-30.8
-10.7
This year's rank
Last year's rank
Brand
Manufacturer
£m
change (£m)
change (%)
1
1
Volvic
Danone
128.4
–26.6
–17.2
2
2
Evian
Danone
124.3
–19.8
–13.7
3
3
Highland Spring
Highland Spring
118.4
–20.5
–14.7
4
4
Buxton
Nestlé Waters
77.9
–14.9
–16.1
5
5
Pure Life
Nestlé Waters
65.2
–1.5
–2.3
6
7
San Pellegrino
Nestlé Waters
36.7
2.6
7.6
7
6
Glacéau Smartwater
CCEP GB
24.9
–15.6
–38.5
8
8
Rubicon
AG Barr
17.8
–0.4
–2.1
9
15
Aqua Pura
Princes
7.9
1.8
29.4
10
9
Robinsons
Britvic
7.8
–1.2
–12.9
Top 5 Squashes & Cordials
£m
£ change
%
Total volume change:
8.9%
Total Category:
521.6
49.2
10.4
Total Own Label:
165.7
17.2
11.6
This year's rank
Last year's rank
Brand
Manufacturer
£m
change (£m)
change (%)
1
1
Robinsons
Britvic
203.0
17.2
9.2
2
2
Vimto
Nichols
56.0
9.4
20.1
3
3
Ribena
Suntory
39.7
1.7
4.5
4
4
Bottle Green
SHS Drinks
13.3
1.0
7.9
5
5
Belvoir Fruit Farms
Belvoir Fruit Farms
12.2
1.4
12.7
The Grocer's Top Launch
Peaches, Dash Water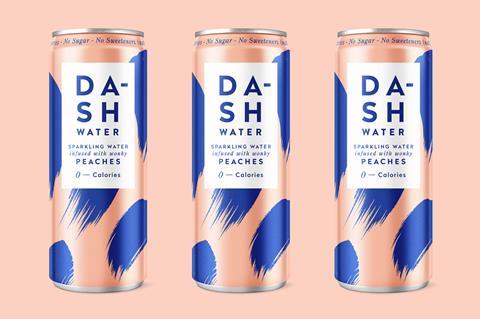 The year hasn't been all bad. At least not for London startup Dash Water. Since summer, it's achieved B-Corp status and secured a US distribution deal with Iris Nova, the Coca-Cola-backed soft drinks maker and distributor. Before all that, Dash added its fifth seltzer, Peaches. Like its stablemates, it's made with fruit that would otherwise go to waste. Plus, it contains no sugar and no calories. Having made its debut in April, it promises to be a "refreshing alternative to traditional soft drinks".