As Covid-19 took hold in the spring, shoppers frantically stocked up with products they believed would strengthen their immune systems. Yoghurt sales rose, interest grew in functional food, and sales of vitamin C supplements more than doubled in March.
Own-label fruit juice benefited too. After a rotten 2019, when The Grocer reported a slump of almost £28m, private label has added a refreshing £7.7m. Volumes are up by 3.6%.
And yet the category has suffered 2020's fourth-biggest decline by absolute value: £50.2m. Own label's gains have been consumed by the vast losses of brands. They've shed £57.9m and sold 23.4 million fewer litres.
The main reason? The collapse of on-the-go occasions, suggests Josh Tombs, client analytics executive at Nielsen. "While larger sharing packs saw growth, singles saw heavy decline, peaking at 61% decline in the first week of April compared to the previous year. Smoothies and juice drinks both have around 40% of their business going through this format."
Hardest hit by the single-format juice drinks decline has been Ribena, with sales plummeting £20m. Category leader Innocent also saw its on-the-go drinks "suffer a reduction in sales during lockdown," says commercial director John Taylor. The brand is worth £11.3m less than last year – but he insists: "We are in a more fortunate position than many. While we have been impacted, we have not been knocked off a long-term course."
That's because Innocent's "take-home products saw a strong uplift as people moved from their offices to home," Taylor adds.
The shift to working and eating at home has ensured a healthy year for Tropicana. It's sold an extra 7.7 million litres, driven by demand for take-home formats, suggests Steven Hind, marketing director for juices at brand owner PepsiCo.
"With many households enjoying new morning rituals as part of lockdown," orange juice has "performed particularly well" as Brits got their vitamin C habit, but "health has been high on the consumer agenda for some time, and shoppers are looking for juices that contain added benefits," Hind adds.
Hence PepsiCo's launch of Tropicana Lean range in September year as it aimed to meet changing shopper needs for low and-no-sugar products.
Innocent's Taylor also points to "functional health" remaining a key trend as it relaunched its super smoothies in March, boosted with double the amount of vitamins. "We know that offering on-the-go health options is important to our drinkers and so we will remain focused on this market in 2021," he says.
Top Products 2020
In association with Nielsen
Top 20 Juice Drinks & Smoothies
£m
£ change
%
Total volume change:
-0.5%
Total Category:
1653.5
-50.2
-2.9
Total Own Label:
586.0
7.7
1.3
This year's rank
Last year's rank
Brand
Manufacturer
£m
change (£m)
change (%)
1
1
Innocent
Innocent
254.8
–11.3
–4.3
2
2
Tropicana
Tropicana
213.7
6.0
2.9
3
3
Ribena
Suntory
66.3
–20.0
–23.2
4
5
Oasis
CCEP
66.0
–3.1
–4.5
5
4
Naked
Naked Juice
65.0
–6.5
–9.1
6
6
Capri-Sun
CCEP
59.0
–5.0
–7.9
7
7
Robinsons
Britvic
49.5
–0.2
–0.4
8
8
Britvic J20
Britvic
36.8
1.5
4.2
9
9
Copella
Copella Fruit Juices
27.1
–4.6
–14.6
10
10
Ocean Spray
Ocean Spray
22.0
0.9
4.0
11
11
Vita Coco
All Market Inc
21.0
0.4
1.9
12
12
Vimto
Nichols
15.2
–3.4
–18.5
13
14
Euro Shopper
Booker
13.6
2.2
19.7
14
13
Rubicon
AG Barr
12.0
–1.8
–13.0
15
21
Happy Monkey
Good Natured
8.7
3.1
55.2
16
16
Juice Burst
Purity Soft Drinks
8.5
–0.6
–7.0
17
17
Don Simon
J Garcia Carrion
7.8
–0.2
–3.1
18
19
Cawston Press
Cawston Press
6.6
0.8
13.9
19
15
This Juicy Water
Innocent
5.9
-3.9
-39.5
20
50
Calypso
Calypso Soft Drinks
5.7
4.8
536.9
The Grocer's Top Launch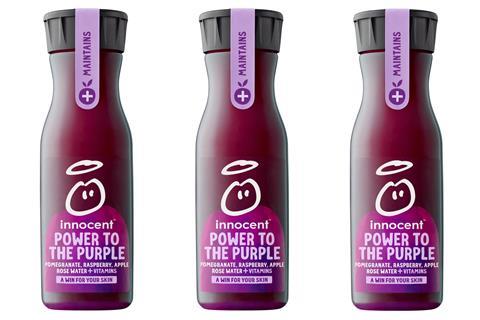 Power To The Purple, Innocent Drinks
"Shoppers are looking for juices that contain added benefits," claims Innocent. That thinking led to the creation of Power To The Purple, the latest addition to the Innocent Plus range. Unveiled in April as a follow-up to the garish Bolt From The Blue, the purple variant is made from pomegranate, raspberry, apple and rose water, offering doses of vitamins B3, B5, B6, B7, B9 and C. Available in 330ml and 750ml bottles, the juice promises to help "reduce tiredness and fatigue".