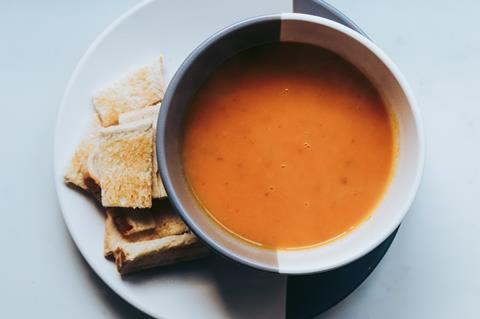 Soup is suffering. In the absence of another Beast from the East, sales are cooling. The fresh and ambient sectors lost a combined £11.1m this year as volumes slipped across the board.
But brands aren't taking it lying down. Faced with a lack of wintery weather to get consumers reaching for a warming bowl of soup, they are creating their own blizzard of NPD.
Market leader Heinz is one brand that has been active in this area. It's looking to recoup substantial losses – together, its Classic, Big Soup and Cup Soups lost £4.9m – with on-trend innovation. "While traditional soup occasions are being affected by a shift from consumers towards healthier and speciality products, soup continues to be a key meal solution," stresses Asmita Singh, senior brand manager for Heinz Soup.
Most notably, Heinz launched microwaveable pot formats, in a bid to capitalise on the convenience trend. This has proven a particularly hot area for soup. See our Top Launch below, which comes in a heatable bottle.
Baxters has also gone down the convenience route with the launch of its own microwavable pot. "We are seeing changing lifestyles and more time-pressed consumers," says Gordon Sloan, category and shopper development controller at Baxters. "This is manifested in the healthy growth of out-of-home or food-to-go occasions."
Still, ease of preparation isn't the only source of innovation. Crosse & Blackwell, which this year suffered a gruelling 35% blow to value, has partnered with presenter and farmer Jimmy Doherty to launch a range using locally sourced produce.
The company hopes it can play into demand for produce that is close to home. "These new variants demonstrate the continued relevance of canned food to today's shopper, particularly younger shoppers who are passionate about buying homegrown produce," says Dean Towey, marketing director for Crosse & Blackwell.
Over in fresh, vegan brands are flying. Bol is up 78.2%. Tideford, which made the "risky" decision to go fully vegan in 2016, has nearly tripled sales after securing a major listing with Sainsbury's. With growth like that, who needs another Beast?
The Top Products
In association with nielsen
Top 10 Ambient soup
£m
change (£m)
change (%)
Total Category:
309.3
-8.1
-2.5
Total volume change:
-3.50%
Total Own Label:
45.4
-0.5
-1.1
This year's rank
Last year's rank
Brand
Manufacturer
£m
change (£m)
change (%)
1
1
Heinz Classic
Kraft Heinz Co
131.0
-4.6
-3.4
2
2
Batchelors Cup A Soup
Premier Foods
25.1
-1.8
-6.7
3
3
Heinz Big Soup
Kraft Heinz Co
22.3
-0.1
-0.6
4
4
Baxters Favourites
Baxters
16.5
-1.0
-5.7
5
6
Baxters Vegetarian
Baxters
8.6
0.3
3.0
6
5
Heinz Classic Cup Soup
Kraft Heinz Co
8.4
-0.2
-1.7
7
7
Campbells
Euro Food Brands
5.2
0.4
8.4
8
8
Ainsley Harriott Cup Soup
Euro Food Brands
4.7
0.0
0.0
9
9
WW from Heinz
Kraft Heinz Co
4.3
-0.3
-7.1
10
10
Knorr
Unilever
4.1
-0.3
-6.4
Top 10 Fresh soup
£m
change (£m)
change (%)
Total Category:
165.7
-3.0
-1.8
Total volume change:
-5.70%
Total Own Label:
105.6
-3.3
-3.0
This year's rank
Last year's rank
Brand
Manufacturer
£m
change (£m)
change (%)
1
1
New Covent Garden
Hain Celestial
26.6
-2.7
-9.2
2
2
Yorkshire Provender
Hain Celestial
17.9
4.8
36.6
3
3
Glorious Skinny Licious Soup
The Sauce Company
4.0
-1.0
-19.5
4
4
Glorious Super Soups
The Sauce Company
3.2
-1.1
-25.2
5
6
Bol
Bol Foods
2.0
0.9
78.2
6
10
Tideford
Tidefords Foods
1.6
1.0
171.8
7
5
New Covent Garden Skinny
Hain Celestial
1.4
-1.5
-51.6
8
7
Alvalle
Pepsico
1.2
0.3
39.8
9
8
Scotty
Albert Bartlett
0.9
0.1
15.0
10
9
Soupologie
Soupologie
0.4
-0.3
-42.6
The Grocer's Top Launch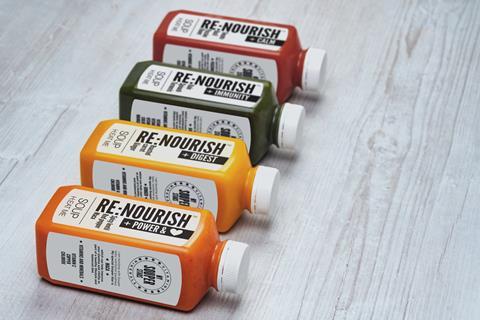 Re:Nourish by Re:Nourish
UK startup Re:Nourish claims to make the world's first on-the-go fresh soup in a heatable bottle. The microwaveable, fully recyclable pack is made from heavy gauge polypropylene, with large labels on the sides meant to serve as insulation – allowing the soup to be drunk directly from the bottle. The lineup comprises Digest (roasted carrot & ginger), Immunity (kale, spinach & turmeric), Power & Love (spicy lentil, red pepper & maca) and Calm (tomato, basil & passionflower).