We teamed up with Nielsen to review the performance of the leading brands, and own label, in 108 categories, from alcoholic drinks to tobacco, via condoms, bleach, ready meals and, of course, toilet paper
To see the performance of the brands and own-label in a specific category, select it from the drop down menu at the top of the page, or from the list at the bottom.
There's a long story and a short. The short story for UK grocery in the past year is one of unprecedented growth. Overall retail sales of fmcg grew by £9bn or 8% [Nielsen 52 w/e 28 November 2020], with 78% of the 108 sectors tracked in The Grocer's Top Products Survey recording value growth. In fact, more than a third (36%) saw double-digit growth this year, as food and drink shifted from out of home to take-home.
It has been a dramatic change of fortune for the sector to put it mildly. In 2019 more than half these categories were in decline. And 2020 was expected to be all about Brexit, while the discounters continued their inexorable rise, and online grocery sales were stuck in neutral.
"With the pandemic hitting us in March, the agenda fundamentally changed," says Paul Martin, head of UK retail at KPMG. All previous challenges suddenly looked like small fry in the face of a global pandemic that upended, well, everything, and the grocery retail sector emerged in financial terms as one of the biggest beneficiaries.
But the long story is more complex. Exactly how Covid-19 fuelled unprecedented rises across UK grocery in the past 12 months has been far more tumultuous than a simple sales boom. In fact, far from linear, the biggest changes the industry has grappled with have been lateral, as – practically overnight – traditional shopping channels were built up, knocked down and recreated out of thin air. From the sudden swing to e-commerce, to the decimation of out-of-home and migration to local c-stores, how (and where) the UK shopped for food and drink has been transformed.
How do you sum it all up? "Well, it's a year you can't compare to any other," says FDF CEO Ian Wright. Quite. The changes to category dynamics in grocery – as evidenced by this year's Top Products Survey – have been profound and complex.
The fate of categories has been determined by one of two things: logistical changes to how we shopped, and changes in our appetites and our behaviour as the nation was locked down at home for months on end.
The first signs of change came a full three weeks before the first national lockdown, with supermarkets forced to place fair purchase limits on dry pasta, toilet tissue and hand soap (among other items). An extra £57.3m was spent on the 10 most popular stockpiled categories in the week ending 7 March [Nielsen Scantrack]. By the time the lockdown came, shelves were being stripped bare.
Rationalisation
It wasn't just panic-buying though, but a cataclysmic shift in consumption, as the £42bn out-of-home market closed overnight.
To keep shelves stocked, supermarkets started to rationalise ranges.
"Many suppliers radically reduced the number of SKUs they were producing," says Wright. "I can think of one major player that went from 80 SKUs the week of 23 March, to just 11 the following."
There was also a virtual freeze on promotions, with multibuys quickly ditched to help control stock levels.
"One major player went from 80 SKUs the week of 23 March to just 11 the following week"
Often this rationalisation came at the expense of smaller brands – a fact that initially had Thea Alexander, co-founder of challenger brand community Young Foodies, seriously worried. "At the beginning of the pandemic, I would've said this is going to be a horrific year for challenger brands," she says. "There was definitely a prioritisation of big businesses."
That's because, above all else, grocers needed scale at that moment, says Martin. "There was pressure not just on the supply chain, but also store operations and the physical challenge of replenishing shelves – not to mention the sheer impact of colleagues in stores going into self-isolation or shielding."
Tesco, for example, reported nearly 50,000 colleagues off sick or self-isolating at one point. "So you've got an unprecedented surge in demand, with a fifth less staff to deliver it," he adds.
Duncan Brewer, head of the UK retail & consumer team at Oliver Wyman, applauds the supermarkets for achieving "a huge public good, whether that's just keeping the flow of high-quality fresh food into the country going in the teeth of a global pandemic, or even the efforts to keep access to food easy, particularly for those that were shielding.
"The grocers absolutely stepped up from a corporate social responsibility angle, and perceptions among consumers improved as a result as people realised what a force for good they could be."
As if the challenge wasn't already great enough, shoppers weren't only buying more, they were buying in totally different channels.
On the one hand, consumers sought to reduce exposure either by shopping less (with average basket spend per visit up 20%) or shopping local. "By end of the summer we started to see convenience stores outperforming bigger stores," says Mike Watkins, head of retailer & business insight at Nielsen. "One of the fastest-growing formats has been the symbol retailers." As well as safety, it was fuelled by the "sensitivity of the consumer to supporting local businesses".
On the other hand, some shoppers avoided stores altogether. While e-commerce in 2019 enjoyed only a 7.1% share of fmcg sales, by the end of 2020 the figure will have grown by 74% to 11.5%. In June, at its peak, online ordering represented 14% of sales. "That was a massive step-change," says Watkins.
The BRC's director of insight, Kyle Monk, recalls how supermarket websites had to "triage who they could fulfil orders to" in order to cope.
"But they mobilised quickly, taking on hundreds of thousands of temporary employees, from pickers to delivery drivers, to keep the nation fed, and keep access to online open," he adds. "Between the PPE, staffing and the additional infrastructure, we're talking hundreds of millions spent by grocers in an attempt to meet that demand."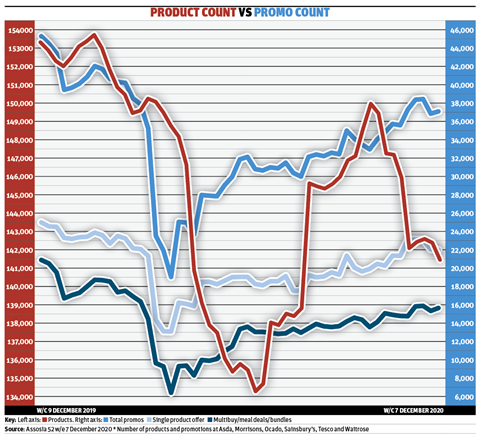 Brands vs own label
This move to online likely widened the gap between brands and own-label. According to Nielsen data, own-label achieved just half the growth of brands (12%) in the past year.
The shift to online would be one contributing factor to this disparity, believes Richard Harrow, partner at IPLC, online being a sphere in which own label has historically chased the heels of brands. The temporary pause on promotions likely also skewed the value picture, he adds, with brands able to sell at full price.
Not only that, "in those early months, supermarkets needed to ensure availability and had to maximise the brands they knew they could supply and that they knew people wanted to buy," points out Nielsen's Watkins. "People always buy trusted brands at a time of uncertainty," he adds. So own-label was starved of attention and shelf space.
The second major driver of category shifts in the past year has been the changing priorities of 'stuck at home Britain'. Take beer, wine and spirits, one of this year's biggest beneficiaries as a category in retail. Of the top 10 biggest growing sectors, alcohol occupies no less than four, with sales of lager alone in the past year up 21.8%, or nearly £800m.
Market leader Stella Artois grabbed over £100m of that, while its average price grew 3% thanks to reduced promotions and premiumisation by shoppers unable to spend their hard-earned cash on pints at the pub.
"Alcohol is one area where consumers are still choosing to splash out, with 52% agreeing they would pay extra for quality when it comes to buying alcoholic drinks to have at home," says Neil Baker, head of category management at Budweiser Brewing Group UK&I.
Watch: How lockdown is shaping the beer & cider category sponsored by Heineken UK
Low & no
It wasn't just about getting drunk, though. Shoppers were also looking to replicate a lost sense of occasion, with low-abv and alcohol-free drinks seeing surging demand too. Sales of low & no increased 32.5% immediately ahead of the first lockdown, reported Nielsen, and they have increased since by 30% to £188m.
"The closure of pubs and bars led many shoppers to replicate the on-trade experience at home, impacting the formats consumers are opting for," adds Baker. Pint formats, for instance, grew 29.2% in the 52 weeks to July 11, according to Nielsen.
In much the same way, shoppers stuck indoors have sought to step up their dining experiences at home. On the one hand, this has taken the form of delivered food or meal kits, either from traditional takeaways, restaurants pivoting to delivery to claw back lost revenues, or recipe box services. By April, for instance, Mindful Chef went from adding 150 new customers per day to its weekly recipe box subscription service, to 2,500.
On the other hand, it has led to a big uptick in people looking to cook at home. "Almost everyone has got back into cooking," says Lucy Ede, co-founder of Tastemakers, a food and drink innovations consultancy. "And it feels like that area has become a whole lot more adventurous, with chefs such as Ottolenghi more commonly used."
With more time at home, shoppers have experimented with dishes that require careful monitoring too, she adds, be it "slow cooking, smoking meats or making sourdough bread".
To take it slower, people have turned to scratch cooking kits, sauces, spices and packaged goods. Typically stagnant categories have benefited, such as canned vegetables (up 13.7% in value), oils (19.3%), pasta (20.5%) and rice (12.5%).
"Cupboard filling at the start of lockdown, more consumers eating at home, and a return to familiar comfort foods during a time of uncertainty has driven additional growth in the category," says Fiona Fox, strategic demand director at Mars Food UK. Its market-leading Uncle Ben's rice range added nearly £4m.
As well as ambient and frozen, the unexpected boom in at-home meal occasions even saw a reversal of fortunes for fresh meat, which had shed a staggering £184.6m in 2019, with beef, bacon and sausages all recording significant value and volume losses thanks to a poor summer, and the rise of meat-free alternatives. In 2020, though, meat added £438m, a rise of 10.1%, with "a huge change in fortunes" for processed pig products, according to Rebecca Gladman, retail insight manager at AHDB.
In addition to more meals at home, meat benefited from a change in coverage over the course of the pandemic, Gladman adds. "Negative press coverage on red meat has taken a back seat as the coronavirus pandemic dominated the headlines."
Plus, "the pandemic has created a temporary shift in focus, with our Consumer Tracker showing there has been a temporary distraction from issues such as environment and health, key factors for consumers who actively decide to reduce their meat consumption."
Casualties
Victims of the switch to life at home have been categories reliant on convenience or impulse. Chilled ready meals, for instance, saw £74m (3.6%) shaved off its value in the past year – one of only 24 categories to record a decline. That said, brands providing restaurant-grade dishes – the likes of Charlie Bigham's (up 18.4% in value) and Gressingham Foods (28.3%) – enjoyed considerable success.
Confectionery, for which the impulse channel is a significant sales driver, also struggled, with sugar confectionery down 2.7% in value and gum losing 18.2%. Bottled water also declined 13.3%, though volumes fared slightly better (down 7.4%) as larger formats leveraged losses from single-serve bottles.
Stuck at home with all the time in the world to consider food choices, there were also signs of an acceleration among consumers of existing trends. Few more so than the appetite for plant-based. Though already ripe for growth, the meat-free category added £118m.
The past 12 months have been a "game-changer" for the category, says Dave Knibbs, co-owner at The Tofoo Co, which doubled sales in the past year to a little under £17m. Knibbs puts it down to perceived health benefits.
"Meat-free was growing strongly before the pandemic and if anything it's heightened consumer awareness of what they are eating. This in turn has made them think about healthier diets and the positive role meat-free can play," he adds.
Significantly, and uniquely, value growth was led by own label (up 31.1%) rather than brands (28.3%). That's testament to the confidence of retailers at a time when NPD was under strain. Indeed Tesco pledged in September to increase sales of its plant-based meat alternatives by 300% by 2025, by improving availability, increasing visibility on shelf and investing in innovation.
It's one example of what the FDF's Wright suspects may have been the general pattern with NPD in the past 12 months, where "line extensions into booming markets have advanced at warp speed, and those that were discretionary were probably put on hold".
Overall, total spend on NPD did fall by 15% in the 12 months to November 2020, according to Kantar. Just 10% of sales in UK supermarkets were from innovation – a fall from 12.8% the year prior.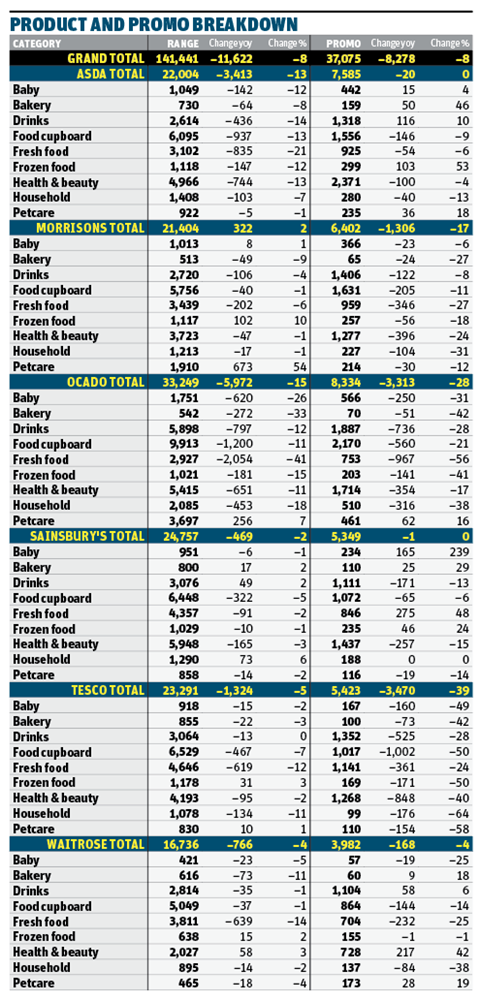 Challengers make a comeback
But supermarkets quickly realised consumers wouldn't put up with stripped-back SKUs and the same old brands for long, says Alexander at Young Foodies. And, once the initial crisis passed, agile challenger brands were often best equipped to meet the rapidly changing needs of consumers.
"We were being approached by retailers to help them resolve gaps on shelf, and help them find exciting new products to differentiate themselves," she says, flagging up the success of condiment maker Dr Will's.
"The brand came in at a time when the ketchup category was clearing off shelves left, right and centre and the retailers needed not just another ketchup, but a premium alternative.
Over the course of the year, the startup managed to scale up hugely "and was very agile to the needs of its new listings in Waitrose and Tesco" she adds. "Now I see this year as an absolute blessing for our side of the industry, as it's shown more than ever how much value we can bring to retailers."
Another small producer proving a useful ally to supermarkets was specialist pasta maker Le Stagioni d'Italia, which brought forward its planned UK launch by several months to plug supply shortfalls in the spring and has racked up £1.1m since May.
This success wasn't just about opportunism, says Alexander. With the pandemic prompting a huge shift to online shopping, retailers are increasingly relying on challenger brands to offer a point of difference.
"As online becomes more important to retailers, retail is being democratised," she says. "Someone can type in Tesco.com just as easy as they can type Asda.com, so it's not so much about your retail estate any more. That 'shopper-first' mentality is becoming even more pronounced.
"Shoppers want differentiation; they want newness, innovation, trial and discovery. With online growing, that's only going to amplify."
Watch: How lockdown is shaping the soft drinks category sponsored by Coca-Cola European Partners
After effects
It's just one of the potential legacies of Covid-19 on UK grocery that'll play out long after a vaccine is distributed. Among the most significant – and seemingly unequivocal – will be greater adoption of e-commerce, with a nation of shoppers now perfectly at home ordering their groceries online.
Prior to the pandemic, it was thought online grocery orders had perhaps reached their equilibrium at around 7%, says the BRC's Monk. But the past year "is a clear signal to the supermarkets that this is going to be a larger channel for them. The real challenge now is to optimise."
After all, with basket sizes likely to shrink as the pandemic eases, the question of profitability will once again rear its ugly head.
Whether or not the shift to smaller local stores will persist is less certain, though it's likely that remote work will slowly emerge as the status quo for many businesses.
"What does that mean for city centre locations?" asks Monk. "Will these be moved to residential areas? It'll require a re-evaluation which could fundamentally change how our high streets look, how our communities look. The question is, how long will they wait before making some of these decisions?"
KPMG's Martin suggests running "a dual track at this point in time. Yes, there are enough challenges around the here-and-now keeping businesses busy, but just looking at the short term is not enough.
"Brexit is the next immediate concern, specifically around demand and supply, and how you get stock through an already overloaded port infrastructure. Then there's the economic uncertainty out there and whether that'll lead to changes in buying patterns, be it trading down, or reducing expenditure on certain categories."
Resting on the laurels of an unprecedented 8% sales rush just won't wash, in other words.
If this year has taught us anything, it's to expect the unexpected.
How small suppliers came in from the cold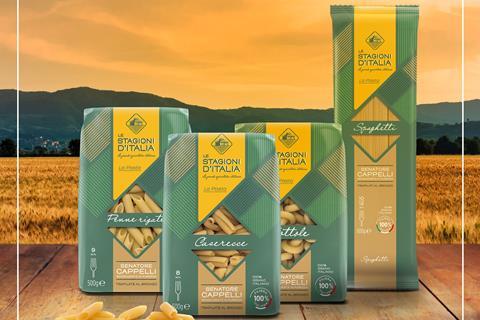 When it came to keeping shelves stocked in the pandemic, efficiency and agility were what really mattered.
Hence the many examples in this report of major suppliers cutting SKU counts to focus on maintaining supplies of bestselling items
"At the start of the pandemic, there was a prioritisation of big businesses and household staples like pasta, chopped tomatoes, etc," says Thea Alexander, co-founder of Young Foodies, the consultancy for fmcg startups.
"What then transpired were large gaps on shelf and consumer needs that only challenger brands could solve."
Even pasta is a prime example. With shelves stripped bare in March and April, it was smaller, more agile challengers that stepped up to the plate.
Le Staggioni D'Italia brought forward its planned UK launch by several months to plug supply shortfalls in the spring and has racked up £1.1m since May. De Cecco, Barilla and Garofalo have all increased market share.
This wasn't just opportunism. With the pandemic prompting a huge shift to online shopping, retailers are increasingly relying on challenger brands to cement a point of difference from their rivals, according to Alexander.
"As online becomes more important to retailers, retail is being democratised," she says.
"Someone can type in Tesco.com just as easy as they can type Asda.com, so it's not so much about your retail estate anymore. That 'shopper-first' mentality is becoming even more pronounced.
"Shoppers want differentiation; they want newness, innovation, trial and discovery. With online growing, that's only going to amplify."
Methodology
The Grocer's Top Products Survey is sourced using data from Nielsen's Scantrack service, which monitors weekly sales data from a nationwide network of EPoS checkout scanners and represents sales in grocery multiples, co-ops, multiple off-licences, independents, forecourts, convenience multiples and symbols, online grocery retailers and online fulfilment stores ('dark stores'). Personal care, OTC and baby products also include chemists. Some category definitions are subject to change.
Table notes
All data is for 52 weeks to 5 September 2020. The fastest-growing products and categories on these pages are based on absolute value change.
Copyright
The Top Products Survey data was compiled by Nielsen exclusively for The Grocer magazine and William Reed Business Media. No reproduction of this list or data within, in full or in part, is permitted for commercial use without the prior consent of Nielsen.