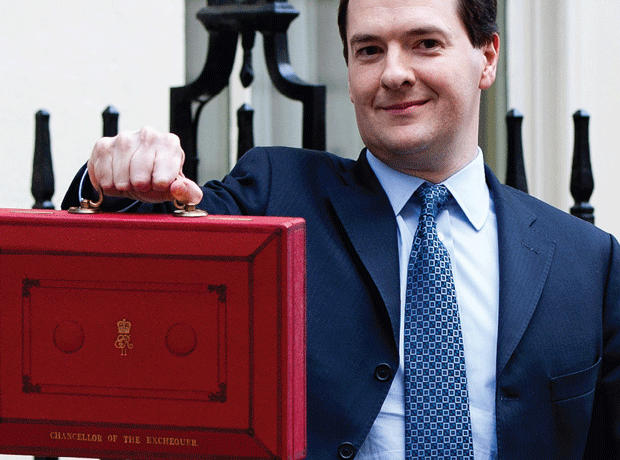 George Osborne has heeded long-standing calls from the drinks industry to abolish the alcohol duty escalator in this year's Budget.
In his speech to the House of Commons today, the chancellor also announced a freeze in duty on spirits and cider, and a 1p cut in duty on beer, taking a "penny off the pint" for the second year running.
Osborne said that new measures to prevent alcohol being sold below minimum tax rates, introduced in February, were more "targeted" than the duty escalator, which was "hated by many responsible drinkers".
"This is a budget for the makers, the doers and savers"

George Osborne
However, there was disappointment for the tobacco industry, with the duty escalator on that sector remaining in place. "Tobacco duty has been rising by 2% above inflation and will do so again today," the chancellor said. "This escalator was due to end next year – but there are no sound health reasons to end it, so it will be extended for the rest of the next Parliament."
There was disappointment too, for businesses hoping for relief on tax rates, with Osborne reiterating measures introduced in the Autumn Statement in December, to cap business rates rises at 2%.
"This is a budget for the makers, the doers and savers," the chancellor told the House of Commons, adding: "The economy is recovering faster than forecast… but the job is far from done."
Elsewhere, the fuel duty rise planned for September was cancelled. "Petrol will be 20 pence lower per litre than it would have been," Osborne said.
Moves welcomed
Brigid Simmonds, CEO of the British Beer & Pub Association said today's announcement was "fantastic news". "George Osborne is again the toast of Britain's brewers, pubs and pubgoers. It will protect over 7,000 jobs over two years, mostly jobs of younger people in Britain's pubs.
"I hope this becomes a trend in future budgets for this British-made, lower-strength drink."
Speaking on behalf of the Call Time on Duty campaign, Jonathan Isaby, CEO of TaxPayers' Alliance, said: "The Call Time on Duty campaign has consistently argued that the alcohol duty escalator was bad for consumers, for business and for the economy. We applaud the chancellor for taking the decision to get rid of it. Cheers!"
James Lowman, ACS CEO, welcomed plans for the Annual Investment Allowance for companies to be doubled to £500,000 until end of 2015. "The proposed increase in the threshold for the annual investment allowance is a further incentive to business to invest. We know that over a quarter of independent shop owners currently have plans to invest in their shop and this measure will help them to do so."
The BRC said the priority for its members was reform of the business rates system, and said it looked forward to "more discussion about possible options when we publish our next stage of research in May".
Tobacco
However, Daniel Torras, managing director of JTI in the UK, said raising tobacco duty would fuel the illicit trade. "With the UK government set to ban smaller rolling tobacco and cigarette packs and threatening to make counterfeiting cheaper and easier by introducing plain packaging, now is not the time to add a significant tax increase which will widen the price between legitimate and illegal products.
"At a time when the government is making it harder to fake a £1 coin, it could be about to provide criminals an invitation to further profit from fake cigarettes."
Simon Clark, director of the smokers' group Forest, added: "The Treasury loses billions of pounds to illicit traders every year. A further increase in duty will merely encourage more people to take advantage of the huge savings available on the black market."
Other measures
Elsewhere, the chancellor said the government would double the amount of lending to exporters to £3bn, while cutting interest rates on those loans by one-third. It will also extend grants for small businesses to support 100,000 apprenticeships.
Osborne confirmed the personal income tax allowance would rise to £10,500 in 2015, and announced the creation of new, single ISA. But he warned that further cuts to public spending would be necessary in the next Parliament. "We are taking further difficult decisions now so we can reduce the deficit."
There will also be a new £1 coin designed to foil counterfeiters. The 12-sided coin takes its design cues from the threepenny bit, discontinued in 1971 following decimalisation, and is due to be introduced from 2017.
"A more resilient pound for a more resilient economy," Osborne said.
The chancellor received a boost this morning with the release of data from the Office for National Statistics showing the number of people out of work fell by 63,000 between November and January, to 2.33 million.
The Office for Budget Responsibility also revised upwards its forecast for the UK's economic growth in 2014, from 2.4% to 2.7% of GDP.