We all know older folk have an innate distrust of technology and prefer to actually go to the shops to shop. That way they can pore over the products, grumble about the prices and swerve the new-fangled self-service till to have a nice chat with the checkout assistant… face-to-face rather than Facebook interaction being key.

Students, on the other hand, like to lounge around in a virtual fug in their onesies, permanently hooked up to the nearest Wi-Fi network, tweeting via their iPhone with one thumb and doing their food shopping via their Macbook with the other. That way they can spend more time partying or sleeping off the night before and less time standing in a long queue at Tesco. Right?

Wrong. A recent survey reveals only a tiny fraction of students always shop for their groceries online - just 3%. At the other end of the spectrum, another recently published survey reveals a whopping 70% of "older shoppers" have shopped online, exploding the myth that they're a bunch of technology-shunning Luddites.

So with IGD predicting a doubling of the online grocery market from £5.6bn today to £11.1bn by 2017, should the supermarkets be doing more to tailor their websites to the silver surfers and their physical stores to the digital natives?

On the face of it, yes. After all, the findings seem to discredit two of the more compelling shopper stereotypes out there. But a deeper analysis of the data reveals the picture is not as clear cut as it initially appears.

The 1,303 students quizzed for the first survey, which was carried out by youth insight specialists The Beans Group between December 2012 and January 2013, have never known life without computers. They should be your archetypal online supermarket shoppers: digital natives who arrived at university armed with shiny new laptops and gadgets. However, they tend to opt for shops over smartphones when it comes to buying food.

Why? For starters, communal living means cupboard, fridge and freezer space is at a premium. "That means they shop little and often and would rarely meet the minimum order required to avoid paying for delivery," says The Beans Group founder James Eder.

"They also live quite erratic lifestyles and are out a lot, so it's harder for them to organise delivery. And they see going shopping as a mental break from being at their desks for hours. It's a chance to get away from hitting the books, have some thinking time and enjoy a change of environment."

Indeed, of those surveyed, 41% say they get "excited" about going to the supermarket, while 47% like to make meals "from scratch" and enjoy shopping for new ingredients. Some say they like being able to rummage through the reduced section for a bargain and others felt that after years of having their shopping done for them by their mums, it felt empowering to be able to choose what they ate themselves.

"At this age it's a novelty for them, they enjoy making decisions for the first time," says Eder. "That will wear off over time, but it gives them the opportunity to be the boss of what they are buying."
"The notion that students are living on frozen pizzas and Pot Noodles is a prejudice in the minds of marketing directors "

Daryl Fielding, former Kraft marketing VP
Branded opportunity

The popularity of scratch cooking also dispels another myth about students, says Daryl Fielding, Kraft's former VP for marketing. "The notion that students are living on frozen pizzas and Pot Noodles is largely a prejudice in the minds of marketing directors," he says. "It seems the excitement of food shopping, trying out alternatives to familiar brands and managing budgets are more critical priorities for students at this time."

Big brands have already started tapping into students as a valuable foodie demographic, with Old El Paso and The Happy Egg Co. helping student unions create branded canteens and egg cooking stations, for instance. But the findings also suggest supermarkets could be doing more to attract students to their stores than simply relocating a few staples such as dried pasta and baked beans to the front of the store at the beginning of a new term.

The good news is that some are starting to take a more pro-active approach. Knowing students will be attracted to its low prices - 72% of students say price is the deciding factor when choosing groceries - Lidl, for instance, tries to drive students into its stores by engaging with them directly. It tours universities during freshers' week, handing out goody bags full of samples and money-off vouchers, which usually elicit a "really positive reaction", says a spokeswoman.

Asda made similar moves 18 months ago, launching specially tailored student zones in stores near universities. It also launched a Student Shopper card, which parents can top up for their children at university to spend at Asda. Both the shopping zones and the card were heavily promoted during fresher's week.

However, the supermarkets should be thinking of ways of making their websites more user friendly for older shoppers, believe experts. While the vast majority of older shoppers still prefer to visit stores, many of the 1,500 shoppers aged between 50 and 96 who took part in a recent Age UK survey say they would prefer to shop online than trundle to the supermarket (see right). Pushing trolleys and carrying baskets are described as "problematic" tasks by more than 30% of respondents, a figure that rises to 40% for women.
"The light bulb that blew in your house that morning will have added itself automatically to your Tesco order"

Philip Clarke, Tesco
Stressful shopping

Unsurprisingly, more than half of older shoppers therefore try to stick to one weekly shop. However, that means they have to push a week's worth of shopping around a store, then out to a car, taxi, or more trickily a bus, before lugging it into the house and putting it away. Having someone else pick it, pack it and deliver it to their front door would be a better option for more than 20% of survey respondents, while 30% would buy from a supermarket that offered to deliver their shopping for free. That figure increases to almost half of shoppers over 80.

Range and layout also cause problems for the elderly, with half of the older shoppers questioned complaining that stores change their layout too often. Another 20% think the size of the range in a supermarket, which hits over 30,000 in the biggest stores, is bewildering. Again, that figure increases to 33% of shoppers aged over 80.

In short, for a significant number of older shoppers, visiting a store is hard work. They would rather someone else did it for them - or shop online. The reality is that more than 50% believe new technology has "made their life easier" and far from fearing touchscreens they covet the iPad more than any other gadget.

Age UK helps older shoppers by shopping online for them at some of its branches. But given that more than 30% of the UK population is above 50 and hold 80% of the wealth in the country, surely there's a golden opportunity for the supermarkets to appeal more overtly to the silver surfers. Age UK suggests that retailers could offer "internet training for older people in the local area," and when delivering orders, "offer to help older people put shopping away."

There are signs they're taking more notice of their older online shoppers. In March, Asda paid tribute to its oldest online shopper, Arthur, aged 92, on its Facebook page and delivered him a birthday hamper along with his regular weekly order. He told Asda that shopping online makes him feel independent, saying: "I don't have to ask people for help so often."

Tesco, meanwhile, testifies to the popularity of its website with "young and old alike". "Customers tell us they like shopping online because it's easy and convenient, they can add to their basket on the move, keep an eye on how much they're spending, and have everything delivered to their door at time that works best for them," says a spokeswoman.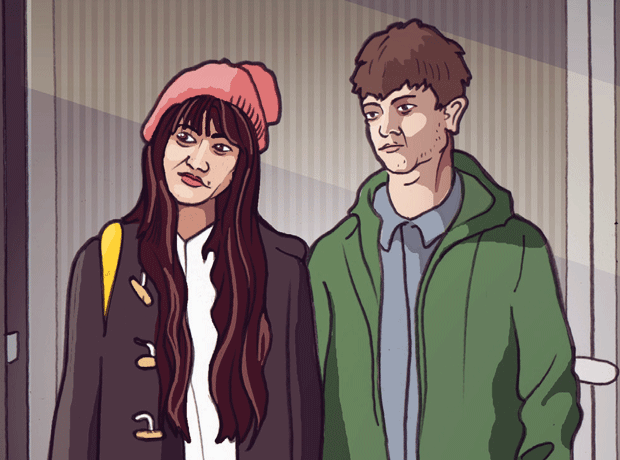 The students who love to supermarket shop
In The Beans Group's survey of 1,303 students:
72% say price is the most important factor
70% walk to the supermarket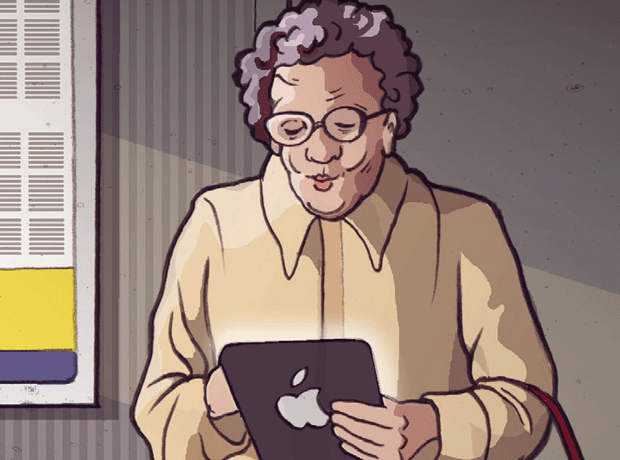 Silver surfers riding the online shopping wave
Older shoppers may prefer the shops, but the Age UK survey shows they're not as tech-averse as some think:
40% of women have trouble using trolleys and baskets.
20% say huge supermarket ranges are confusing
15% own a smartphone, like an iPhone 5
Getting personal

A one-size-fits-all approach to websites may not actually be such a bad idea. Far from being technology-averse, Arthur is a dab hand with a computer. He uses a desktop PC that's been specially kitted out with audio and magnifying software to help with his poor eyesight. He also has his shopping list favourites (including frozen chips and chunky cod) saved, which he says makes it easier to place his order.

However, some experts believe there's potential to offer something tailored to indivdual shoppers. Last year, Tesco launched a commuter zone on its website with deals aimed at time-poor commuters. One logical extension of that would be an older shopper zone with promotions on OAP-friendly products.

Tesco CEO Philip Clarke certainly seems keen to push the technology envelope. He told the FT Innovate conference last November that "in the future" you will be so hooked up to the internet that "the light bulb that blew in your house that morning will have added itself automatically to your Tesco order" by the time you settle down in a comfortable chair, open your shiny new iPad 17 and start browsing for groceries online.

That level of automation won't suit the students who still find going to the supermarket to do their shopping exciting. But it could work for the older shopper, especially if the supermarkets introduce Facetime - so they can still have a good old natter with the picker despite doing their shopping online.
Generation I - the successor to the digital native
The average age of the students who took part in the survey by The Beans Group was 20, which means they were born in 1993, a momentous year in the history of online.
That September, AOL opened up the internet to thousands of new users, an event that became known as Eternal September because the flood of new users has not stopped since.
Anyone born around then is a digital native - and never known life without digital technology. Generally speaking, that means anyone aged 18 to 25. However, nowadays, that makes you a dinosaur.
Like the iPhone 4, the digital native has been superseded by a younger, leaner, faster version. And, in an increasingly digital world, these under 10s, known as 'Generation I' (I stands for information), are making their expertise count.
According to a new report from The Future Laboratory, three-quarters of parents say their Generation I kids are effectively holding the household purse-strings when it comes to purchasing decisions.
A whopping 47% say their under 10s are choosing their own clothes, 40% say they're taking a major role in deciding where the family goes on holiday and 39% say the kids decide which brands go in the trolley at the supermarket.
Crucially, when it comes to technology, one in five parents say they pick their little one's brain before buying items such as a new iPad and 62% ask their child for the green light before actually forking out for one.
Finally, almost half of parents still need to ask the kids how to work Facebook or send a tweet.
"These kids have access to unbridled information on hand-me-down smartphones, so they are well placed to say 'we should have this, because'," says Peter Firth, who compiled the report.
"They back up their requests with detailed research done online to make their parents more favourable to the idea, establishing which toy car is the best value for money, which will last longest, or which has the best reviews. It's easy to forget how extremely young they are."
And to forget how expensive kids can be - and not just for the parents. Those fmcg brands that do decide to add a toy to their packs may want to add one with a touchscreen, if they want to grab Generation I's attention.