All of the major supermarkets increased the number of deals they were offering in the run-up to Easter.

The biggest uplifts came from Tesco and Asda , while Sainsbury's , Morrisons and Waitrose just increased their deals marginally [Assosia 4 w/e 24 March 2013].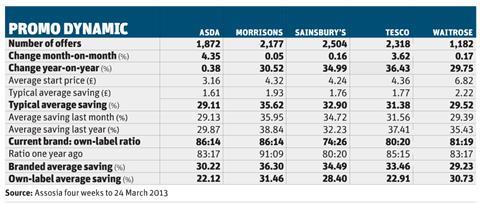 Asda had 1,872 featured space promotions, up 4.4% on the previous month, while Tesco increased the number of deals it offered by 3.6% to 2,318.

The figures reflect a wider trend towards more offers across the board as the big retailers continue to refine their offer to attract shoppers on ever-shrinking budgets.
Wholesale prices 6 April 2013: SMP up 32.1%
The price of skimmed milk powder (SMP) is now up by 32.1% on last year, having risen by 2% over the past month, as low production and low stocks coupled with firm demand, especially from China, have exerted pressure on global markets. The same factors have taken their toll on whole milk powder (WMP), up 21.6% year-on-year and 5.3% month-on-month.
Egg products for processing continue to plummet. At £617.6/tonne, EU prices for shell eggs for processing are down by 57.6% compared with this time last year, after nosediving by 20.5% month-on-month due to exceptionally low demand in Europe. The year-on-year price difference is especially stark given record prices last March, when egg prices rose sharply in response to the battery cage ban of January 2012.
EU prices for egg yolk powder have fallen by 27.5% year-on-year and 9.5% month-on-month, due to better availability in the EU.
As such, the main supermarkets had 26% more deals between them than a year ago - 10,053 compared with 7,998.

Tesco, Sainsbury's, Morrisons, and Waitrose beefed up the number of promos they offered by about a third, while Asda, which has been more focused on its EDLP strategy, offered just seven more deals than a year ago - or 0.38%.

Overall, Sainsbury's offered the most deals at 2,504 - almost 200 more than Tesco - while Morrisons, which introduced its Every Penny Matters promotion during the period, had 2,177.

While retailers are clearly keen to woo shoppers with attention-grabbing offers, with grocery sales flat they are also mindful of their own bottom lines. This is obvious from the depth of savings per deal they offered, which was mainly down both month-on-month and year-on-year.

Only Sainsbury's managed to slightly increase its average saving year-on-year, but it cut its month-on-month figure by 1.8 percentage points.

There was a major focus on own-label offers last month, with four of the five retailers increasing the proportion of their own products in their promotional mix. Only Asda bucked the trend, cutting its proportion of own-label deals from 17% to 14%.

The most popular promotional mechanic remains the standard 'save' deal, accounting for 37% of all promotions, a fall of 2.1 percentage points on 2012.

However, x-for-y promotions are steadily increasing their share of total promotions, rising to 34.7% of the total, up 6.7 percentage points on 2012.