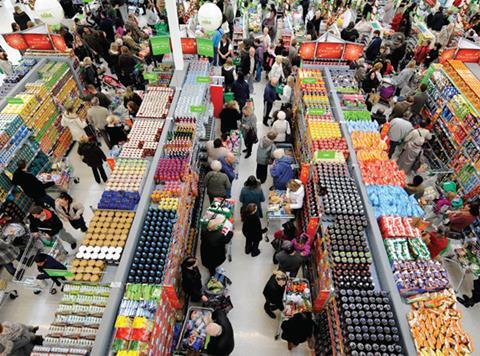 UK retail sales have shown "strong growth" in January, but the green shoots of recovery are strikingly absent from the grocery sector.
According to the latest figures from the BRC and KPMG, overall UK retail sales were up 3.9% on a like-for-like basis from January 2013, when they had increased 1.9% on the preceding year.
The new figures represent the strongest growth since March 2010, helped by a record number of people in work and a recovery in the housing market.
But the report reveals "very low levels" of growth in the last three months in food, with retailers at each other's throats in a "ferocious" battle on prices.
Retailers were not helped by a comparison with January 2013 when snow warnings prompted customers to stock up and the cold encouraged strong sales of hearty food and meat.
But the report claims the figures also show the continued trend towards more visits to local convenience shops and discounters at the expense of the traditional weekly trip to the supermarket.
Adjusted for food inflation as measured by the BRC-Nielsen Shop Price Index, the three-month average for food sales was down 1% year on year. The 12-month average was down 0.2%.
"Our figures for January show strong growth but a story of two halves," said Helen Dickinson, director general of the BRC. "Customers responded enthusiastically to a range of sales and promotions on non-food items this January. Retailers succeeded in tempting shoppers in with promotions; they also saw strong demand across new ranges, helped by improvements in consumer confidence.
"This was not the case in food, which in contrast saw very low levels of growth in the last quarter."
"The divide between food and non-food is stark, with the battle for market share in food remaining ferocious, customer loyalty fickle and cost deflation being passed through to the consumer," added David McCorquodale, head of retail at KPMG.