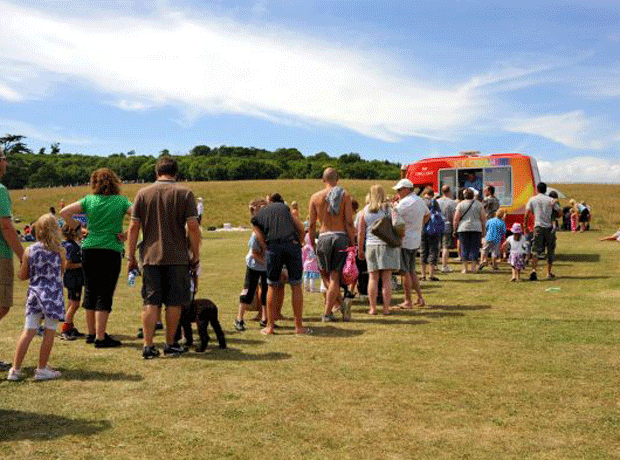 Ice cream sales are up by as much as 300% - and retailers are struggling to fill shelves quick enough to keep up with demand.

In the first week of the heatwave total ice cream and lollies sales were twice as high as the same week a year ago - while single lollies and ice creams soared 195% year-on-year [IRI 1w/e 13 July 2013].

And with above average temperatures continuing now for over three weeks, Europe's largest volume producer of ice cream, Yorkshire-based R&R, reported a 300% hike in its sales, and is running all its factories at full capacity, while Fredericks Dairies moved some of its lines to 24-hour production.

"We are doing everything we can to fulfil the unprecedented demand," said Fredericks MD David Taylor, "but need to remain realistic as the impact of this hot weather has seen an uplift of 120% on the forecasted sales."

Unilever has been forced to source stock from its factories outside the UK, to meet the unprecedented demand, as well as focusing its UK production at its Gloucester factory on its best-selling lines, including Magnum, Cornetto and Carte d'Or.

"All major lines are in stock, but it's a fluid situation, and we are having 8am meetings every day with our supply chain team to ensure we meet the unprecedented demand," said Noel Clarke, Unilever's brand building director, ice cream, UK & Ireland.

"As fast as we are supplying ice creams, retailers are running out," said another senior ice cream supplier. "In some stores I've been to, the freezer cabinets look like something out of Beirut.

The heatwave has been a huge boon to the UK ice cream market, which suffered a 3.9% year-on-year slump in volume sales in the year to 9 June [Kantar Worldpanel] but has brought huge operational challenges. "In the spring, the commercial team were pulling their hair out, while the supply chain team were looking sanguine and calm because stock levels were optimal," said Clarke. "Now it's the other way round."

Tesco said it expected to sell 150% more ice lollies in the last two weeks of July than in the same period last year.

Demand will return to normal swiftly as the temperature drops, predicted Tim Morris, Europe MD of business weather intelligence experts Planalytics, although it might take the supply chain time to react. "Most supply chains tend to be a little sluggish and are quite hard to slow down, so may be pushing out too much stock for a few days," he added.

But, with the Met Office predicting temperatures slightly above average for August, that might be no bad thing.