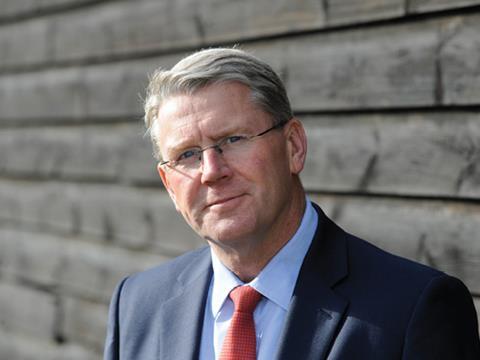 The UK urgently needs a long-term food strategy to ensure its food security and boost the global competitiveness of UK food and farming.
That was one of the key messages from Peter Kendall, the outgoing president of the National Farmers' Union, today.
Speaking at the NFU's annual conference in Birmingham, Kendall said numerous countries had well-developed government food strategies, but the UK's current efforts were decidedly unimpressive.
"Well, we did have the Green Food Plan – under-ambitious, under-resourced and, if you'll forgive my bluntness, completely under the radar," Kendall said.
"A number of our gripes come back to the Treasury. We really want them to wake up to how important farming is to the economy"

Peter Kendall
By contrast, Irish food and farming was reaping the benefits of the Irish government's ambitious Food Harvest 2020 plan, he said. "In three years, they've already seen primary production up 25% and exports up 13%. Simon Coveney, the Irish agriculture minister, talks about being on the brink of a golden era for agriculture in Ireland."
Meanwhile, the French government was focused on driving food and drink exports, and the Australian government had recently published a white paper on agricultural competiveness. "They've understood that farming is part of the answer, not a drag on the economy."
Kendall urged the government – particularly the Treasury – to recognise farming as an important business sector, with the potential to play a key role in the UK's economic recovery. Food and drink was the UK's fourth largest exporting sector, and agriculture had held up very well during the recession, with agricultural output increasing from £16bn in 2007 to £24bn in 2012, he said. "How much more could we do if we pulled all this together into a proper plan, with quarterly monitoring and everybody in the industry pitching in!"
During a Q&A session, Kendall later added "a number of our gripes come back to the Treasury. We really want them to wake up to how important farming is to the economy".
Defra minister George Eustice, who also gave a speech at the conference, said global demand for "westernised" food and drink products was rising, and the government was committed to helping British producers take advantage of the trend by exporting more.
Provisional figures showed the value of UK food and drink exports reached nearly £19bn in 2013, he added. It stood at £18.2bn in 2012 [Defra Food Statistics Pocketbook 2012].