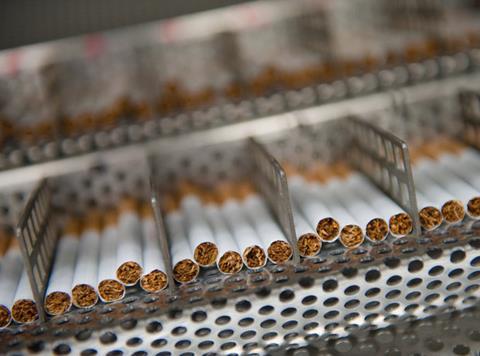 Bestway Wholesale has issued a guide for retailers on how to protect their tobacco business during the introduction of tobacco legislation EUTPD2.
The guide will explain the upcoming changes and give retailers advice on how to navigate the new rules affecting packaging, display, quantity and pricing while avoiding possible damage to sales as a result.
"Smokers are an important customer group for convenience store operators," said Bestway retail sales director Tony Holmes.
"They visit stores more frequently and spend more than double that of non-smokers. It is imperative that, following the removal of price-marking, retailers take the necessary steps to protect their tobacco sales."
Bestway is also advising retailers to preserve the current manufacturer recommended retail prices to maintain the confidence of smokers.
Holmes added: "If retailers choose to inflate prices to earn additional margin, they will see a decline not only in their tobacco business, but also across other grocery and impulse categories as footfall will diminish due to smokers going elsewhere to get greater value. Many retailers use several wholesalers to make sure they get the best prices - why do they think smokers would behave any differently if they increase the cost of tobacco? In order to retain customers and footfall, we are therefore advising all customers to maintain current pricing at RRP and Bestway and Batleys depots will be offering 10-packs and PMPs for as long as they are available from manufacturers to help retailers meet the needs of their customers."
The eight-page guide 'Don't Let Your Tobacco Sales Go Up In Smoke' is available from all Bestway and Batley depots and will be distributed to symbol and club members by business development executives.