Four recent events have turned my thoughts to why treating people properly is so important.

The first was the excellent Women in Wholesale conference at the British Library, intended to celebrate success but also highlight the still appallingly low proportion of women in senior positions in our sector.

The balance of positivity with justified self-criticism was judged very well and there were a plethora of excellent presentations. While Parfetts, like all other wholesalers, still has much to do in getting a better gender balance, I was very proud of Halifax depot general manager Becky Webster who told of her journey from part-time student through the organisation with both positives and negatives. It is nonsensical if we continue to fail to recognise the talents of half our population sufficiently, particularly as the benefits of diversity, in my view, are now so accepted as to be incontestable.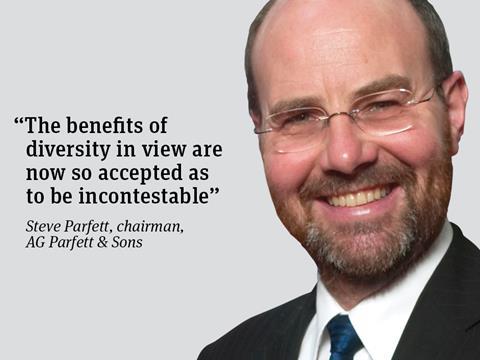 At the October FWD Council, we discussed making wholesale an attractive career for young people, training in all its aspects, and how we might better utilise flexible working to attract talent.

Subsequently I attended the enjoyable and informative FWD Skills and Development Awards at Westminster where wholesalers, suppliers and MPs recognised some of the outstanding work to nurture and develop talent. The young people recognised all demonstrated clearly the value of investment in training and apprenticeships. My only regret was that this year we had no Parfetts employees recognised as the vagaries of the Apprenticeship Levy mean we are having to reinvent a good deal of our investment in training. I am a huge supporter of training, but this levy feels like a good principle badly delivered, complicating matters for people who already invest in their people while leaving uncommitted employers either ignoring it or looking for loopholes to reclaim the money while failing to deliver benefit to all employees.

Finally, to an employee ownership board meeting held at Trace Group, an employee-0wned (EO) business in IT with 200-plus employees and £18m turnover, where employee turnover over a long time period is less than 5% per annum. Within EO, employee retention is typically better than comparable competitor companies, not least because employees own the business and share in both financial rewards and in information and decision-making. However, even within the Employee Ownership Association 5% is exceptional. As I learnt from employees over lunch, that's because, simply put, people are treated fairly and appreciated from top to bottom of the organisation. There is a lesson there for us all.

Steve Parfett is chairman of AG Parfett & Sons