It's a classic combination in the world of confectionery, but a notable number of new chocolate orange launches this year shows it is the flavour of the moment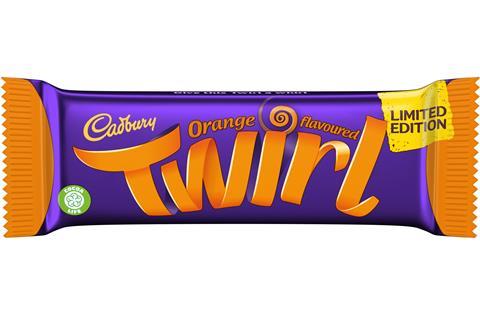 Cadbury Twirl Orange
Following on from its sellout success in 2019, Cadbury Twirl Orange is returning to stores for a second year running. Brand owner Mondelez said it had recieved an "overwhelmingly positive response" to the product, which will be available for a limited time from this month (rsp: 69p/43g).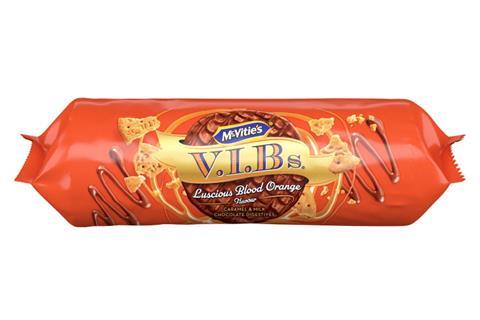 McVitie's VIBs Luscious Blood Orange
Described as its "finest biscuit to date", McVitie's Very Important Biscuits landed on Asda shelves in July and rolled out further in August (rsp: £1.79/250g). As well as Classic Caramel Bliss and Heavenly Chocolate Hazelnut flavours, the range also tapped the citrus trend with a Luscious Blood Orange flavour.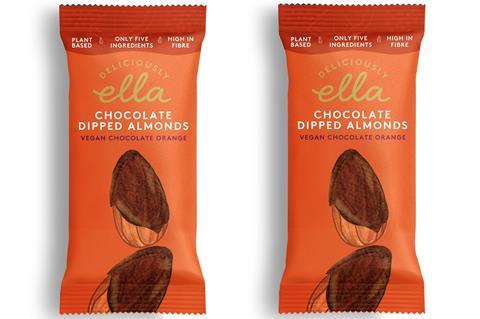 Deliciously Ella Chocolate Dipped Almonds
Alongside a Salted Chocolate variant, these orange Chocolate Dipped Almonds are the latest launch from vegan brand Deliciously Ella. Available in both single and sharing packs (rsp: 99p/30g, £2.49/90g), the nuts have launched into Whole Foods Market, Waitrose, Amazon and Planet Organic.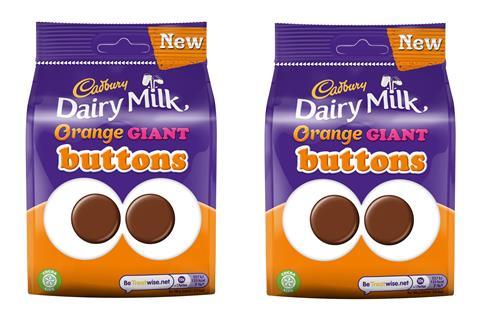 Cadbury Orange Giant Buttons
Following on from the popularity of Twirl Orange, Cadbury Dairy Milk added an orange variant to its Giant Buttons offering last month (rsp: £1.99). The sharing bags are available now from Tesco and convenience stores.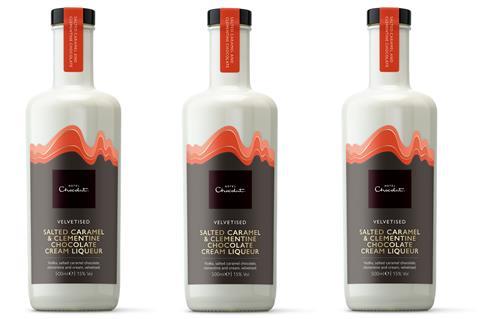 Hotel Chocolat Salted Caramel & Clementine Chocolate Liqueur
Upmarket chocolatier Hotel Chocolat is expanding its alcohol range with three new chocolate cream liqueurs. Landing in October, the decadent drinks are made with velvetised vodka, chocolate and cream. Espresso Martini and Salted Caramel variants will join the range alongside this on-trend Salted Caramel & Clementine flavour (rsp: £22/500ml).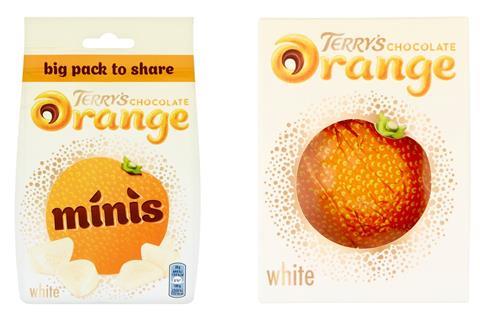 Terry's White Chocolate Orange
A white version of Terry's signature chocolate orange made a comeback in August. Available until Christmas, it can be found in Morrisons and Co-op now and will land in Tesco, Sainsbury's and Waitrose in October (rsp: £2/147g). The brand has also launched new sharing bags of White Chocolate Orange Minis (rsp: £1.50/140g), which can be found in Morrisons.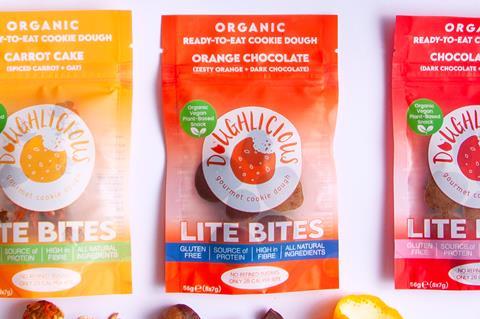 Doughlicious Lite Bites
Gourmet cookie dough brand Doughlicious – which also makes ready-to-bake cookies – unveiled its range of snacking cookie dough last month. The seven-strong lineup features flavours such as Apple Crumble, Lemon Raspberry and Carrot Cake, alongside a zesty orange and dark chocolate variant. The organic, vegan and gluten-free snacks can be found in Planet Organic, Selfridges Food Hall and on the Doughlicious website (rsp: £1.99/56g).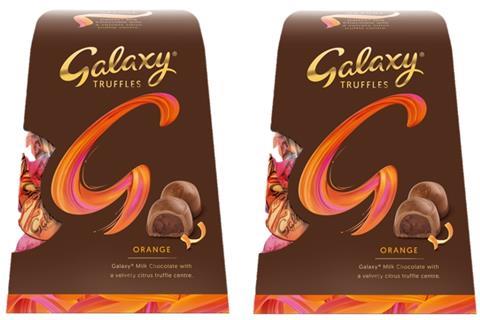 Galaxy Truffles Orange
"Orange is clearly the flavour of the festive season." So said Mars Wrigley as it unvelied the new additions to its Christmas range this year. Tapping in to this trend is its Galaxy brand, which has added a new Orange flavour to its range of truffles. They landed exclusively in Tesco at the start of the month, alongside a new caramel variant (rsp: £4.99/212g).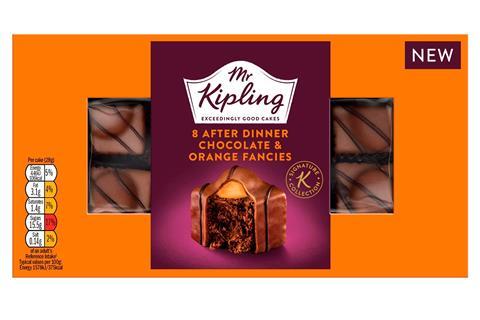 Mr Kipling After Dinner Chocolate & Orange Fancies
In May, Mr Kipling extended its Signature Collection with these After Dinner Chocolate & Orange Fancies (rsp: £2.50). The chocolate sponge cakes are topped with an orange-flavoured creme and coated in chocolate fondant icing.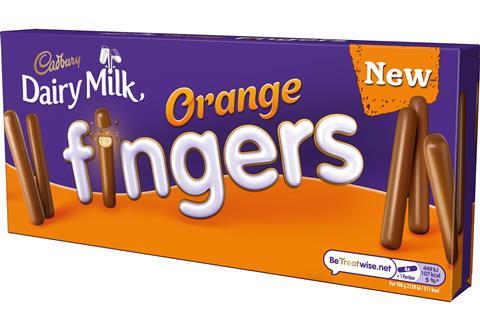 Cadbury Orange Chocolate Fingers
Following the aforementioned Twirl and Giant Buttons launches, Cadbury Dairy Milk moved yet another of its popular brands into orange last month. Orange Chocolate Fingers can be found in Tesco and convenience stores (rsp: £1.65).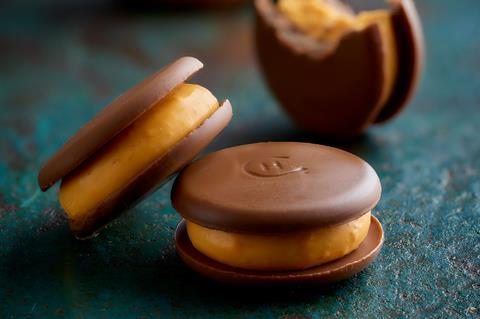 Hotel Chocolat Chocolate Macarons
These chocolate macarons were introduced as part of Hotel Chocolat's Valentine's Day range earlier this year. Designed to resemble the French patisserie classic, the confections are made from milk chocolate discs sandwiched together with creamy orange whip. They are also available in milk chocolate & hazelnut praline, white chocolate & passionfruit and caramel-milk chocolate & raspberry variants (rsp: £8.50/90g).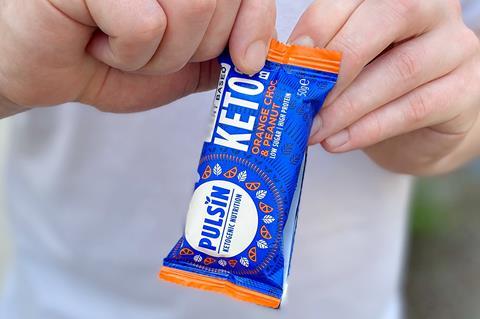 Pulsin Orange Choc & Peanut keto bar
This Orange Choc & Peanut snack bar is one of the latest additions to Pulsin's keto range. The vegan, gluten-free and high-protein bar landed in Amazon, Whole Foods Market, Superdrug, Planet Organic and Ocado in May, alongside Choc Fudge & Peanut and Mint Choc & Peanut variants (rsp: £1.99/50g).