Immunity has become big business. In the wake of Covid-19, Brits are no longer taking their body's natural defences for granted. The vast majority – 79% – say they have become either slightly or much more concerned about their immunity in the past year, according to our exclusive poll of 1,982 UK adults with Harris Interactive.
That's had clear implications for the food and drink industry. Just a year ago, the appeal of immunity-supporting products was largely confined to the 'wellness' set. Now, they are a mainstream proposition.
With that wider appeal have come a spate of new products touting their links to immunity. In the first 10 months of 2020, 1.7% of global launches boasted some kind of claim, according to Innova Market Insights. Five years beforehand, that figure stood at 1.0%.
The growing interest in immunity-focused marketing has been noticed by Chris Blythe, owner of design agency The Brand Nursery. "What the last year has done has brought health more into focus for the UK – that sense of wanting to do the best for your body," he says.
So just how big can immune-supporting food and drink get? What is the key to success in this market? And is there an opportunity beyond the immediate health concerns presented by Covid?
Consumer appetite
The idea of immune-supporting food and drink seems to resonate with consumers. Four in 10 have bought some form of food and drink to help their immune function since the onset of the pandemic, our survey with Harris Interactive revealed.
Although that will include naturally healthy foods such as fruit & veg, shoppers are just as open to products that are specifically engineered to support immune function. A total of 45% of respondents to our survey said they would consider buying food and or drink with added vitamins.
So it's no wonder mainstream brands are starting to take note. In October, Unilever launched a PG Tips Plus range with three functional brews – including an 'Immunity' blend with added vitamin C. Then in January, Costa unveiled its Latte+ drinks, designed to offer a caffeine kick with a vitamin boost. The three-strong range, which includes Caramel Oat, Vanilla Coconut and Hazelnut Almond variants, boasts added ingredients such as vitamin B12, zinc and protein.
Smaller brands, too, are getting in on the act – generally with a more specialist, scientific take on the trend. Take Emmunity, a soft drink that claims to "harness the healing and immunity-boosting benefits of nettle". The creation of chemists Roy Lamb and Nasir Isaji, it launched last month in partnership with development, branding and marketing consultancy Brand Relations.
The consultancy's MD Richard Horwell is confident the proposition will hit home. For him, the thirst for drinks with added benefits will only grow. "Pre-Covid, people were happy to drink a Diet Coke. Now they want to drink water or something functional," he explains. "The younger market wants a drink that will give them something extra – especially something that can help your immune system."
There are similar levels of confidence at Modern Baker, which launched a 'smart loaf' in February. The result of five years' R&D, the seeded Superloaf contains "a unique blend of fibres" and "plant chemicals" that are designed to optimise your gut health, says Modern Baker co-founder Leo Campbell.
Crucially, it claims to "support normal immune function" through the use of micro-nutrients. Modern Baker decided to add that information on-pack in the wake of Covid, explains Campbell, due to the growing power of the claim. "Two messages that used to resonate were '5 a day' and calories. Now it's those and immunity – that's been corroborated at Tesco level," he says.
That message seems to have got through on Amazon Fresh, where the Superloaf made its debut. In its first two weeks on the site, sales were six times higher than forecast, says Campbell.
Growing sales
Businesses that were playing in the immunity space before the pandemic are also boasting a boost to sales. Take Biotiful, which has long traded on the link between the probotic cultures in its kefirs and a healthy immune system. Its sales shot up 33.9% to £16.1m last year, making it the fourth largest yoghurt drink on the market [Nielsen 52 w/e 5 September 2020].
Founder Natasha Bowes says the growing interest in immunity was "categorically" a factor behind this success. It has given the brand confidence to invest in innovation such as its Kefir+Coffee product, launched earlier this month.
Biotiful has also forked out on marketing with a breakfast-focused campaign. "We're asking consumers to consider upgrading their breakfast with these products", says Bowes, who will be working with influencers such as former Made in Chelsea star Louise Thompson to promote that message.
View this post on Instagram
Biotiful has picked its influencer partners carefully. "We wanted people who are authentic and trusted and as far away from gimmicks as possible – those who actually look to truly help the people who follow them," says Bowes.
Claims crackdown
But not all products have been so careful in their marketing. In September, a study looking at posts tagged as immune-boosting on Instagram found they generally promoted "misleading information about immunity and advanced products and services of no proven immunological benefit".
That's led the Advertising Standards Authority to take a stand. Last July, it issued advice reiterating there are "strict rules around what advertisers can say about the links between their products, the ingredients in them, and health". Immunity claims can be made on products that contain vitamins B12 and C, selenium and iron, but even then, brands have to be careful to avoid promising too much. Instead, they must say the nutrient "contributes to the normal function of the immune system".
Already, some food and drink businesses have fallen foul of the rules. Last May, kefir and gut health brand Chuckling Goat was reprimanded by the ASA for implying its products could boost immunity.
Incidents such as these are likely a factor behind the growing consumer cynicism around the subject. Our survey with Harris Interactive found 49% of consumers were sceptical over immunity claims in food and drink.
This increasing consumer scrutiny is likely to determine which brands continue to be successful in this space, says Biotiful's Bowes. "In this current day and age, whatever is a gimmick will be identified as that," she argues. "Consumers are very smart and have information at their fingertips."
That sentiment is backed up by Rich Goldsmith, founder of juice shots brand Moju. "In general, we see products doing well where there is a clear synergy between the product and the claims," he says. He cites the example of Moju's vitamin D shot, launched last March, which is "a food-first approach to supplementing your diet and utilise ingredients that have close associations to immune support".
Natural credentials
Goldsmith doesn't see a need to make overt immunity claims in marketing. "In fact, that actually drives cynicism. Do it in a genuine and authentic way, build it into the product from the very beginning," he advises. "What we're seeing a lot of is just refortification, which isn't hard to do. Now I think consumers are becoming wise to that and are taking more interest in more natural products."
This point about 'natural' perceptions could be pivotal. For Blythe of The Brand Nursery, this is where the future of the market lies. He believes brands containing ingredients that are naturally good for you – such as blueberries and ginger – are seen as less "gimmicky" than products containing added vitamins among a host of unrecognisable ingredients.
"People for whom boosting their immune system is most important are likely to be people who value natural foods and natural products," he says. "If you want to take care of your body, it's a natural extension to want to consume things that are unprocessed."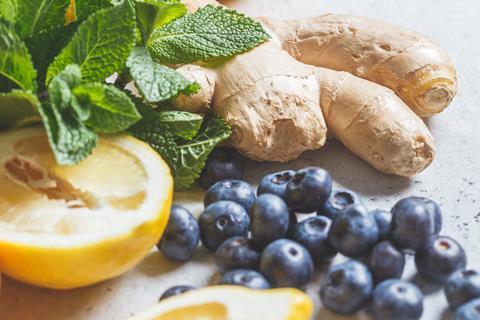 Modern Baker points out that these claims can be particularly powerful in everyday items. Its Superloaf, for example, is designed as an alternative to ultra-processed bread. "We tackled a staple food," stresses Campbell. "Having minor brands tinkering around the edges like coconut water and fibre granolas aren't going to shift the diet. We have to look at staple foods before any systemic change is going to happen."
So it's essentially far more complex than adding vitamins and shoving an immunity claim on pack. But if brands can get their proposition right, immune-supporting food and drink could be a trend that lasts way beyond the immediate impact of Covid. "It's been a year now. Some attitudes will be entrenched and it won't go back to normal for everyone. Or 'normal' will be different," argues Blythe.
This is echoed by Bowes at Biotiful, who says the year of Covid restrictions has changed mindsets. "The impact wasn't for a week, month or for three months, it's been a year. So it's extremely unlikely we can just brush it off even after the full vaccination programme is completed," she says. "The selection of naturally and truly immune-supporting foods is something that is bound to stay with us."
That means market growth might just be in for the long haul, too.