Price is king when it comes to rice and noodles. That focus on price is seeing own label fly ahead in areas such as pouch rice. However, brands are fighting back by offering something different such as konjac noodles.
These insights form part of our rice and noodles category report, which includes expert commentary and the full, downloadable Kantar and Nielsen data.  
1. Brits are lapping up pouch rice
The nation's love affair with pouch rice shows no signs of slowing down. The UK's bestselling rice format secured the largest volume gain across the category, according to Kantar data, as ever more consumers demand convenient meal solutions.
2. Own label is eating into branded share
Own label grew well ahead of the somewhat stagnant branded market this year. This was especially true in the price-sensitive pouch rice market, where brands actually suffered a decline in sales.
3. Promotions are down
The rise of own label, which tends to be less promotion-heavy, is partly responsible for the decline in offers. But brands such as Tilda are also shifting their focus away from price. "While the growth of own label has pushed prices down and some brands have resorted to heavy price promotions to help drive volume, we have shifted our strategy to focus on building the brand," says Tilda brand lead Anna Beheshti.
4. Price is an important factor
However, shoppers are still highly sensitive to price, if branded performance is anything to go by. Brands that put up prices lost shoppers to rivals who went the other way.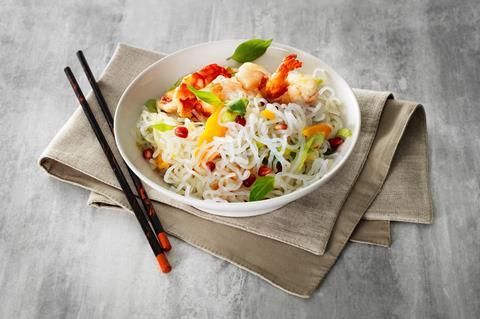 5. Konjac proved a powerful proposition
The low-calorie promise of konjac root is hitting home with consumers. Konjac-based brand Bare Naked was a standout performer in the past year, according to Nielsen data, as Tesco listings saw its noodle sales double.
6. Noodles
Noodle sales have soared by more than £11m in the past year. That was partly down to price reductions, according to Kantar. But Premier Foods said "increased popularity of world foods" was also a driving force behind the boom.