Biscuits are back in business. The category is enjoying a period of growth powered by NPD and new biscuit formats as brands look to provide new premium experiences for consumers. But where are opportunities being missed by the brands, and how is consumer demand driving the market?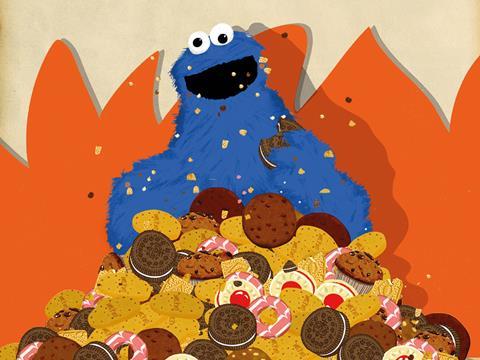 The Cookie Monster would be proud. More than one in five (21%) of Brits sometimes scoff a whole packet of biscuits to themselves in one go, flying in the face of health guidelines and the current trend for sugar reduction.
"Brits just can't resist the temptation when it comes to biscuits," says Lucia Juliano, head of research at Harris Interactive, which polled 2,045 consumers on their biscuit eating habits on our behalf. "Clearly consumers are not against treating themselves to a little indulgence."

Or a lot of indulgence; depending on type of biscuit and size of pack, eating a whole pack could mean ingesting more than 700 calories at once. That's about a third of an adult's daily recommended intake. But people have always overindulged, right? Does this really matter?

Video: Taking the biscuit
The health police will say this matters because biscuit manufacturers themselves say their products are getting more indulgent. That someone's likelihood of going on a biscuit binge correlates with age (a teenager is almost 50% more likely to do so than someone in their late 40s) is also significant (see below).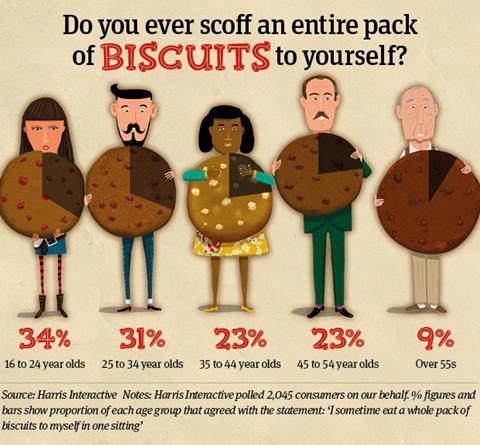 But when viewed in conjunction with sales data from Kantar Worldpanel, our research should bring cheer for the biscuit business. Volume sales of biscuits have risen 1.8% in the past year [52 w/e 5 November 2017], despite average price per kilo rising by 3.3%. Meanwhile, sales of other treats such as chocolate and sweets are in decline.
Clearly, the war on sugar has done little to disrupt Britain's love of biscuits: 93% of British consumers eat biscuits [Harris], with nearly a quarter (24%) eating them every day. Our finding that only 30% of Brits would buy fewer biscuits as a result of higher prices (versus 47% for cake, 44% for sweets and 38% for chocolate) suggests biccies still have a sweet spot in Brits' hearts.
"The everyday treat segment is worth £432m" says Hena Chandarana, trade communications controller at Pladis. "23% of us also snack to reward ourselves, perhaps after a hard day. Our range will be incomplete - and we will miss an opportunity - if we do not acknowledge that people snack for emotional sustenance as well as for purely physical nourishment."

And so manufacturers' innovation pipelines are going into overdrive (see here). "Diverse ranges of new products are continually being introduced, including healthy biscuits, 'thins', free-from options and breakfast biscuits," adds Juliano. "Biscuit makers really need to focus on the standout factor for their brand if they want to succeed in the current market."
"Biscuit shoppers are highly impulsive and they are increasingly looking for an indulgent treat so they can spoil themselves a little as they enjoy a night in with family or friends"
Particularly given that that consumers are more likely to trade down to own-label biscuits than any other snack food (see left) to save money, with women (59%) and older age groups more likely to do this.
"Biscuit brands need to ensure loyalty in their consumers, particularly looking to appeal to women and the middle generation," says Juliano. "In an ever-changing market, brands need to focus on keeping up with rising demand."

And one thing consumers are demanding is more indulgent offerings. "Biscuit shoppers are highly impulsive," says Mandy Bobrowski, marketing director at Burton's Biscuit Co.
"They're increasingly looking for an indulgent treat so they can spoil themselves a little as they enjoy a night in with family or friends. With UK consumers looking for a more premium treat within biscuits, manufacturers are meeting those needs and driving category value."
This got us thinking. How could a brand ramp up the indulgence with a super-premium biscuit designed for sharing, and could such a product challenge traditional dessert options as an after-dinner treat? We asked brand design agency Brandon Consultants to put their thinking caps on. Here's what they came up with:
Introducing… Moon Dipz
Capitalising on evening snack occasions, Moon Dipz creates a sharing event that offers an indulgent treat as well as contributing to a restful night's sleep. "The main issue that came to light when we looked at the market is that, though biscuits are often eaten in the evenings, they aren't perceived as a good snack before bed because of the high sugar content, which inhibits sleep," says Steve Conchie, creative director at Brandon Consultants. "We wanted to flip that opinion on its head, and looked into how we could create a biscuit that aids rest and relaxation."
After researching ingredients that are conducive to sleep, the team found that high quality chocolate induces chemicals in the brain that aid relaxation, leading to the addition of two 70% chocolate dips within the product – dark and white. "Each biscuit flavour was selected because it involved ingredients that were beneficial to sleep. Cherries, for example, are one of the few natural foods to contain melatonin, which regulates the body's sleep cycle," explains Conchie.
Each biscuit is oat-based, and therefore contains less sugar than a typical biscuit, as well as releasing energy at a slower rate, ensuring consumers don't get a sudden hit of sugar and carbohydrate before heading to bed.
The variety provided within the product, which includes two dipping sauces and an array of biscuit flavours, aims to spark conversation between consumers, says Conchie, who may discuss which biscuit goes particularly well with which sauce. "We wanted the product to really encourage people to put down their phones and engage with each other, as well as aid sleep."
Moon Dipz were inspired by the popularity of chip n' dips, says Conchie. "Brits love tucking into the likes of Doritos with salsa or guacamole on the sofa, so we thought: let's recreate that with a sweet, more indulgent product."
Product placement was discussed extensively by the team, with various options available for retailers. "Arguably, the product doesn't belong in the biscuit aisle," says Conchie. "Moon Dipz may have more success in the tea and coffee aisle next to products that tend to be bought for their relaxing or sleep-aiding properties like Horlicks; or even in the fridge section positioned next to other premium, sweet products like Gü. If a customer is looking to purchase a snack for the evening that won't keep them awake, they may not look in the biscuit aisle."
In terms of marketing, Richard Taylor, managing partner at Brandon Consultants, believes Moon Dipz are perfectly suited to support sleep awareness campaigns, or charities such as Shelter. "A percentage of Moon Dipz proceeds going towards helping someone less fortunate get a good night's sleep is a great motivator for purchases and would help a fantastic cause. Advertisements on products like takeaway coffee cups with the slogan 'For a better night's sleep tonight, try Moon Dipz and you shouldn't need this coffee tomorrow' could also be really effective."
Sharing and indulgence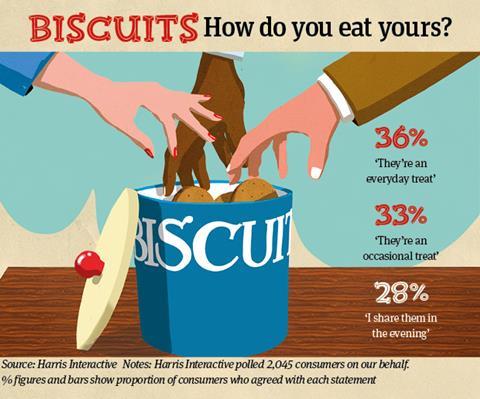 Our research suggests that the Moon Dipz concept could have legs, with 28% of Brits stating that they share biscuits with their friends and family of an evening (see above).
Indeed, the perception of biscuits as a social, shared treat hasn't gone unnoticed by brands, with recent NPD including luxury biscuit selections and sharing bags such as McVitie's Digestive Nibbles and Maryland Cookie Bites. "We are seeing an evolution in sweet biscuits, with new product and packaging such as pouches and tubs clearly defining their sharing credentials," says Bobrowski.
Research by Pladis found that 44% of UK adults are planning more quiet nights in, creating an enormous opportunity for biscuit brands to cater for this. "We have found that around a quarter of the time (24%), snacking is about sharing a connection with others, and one third of consumption moments are based around sharing and indulgence," says Chandarana.
How brands are tapping the indulgence and sharing trends:
1. Cadbury crunchy melts
Launched: August 2017
The second of Mondelez International's Cadbury biscuit launches aims at attracting "those seeking a little more luxury". The crunchy chocolate chip cookies range includes Chocolate Centre, Double Indulgence and Soft Cookie Centre (rsp: £1.89/156g). They have a melting centre, and can be eaten cold or warmed in a microwave.
Chiara Missio, marketing manager for Cadbury Biscuits, says: "Sales of traditional everyday biscuits have been declining as shoppers seek more premium experiences in the treat segment. We believe that this launch will be a hit with consumers trading up by offering a premium and fun sweet treat."
2. Bounty, Galaxy and M&M's cookies from Mars
Launched: September 2017
Mars' latest cookie range is available in three varieties: Galaxy, with chunks of Galaxy chocolate; Bounty, with flakes of coconut and chocolate chunks; and M&M's (rsp: £1.99/180g). Mars hopes the strength of the chocolate brands will enliven the biscuit category, and that brand recognition will benefit the range. "We look forward to seeing the reaction to the cookies, and to creating excitement and growth in the category," says Michelle Frost, general manager at Mars Chocolate Drinks and Treats.
3. McVitie's White Chocolate Digestive Nibbles (£1.99 for a 120g sharing pouch)
Launched: September 2017
Pladis is continuing to tap the sharing trend by extending its range of Digestive Nibbles with a limited-edition festive variety. New McVitie's White Chocolate Digestive Nibbles (rsp: £1.99/120g) are just part of the £1.3m seasonal campaign Merry Biscuits Everyone, which aims to bring to life Pladis brands' role in Christmas for Brits through new products, in store activities, PoS and on-pack promotions.
4. Nutella B-Ready bar
Launched: September 2017
Nutella's first foray into the UK biscuits category, the B-Ready bar hit the shelves of retailers in September, comprising a crunchy wafer shell with a Nutella and puffed wheat crispies filling. Levi Boorer, customer development director at Ferrero UK, says: "People love to eat it in many different ways; we wanted to bring this to life, and our Nutella B-ready product allows people to enjoy the taste of Nutella wherever they are." The on-the-go biscuit bar is less than 120 calories, and is available to be purchased as a single-serve product or a multipack (rsp: £0.56/22g or £1.99/132g).
5. Oreo Choc 'o Brownie
Launched: August 2017
Oreo's newest flavour addition was decided by the British public, with 43% voting for a cookie with a chocolate brownie centre. Choc' o Brownie cookies (rsp: £1.08/154g) follow the success of last year's launches (Oreo Strawberry Cheesecake and Oreo Mint) as the brand continues to invest in diversifying its UK range. Senior brand manager for Oreo Helen Potter says: "We hope the launch of Choc 'o Brownie cookies will drive excitement in-store, in turn helping retailers drive sweet biscuit sales."