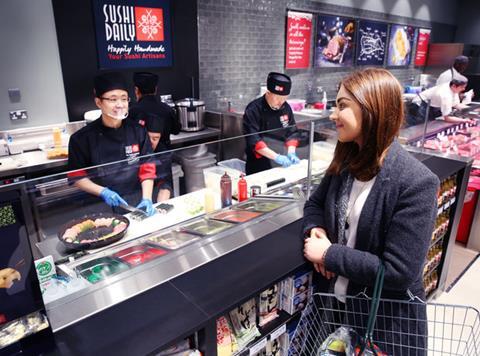 Waitrose has opened a third sushi counter following the runaway success of its two in-store sushi bars in Battersea in London and Bath.
The new sushi counter opened this week (26 January) in Godalming, with more on the cards if sales continue to soar.
Sales from Waitrose's first sushi counter, at its Nine Elms brand in Battersea, have been running at more than twice the expected rate since it launched in November. A £4.90 salmon roll from the counter was now the best-selling product across the entire store in terms of value sales, Waitrose said. Party platters had also proved popular, as had tempura and chicken roll, the retailer added.
The in-store counters are run by sushi bar operator KellyDeli and branded Sushi Daily.
Anthony Wysome, head of store development at Waitrose, said he was delighted with the success of the in-store concessions. "Sales are well ahead of our high expectations and customers have been full of praise for the new offer," he said. "It's proved an immediate hit for those looking for high quality, fresh, healthy, convenient food."
The Sushi Daily counter at Waitrose's Battersea branch opened on 19 November, with the Bath counter opening on 24 November.
KellyDeli was founded by Kelly Choi and Jerome Castaing, with the support of renowned master sushi chef Yamamoto Kunio. It operates through 450 sushi bars in six European countries, and is now bringing Sushi Daily to the UK supermarket industry through Waitrose.