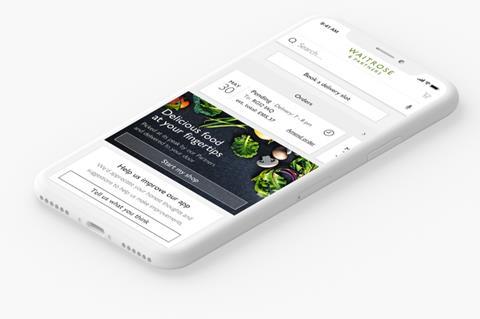 Downloads of the Waitrose.com grocery delivery app have increased by close to a third since the M&S and Ocado joint venture was announced last week, the upmarket grocer has claimed.

Average daily downloads for the app had been up 30% every day since the deal was reported on 26 February, Waitrose said.

It did not disclose total downloads before and after the deal, saying it was "commercially confidential". Waitrose also declined to confirm the total number of downloads the app has accrued since it was introduced in 2010.

The Ocado and M&S deal will see the two businesses introduce a grocery delivery service when Ocado's 19-year contract with Waitrose comes to an end in September 2020. Waitrose managing director Rob Collins told The Grocer last week that the retailer was "well-positioned for growth" due to the investment it had put into its online offer over the past three years in preparation for its separation from Ocado.
"We have strengthened our own online business significantly and said last summer that we will double Waitrose.com within five years. Waitrose.com sales are growing at 14.2%, well ahead of the market, and customer satisfaction scores for both fulfilment and the website are showing sustained and significant increases too," he added. "We are planning a second fulfilment centre to support our growing volumes in London, and will be able to welcome thousands more online customers to Waitrose from the end of this year."