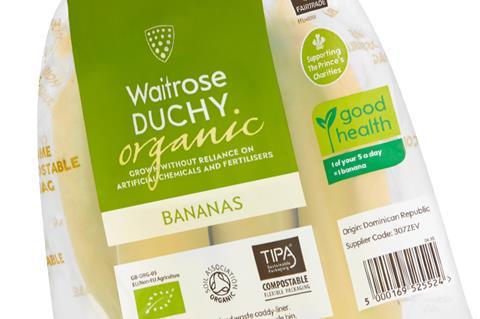 Waitrose's newly introduced home compostable bag for its Duchy Organic bananas has come under fire from customers.
Shoppers have taken to Twitter to ask why the upmarket retailer has stocked bananas in packaging at all. One user said: 'Of course bananas don't even need to be in a bag. I would be happy to use paper bags or have loose veg and fruit,' while another questioned: 'Why do bananas need a bag at all? They have thick skins, so surely it can't be for hygiene reasons?'
Others also urged Waitrose to stock bananas with no packaging, with one customer asking the supermarket to 'offer them loose in the packaging they grow in', while others wanted to know why it had only introduced the bag for its pricier bananas.
Waitrose said it packages its bananas so "shoppers can see clearly which bananas are organic and to prevent mix-ups".
It said the bags, which are made with non-GM corn, will save an estimated 18 tonnes of plastic a year, while protecting and maintaining the quality of the bananas.
Its Duchy Organic bananas are the first of its fresh produce lines to be sold in the home compostable bag, and the supermarket is currently trialling using it for its other loose produce lines, which it plans to roll out in the spring.
It removed plastic bags for its Duchy Organic bananas last year, replacing them with a plastic band while trials took place on the bag.
"We're excited that Waitrose Duchy Organic bananas are the first of our fresh produce to be packaged in our ground-breaking home compostable bag," said Waitrose head of CSR, health and agriculture Tor Harris. "This move shows the continued efforts we're making to reduce unnecessary plastic packaging wherever we possibly can and is part of our pledge to make all packaging either widely recyclable, reusable or home compostable by 2023."
This saw it introduce recyclable cardboard punnets for its Waitrose Duchy Organic and Waitrose 1 Sable grapes last week to replace traditional plastic punnets.