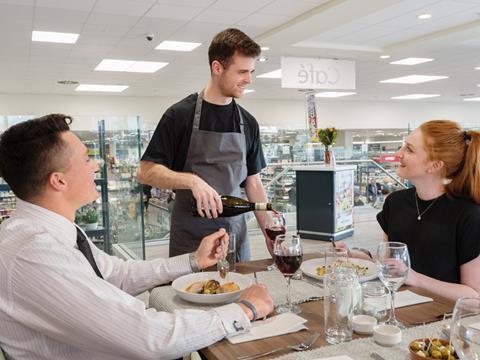 Waitrose has expanded its supper club initaitive to a fourth store.

Taking place on 19 April in the store's café section of its Horsham store, the evening will consist of a three-course menu with local ingredients matched with local wines by Waitrose's master of wine Pierpaolo Petrassi for £45 per head. All 30 spaces have been booked and there is a waiting list of around 30 other Waitrose customers keen to attend.

John Lewis will supply the dinnerware and tableware for guests.

The Horsham store's modern space "lends itself" to a restaurant style experience, according to Waitrose.

Over the last two years Waitrose has hosted supper clubs priced at £35 at stores in Haywards Heath, Newbury and Salisbury, as well as an alternative format supper club at its Finchley Road cookery school in October at £85 per head. This offered five courses and interactive elements.

Waitrose said the event will "celebrate great produce and delicious food" in a pop-up style restaurant. The supermarket has partnered with local chefs from pop-up the Salt Box and WeFiFo, which joins up local dinner party hosts with paying customers, and has been dubbed 'the AirBnb of the kitchen table.'

WeFiFo, short for 'we find food', won £200,000 in funding from John Lewis and Waitrose's annual accelerator programme, JLab, in 2017, and now has a commercial relationship with John Lewis.

"This is a one-off trial at the moment, we're not committing to any others at this stage, but this trial will give us ideas about what we may be able to do in the future," said A Waitrose spokesman. "The aim is to create an atmospheric restaurant and encourage the social aspect of dining."

WeFiFo's founder, Seni Glaister, added that the initiative is "genuinely innovative," and said it is a "huge privilege" for the start-up to be collaborating with Waitrose for the supper club.