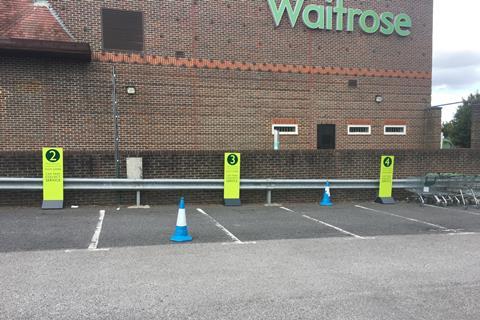 Waitrose has implemented a drive-through order collection service at 70 of its supermarkets.
The Grocer has learned it has been rolling out the initiative since June, which allows shoppers to pick up their Waitrose.com food orders or return items from store car parks. Some locations also offer John Lewis click & collect and return services.
Customers drive into a dedicated parking bay before being assisted by a partner or phoning the store to confirm their arrival. Items are then brought to shoppers' vehicles without the need for them to enter the store.
"We continue to adapt to the changes we have seen since lockdown and explore new ways to ensure we are doing all we can to protect the health and wellbeing of our customers and partners," said a Waitrose spokesman. "We have seen a great response to the social distancing measures we have in place, and drive-throughs mean thousands of customers who simply want to collect their shopping can do so quickly and safely."