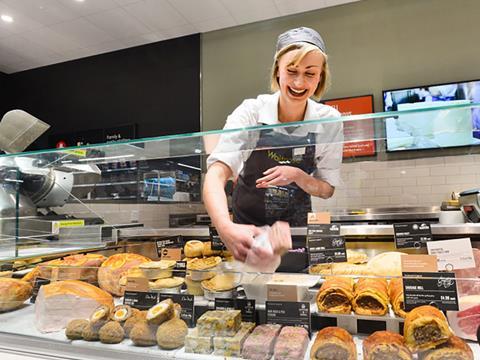 Waitrose shed more than 3,700 staff last year according to its annual accounts, as staff and customers raised concerns over the impact of its wide-reaching restructure on levels of service and availability.
Annual accounts for Waitrose for the year to 27 January 2018 showed overall average headcount reduced by 6.6% from 56,330 in 2017 to 52,590 last year.
This reduction of 3,740 was reflected across the business as staff numbers in sales and distribution fell from 52,080 to 49,900 and back office staff dropped from 3,250 to 2,690. Waitrose said this was partly attributable to a reorganisation of administrative roles, which saw personnel, finance and some IT staff classified under the wider John Lewis Partnership.
However, the supermarket acknowledged a fall in shop staff numbers, attributing this to redundancies after the closure of six stores, retirement and natural turnover.
Waitrose also stated it had recruited 9% more partners in the first quarter of 2018 that it had in the same period last year.
The retailer has gone through a period of considerable internal change since Rob Collins became MD in April 2016 and the introduction of the Modern Waitrose strategy that preceded him.
The premise of Modern Waitrose is to help the retailer respond to the changing UK grocery landscape and changing shopping patterns by adding wine bars, bakeries and sushi bars to lure shoppers. But it has also brought almost 200 job cuts, store closures, with 486 department manager roles to be reduced to 180 by 2020.
A recent report in The Times detailed workers' concerns over the changes, with letters to the retailer's internal magazine calling restructure "a shambles" that had been "crippling" employees and seen service levels "plunge".
Other partners, meanwhile, claimed stock levels are so poor that customers are being driven away, while another partner cited Grocer 33 results showing it consistently behind competitors in their letter in price, service and availability.
Richard Hyman, director of retail consultancy RAH Advisory, called partners' reaction "valid," and warning: "It's always a mistake to chase peripheral customers at the expense of core customers. Waitrose have done this accidently while chasing market share, which has also allowed service levels to drop and product quality to diminish with lowering prices too much."
A Waitrose spokesman stressed that the five letters quoted in the Times article appeared in the Gazette over a three month period compared to the wider 85,000 partners who work in the Partnership.
"Our own recent employee research shows a considerable increase in the number of Partners who say that changes we are making will deliver long term sustainable business success."
The accounts for Waitrose Ltd, which does not include its Channel Islands subsidiaries, showed a 1.8% rise in sales to £6.6bn, but a 52% drop in profits before exceptional items and partnership bonus as it absorbed rising food prices.
Profit on ordinary activities before tax dropped 38.9% to £61.5m. However, due to the lower staffing levels, employee costs (before partner discounts) fell 3.7% to £959.1m.
Waitrose was hit by a property write-down of £38.9m and £11m of restructuring and redundancy costs during the year, though this was mitigated by a £41.2m gain from branch disposals.
The fall in profitability meant its UK tax payments feel from £28.7m to £8.7m in the year, representing a shift in its marginal tax rate from 28.5% to 14.1%.
Waitrose said the decrease in tax charge was mainly due to its reduction in profitability before exceptional items as it "reset gross margin, taking the decision not to pass on all cost price inflation to our customers, and to invest in customer experience".