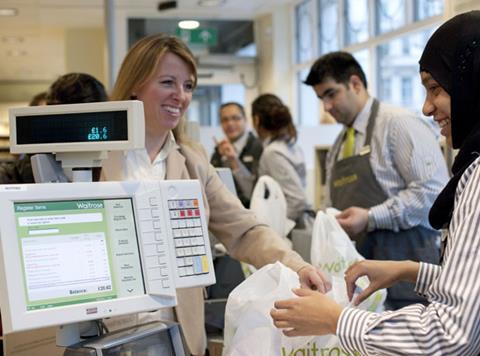 Waitrose is trialling a 'grazing area' next to the in-store deli and bakery in new stores.

The former The Co-operative Group store in Keynsham - which opened at the end of last month - is being used as a test bed for Waitrose's latest ideas on hospitality.

It is the first store to have a grazing area - which consists of a bench and seating allowing shoppers to stop and sample some of the food and even have a glass of wine. Customers can choose from platters serving ham, cheese and artichokes, together with a glass of wine, for £7.50.

The 27,000 sq ft store also has a large 72-seater café selling snacks and coffee, as well as more restaurant-style dishes such as ham hock pie and lasagne.

On Thursday this week, Waitrose opened another store, in Swindon, with a grazing area. The store is also trialling a fresh juice bar and a wine tasting area.

At the beginning of next month, Waitrose managing director Mark Price will hold a press event at the Swindon store to show off Waitrose's latest hospitality ideas and showcase other new services and technologies.

Last month, Price revealed that Waitrose would be trialling different hospitality concepts this year. He also said the supermarket would open more than 100 in-store cafés - bringing the total number to more than 200.

In another move beyond grocery, Waitrose is opening 100 mini gardening shops - or "pods" - outside stores this spring, building on the 40 opened a year ago.