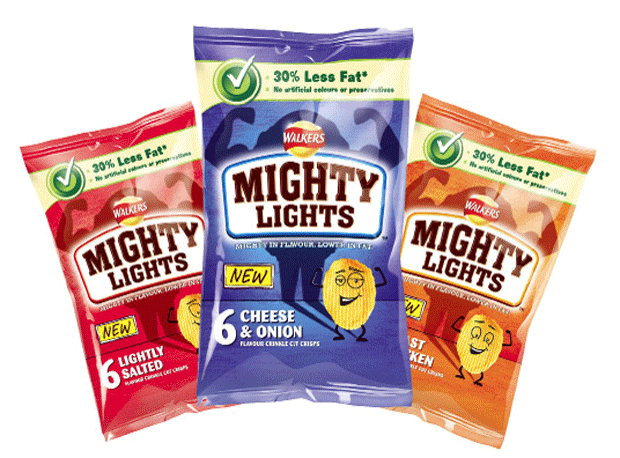 Walkers is expanding its kids' snack line-up with new brand Mighty Lights.

Rolling out to retailers from the end of this month, the ridged crisps will be sold in three flavours - cheese & onion, lightly salted and roast chicken - in multipacks of six (rsp: £1.79).

Walkers owner PepsiCo said Mighty Lights was being launched to offer families more variety, and followed the rollout of Walkers kid's snacks Baked Stars last year and Hoops and Crosses three months ago. Walkers will continue to produce the Baked range, which is aimed at an older market.

The company claimed the three kids' ranges offered parents options: Baked Stars had 70% less fat than a standard crisp corn-based Hoops and Crosses had 30% less fat and added wholegrain while Mighty Lights were a ridged potato crisp with 30% less fat.

"When it comes to planning lunchboxes and family snacks, parents are looking for variety," said Thomas Barkholt, senior marketing manager for Walkers family snacks. "The launch of Hoops and Crosses was incremental to sales of Baked Stars and we hope to emulate this success with Mighty Lights."

Sales of Baked Stars, which expanded two months ago with Original flavour, are £15m [Nielsen MAT w/e 22 June 2013], while sales of Hoops and Crosses are £4.6m.

The healthy kids' snacks sector has seen NPD from suppliers including Intersnack, which this month rolled out an extension to its fast-growing Pom-Bear range, Pom-Bear Zoo Friends - a cheese-flavoured snack with nine different animal shapes (rsp: 45p bag/£1.59 six-bag multipack).