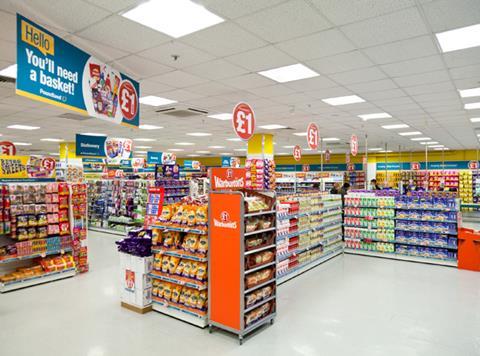 Poundland recently reported annual sales at around £1.5bn, with steady like-for-like growth. It is a significant player in categories like snacking, food to go, core grocery and personal care. How is it achieving this, what can we learn, and how should the rest of the industry respond?
The stores are well-managed, tidy and welcoming, with decent merchandising. The shopper mood is typically more upbeat than in a supermarket – it is warmer and the shopping is less likely to be a chore.
The new Christmas range highlights Poundland at its best – impressive and perhaps sobering for competitors. Decorations, gift wrap, stocking fillers, cards and of course confectionery are all well delivered. There are some great products, probably specially designed. For example, small Christmas gift packs of miniature chocolate figures from Smarties and Milkybar.
There's an interesting paradox. This is a value-based retailer but at the same time, for many of its customers, it is the one store where they can choose purely on preference, without thinking about price. Because (duh) all the prices are the same. At many other shops, those same shoppers are effectively constrained, feeling they ought to choose from products on promotion. 'Sharing' confectionery bags are an example. At most supermarkets, there's always something on at £1. And the vast majority of volume is sold at £1. But your individual favourite often won't be at £1. So you feel compelled to compromise and buy something else at £1. Poundland always has your favourite at £1 – you don't have to compromise.
How should other retailers compete? First, watch Poundland carefully and spend as much time there as your customers do. In some categories, it is important. Second, make sure you are matching the value offered and not just on your promoted lines. Third, create sections that allow the shopper to choose on preference, not price. In other words, every item is the same price, and the shopper takes their pick. Give them back some freedom.
How should manufacturers engage with Poundland? First, design the product with the shelf in mind. If customers choose on preference, you'd better be clear what your immediate competitors are offering. Second, design for events and seasons. Understand what Poundland is trying to do and deliver products that are a bullseye fit. Third, think about Poundland's role for your category and your company. Its shoppers are the same people who buy your brands elsewhere. Think less about read across, which is sometimes code for 'will I get caught offering them a better price?'. Think more about fairness; in other words 'how do I make sure I offer closely comparable value to all my customers?'. Ultimately, you need great products at comparable value all across the retail universe.
Jeremy Garlick is a partner at Insight Traction