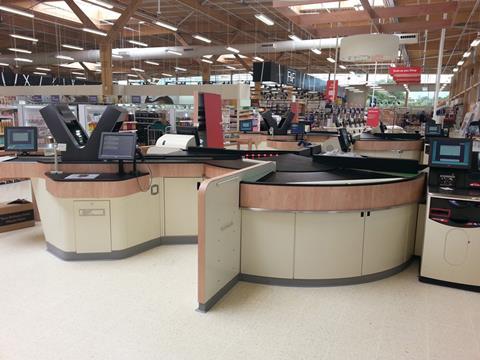 One of the burning questions consuming new Tesco boss Dave Lewis is what to do with his predecessor Philip Clarke's store refresh programme, which was today thrown into doubt by the board's decision to cut £400m from the scheme.
Tesco's capital expenditure was already down this year by £600m compared to last. It means the retailer will surely come nowhere near its target of refreshing 100 Extras, 50 superstores and 450 Express stores by the end of this year, with the continuing expenditure on the hypermarkets perhaps most under threat.
Read this: Tesco's strategy left up in the air after profit warning
Clarke's prediction that 2014 would be "the year of the hypermarket" is beginning to look most unfortunate amid alarming signs that the benefits of the refresh programme may have been exaggerated.
In February Tesco revealed that its store revamps, excluding Metros, had achieved 3-5 % sales uplifts, with the Extras seeing the biggest boost.
"We have seen data to suggest that some of the big store revamps, whilst providing an initial impressive impact on sales, have in fact then tailed off and gone back to having pretty much no impact," says Kantar Retail's Bryan Roberts. "A lot of it comes down to the execution. Tesco desperately needs to get more staff hours back into the store.
"Of the big promises that Clarke really under-delivered on, sorting out the clarity of its pricing strategy as well as - despite some early progress - a failure to get hours back in the store, are the two big ones.
"I don't necessarily believe today will mark a permanent change in the store strategy but it gives Lewis time to have a bit of a breather and see where it's going wrong."
Planet Retail analyst David Gray also says he has spoken to sources who have acknowledged that the spike in sales achieved by Tesco's £1bn turnaround programme have "tailed off and not sustained their impact".
A fear of throwing good money after bad will have no doubt been very high on the list of things being talked about by the board and its hotline to the new boss-in-waiting.
Today's events give some clues as to the new direction of travel, but there is still much to come out in the wash – not least how long it will be before Lewis reveals the key planks of his strategy.
"The new regime has to be given time to get his new strategy and new team in place and I believe people will give him well over six months," says Roberts.
At least Lewis – who would be inhuman if he were not somewhat daunted by the prospect of Monday's commute to work – has been spared from arriving only to deliver another profit warning.
It will be fascinating to watch what he does next.
Read this: Tesco cuts profit forecast and brings forward Dave Lewis' arrival