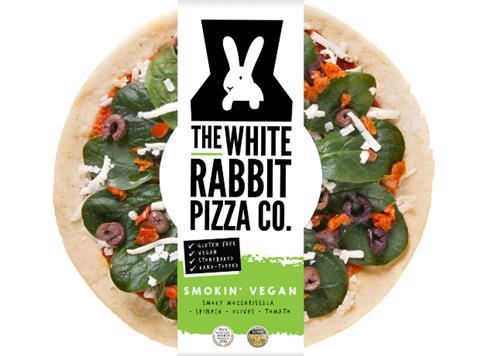 Gluten-free pizza startup The White Rabbit Pizza Co has made its Waitrose debut, with vegan variants featuring as the exclusive pizza offer within the retailer's new vegetarian and plant-based fixture.
The brand has rolled out its Smokin' Vegan (rsp: £5/340g) and Viva La Vegan (rsp: £5/335g) pizzas, as well as its Nudies pizza bases (rsp: £3.50/300g), to sit alongside dozens of other products within Waitrose's new meat-free area.
The deal follows a series of successes for White Rabbit, including full range listings of both vegan and non-vegan variants in Ocado and a doubling of the brand's distribution in Sainsbury's.
Waitrose this month introduced more than 50 new vegetarian and vegan lines, offering a dedicated vegan section for the first time, signposted with new PoS material.
It built on the launch in October of the supermarket's biggest ever range of meat-free foods, said Chloe Graves, Waitrose chilled vegetarian and vegan buyer. "We are working with some fantastic brands like The White Rabbit Pizza Co to ensure our shoppers have a really unique selection of food to choose from."
White Rabbit was "incredibly excited" to be part of the new offer, said brand co-founder Nick Croft-Simon.
"The support we have had from all our retail partners has been phenomenal. It's fantastic they are reaching out to challenger brands to change the game in categories ripe for reinvigoration," he added. "Culturally, pizza is a sociable food driven by taste and enjoyment – a free-from option shouldn't mean that changes."